Meet Macao's sensational master of capoeira: Eddy Murphy
Meet Macao's sensational master of capoeira: Eddy Murphy

Link copied
Eddy Murphy grew up on the mean streets of São Paulo, Brazil, but capoeira – the gentlest of martial arts – showed him a way up and out.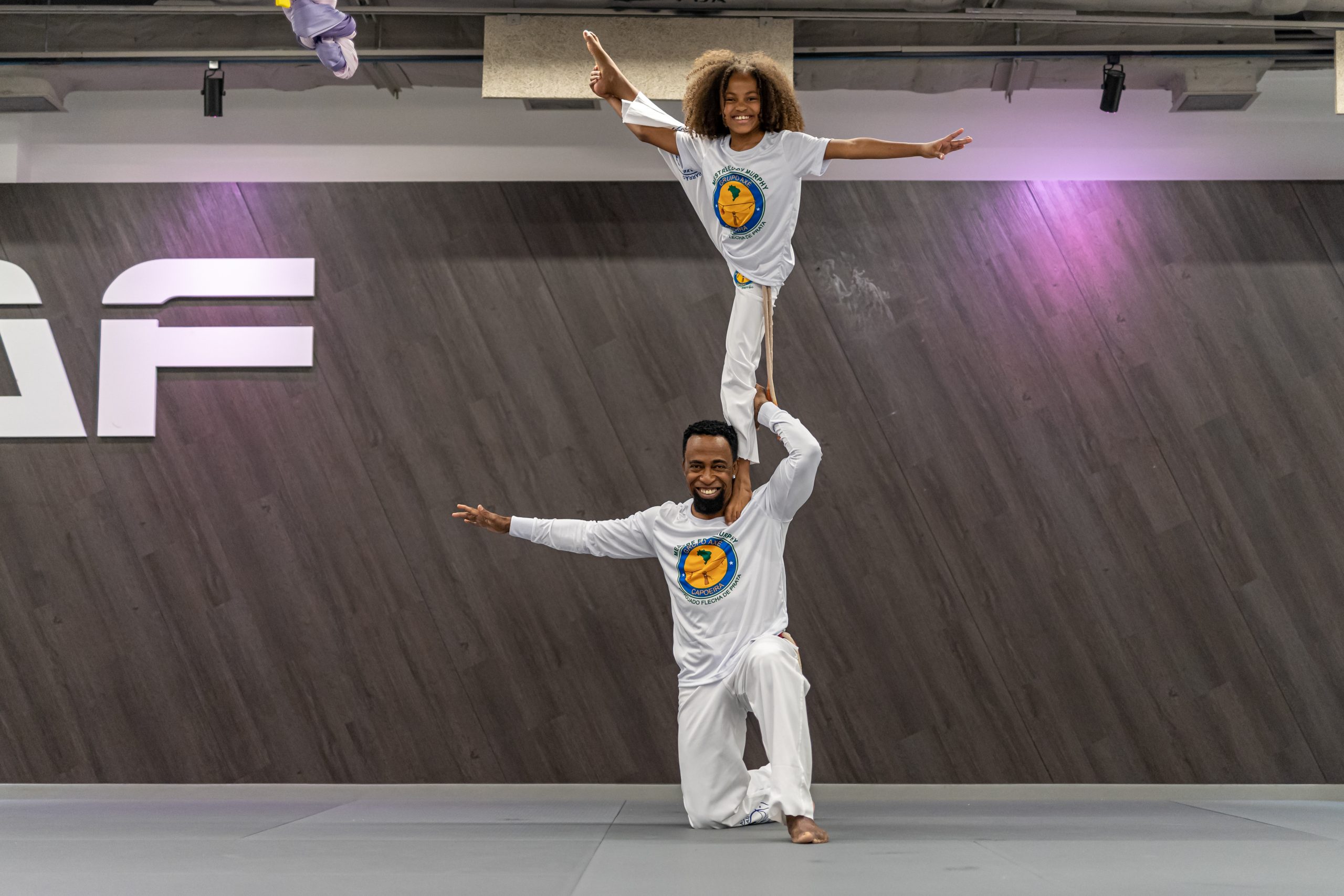 There are martial arts – and then there is capoeira, a heady mix of dance, acrobatics and music that can be as delicate as ballet and as deadly as a bullet. And Macao's capoeira maestro is the strapping, muscled hunk – and super gentle giant – who goes by the name of Eddy Murphy.
Murphy – real name Edilson Almeida – trained from an early age to become an expert in this martial art that was originally developed by African slaves in Brazil at the start of the 16th century and which is renowned for its complex acrobatic manoeuvres, often involving hands on the ground and inverted kicks.
Murphy grew up on the streets in a tough neighbourhood of São Paulo, Brazil, but he has dedicated himself to capoeira – pronounced ka-poo-eh-rah – and now teaches the art to keen athletes of all ages in Macao.
Capoeira is one of Brazil's national sports and its movements are accompanied by call-and-response choral singing, as well as the twang of the single-stringed berimbau, drumming on the pandeiro and the eldritch notes of the agogo bell. It was disguised as a dance but was really designed to give slaves a chance to escape as it increases artists' ability to react quickly and dodge blows, as well as training them to kick and trip effectively.
Slavery was abolished in Brazil in 1888 but despite being illegal capoeira continued to flourish until the 1930s. It's best described nowadays not as a dance but as a sport in which the participants face each other and swing their legs or somersault in time to the rhythms.
Capoeira for the 21st century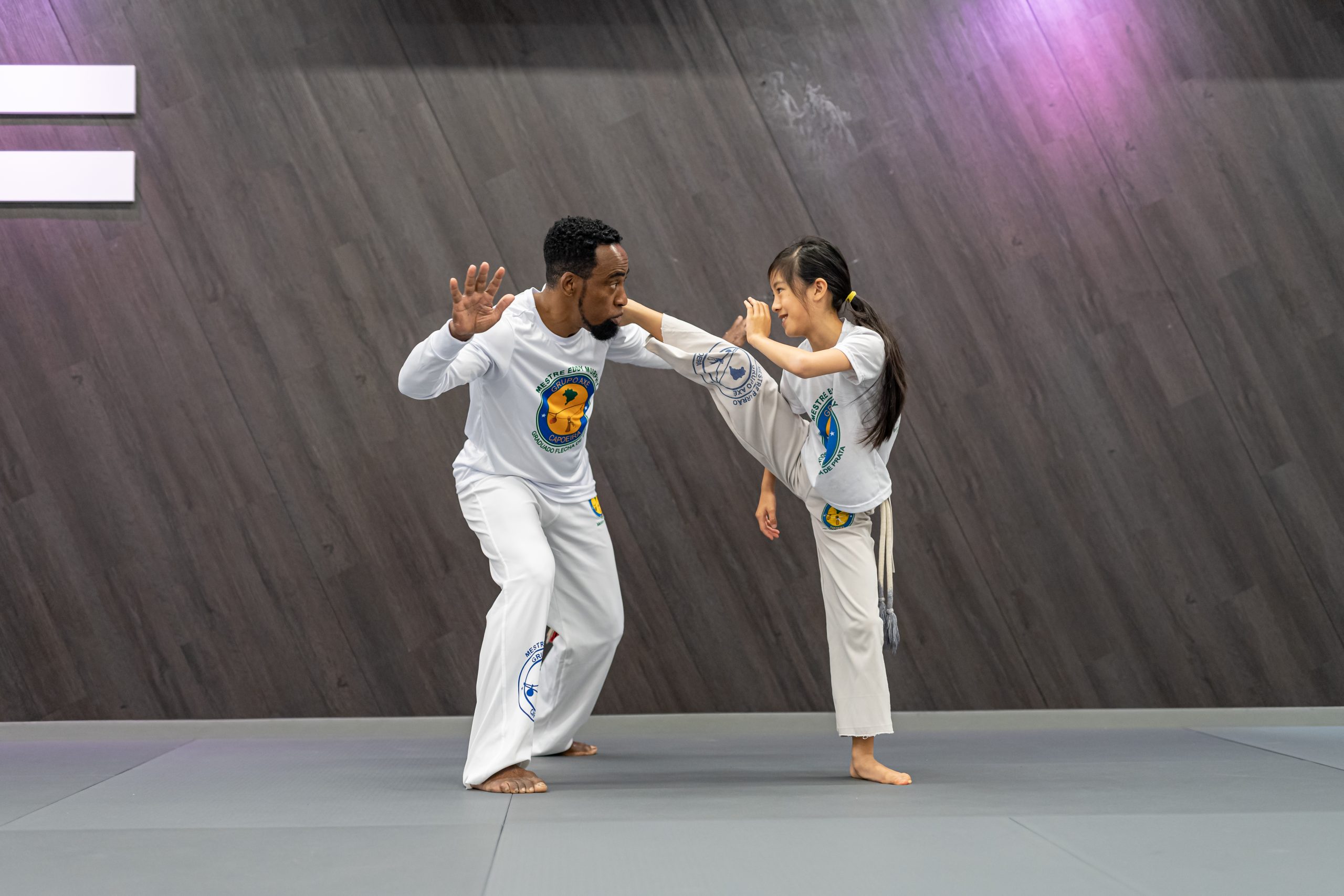 Murphy is one of just five masters belonging to Grupo Axé Capoeira, one of the biggest organisations in the world to teach contemporary capoeira.
As a youngster, Murphy took up football and could have made a career out of it but he admits that "capoeira chose me". He became so good that he found a placement in Barcelona, Spain, between 1999 and 2001 teaching capoeira to enthusiastic pupils. 
In 2001, he moved to Asia, setting up home in Hong Kong, where he caused no little astonishment by showcasing his moves at Victoria Park in Causeway Bay. He says that most locals had never seen capoeira before and they were 'astounded' by his unique moves. "Come on, let me teach you," he recalls telling people – and that's just what he did for the next two years.
In 2003, Murphy moved to Guangdong. The 53-year-old admits it was a difficult time for him as he spoke no Mandarin but he picked it up quickly. His lucky break came when Hunan TV, one of China's biggest TV channels, approached him as they were searching for 'foreigners with special talents'.
He was filmed going through his capoeira routine and staff at a gym in Macao who caught the show asked him to put on a demonstration for their members. It went down a storm. Murphy went back to the mainland for the next six years, however, Macao didn't forget his skills. In 2009, the city's Universal Yoga gym signed him up as an instructor and he moved to the SAR. 
He lasted just 10 months before the gym closed its doors. "I remember thinking 'what am I going to do now?' when it closed," says Murphy. "But even in 10 months I had made a bond with my students and they would go on to help me."
Those students in Macao provided a lifeline. "They helped me a lot," he says. "They stuck with me after the gym closed and I began to teach them on my own. Soon enough, I started my own official club." The Capoeira Sports and Cultural Association of Macau (ADCCM) was launched in 2009. It started with just a handful of students and today caters for 15 adults and more than 120 children in up to 18 classes every week. "I'm thankful to those people," says Murphy.
Respect is my base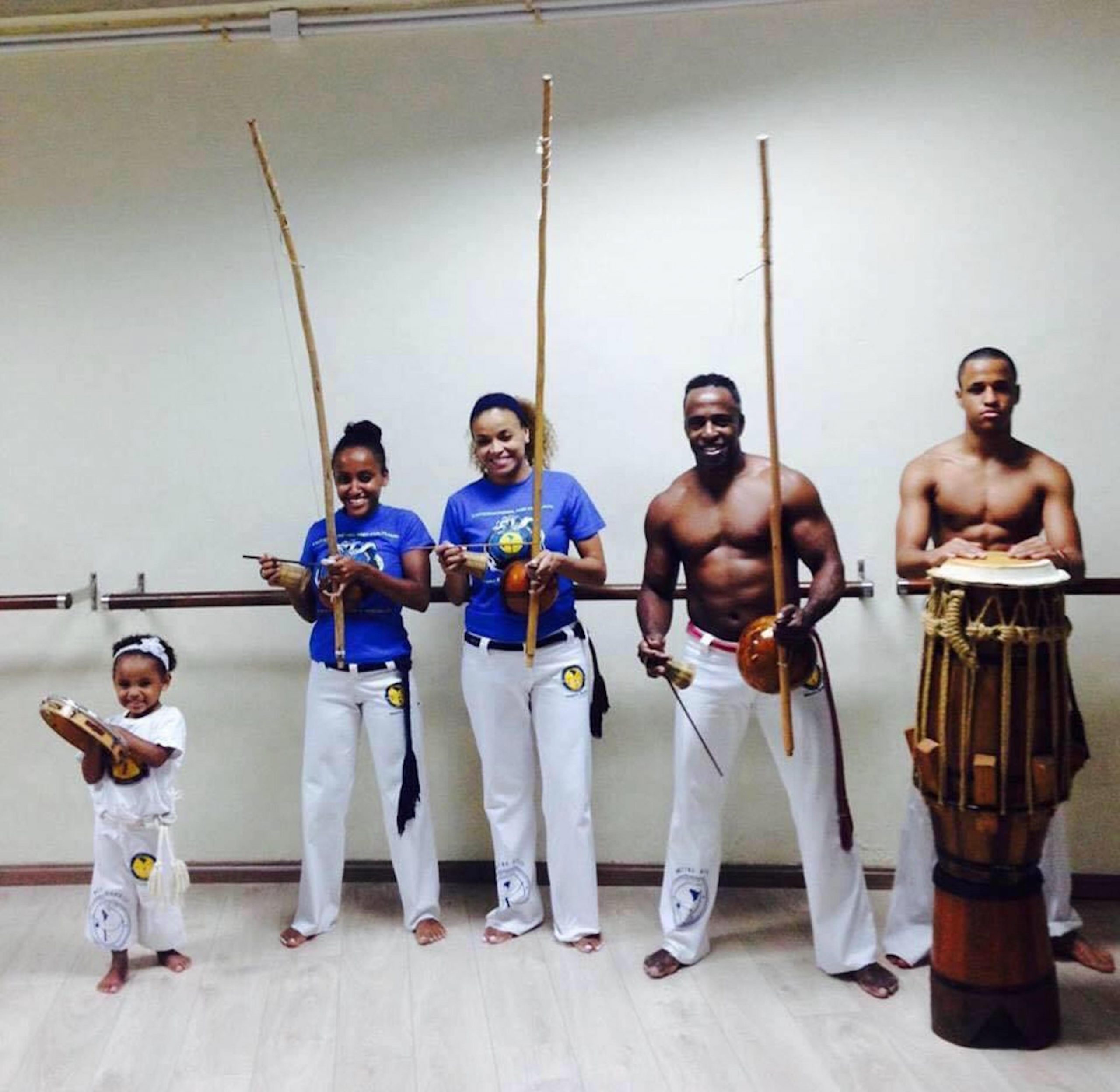 Murphy describes himself as an 'easy person' because his life is centered on respect. "The world we live in is diverse," he says. "You need to respect colour, religion and people. Respect is my base." He says that he loves capoeira and teaching it to children and adults is 'joyous'.
And he reveals that he got his moniker at the age of 10 because of the American actor who starred in 'Coming 2 America' – although Eddie Murphy spells his first name differently. The capoeira champ was given his nickname – a common practice in groups of capoeiristas – by one of his early mentors, Mestre Big Dinho.
 "I used to joke with the class and make everyone happy," he says.
"Mestre Big Dinho pulled me aside one day due to my jokes and said 'you're Eddy Murphy'."
In fact, two mentors have shaped Murphy's life over the years – Mestre Big Dinho and Mestre Barrão. Murphy lost both parents at a young age but he says Mestre Big Dinho was his 'father figure' as well as his first mentor. Later in life, when Murphy visited Canada, Mestre Barrão taught Murphy 'how to be a professional in capoeira', as well as 'the rights and wrongs of the sport'.
Capoeira continues to be popular in Macao, but Murphy admits that 'currently, it's hard due to the effect of the Covid-19 pandemic.'
"Before the pandemic," he says, "there were three capoeira teachers in the city. But now it's just me. It has also been difficult to teach as many students have not been able to attend classes but now we are coming through that and we look forward to a bright future."
Murphy has a son in Macao – Flecha, who is 23 years old – who he calls his 'right arm'. "My son has helped me during this difficult period," says Murphy. "He has kept me going with my practice and he is becoming skilled at the sport himself. Sadly he was injured recently and has gone to Brazil for a while to recover but I hope he will return to Macao again soon." Murphy adds that 'once the pandemic ends', he hopes to grow his club by getting in two or three new capoeira assistant teachers.
My students and the future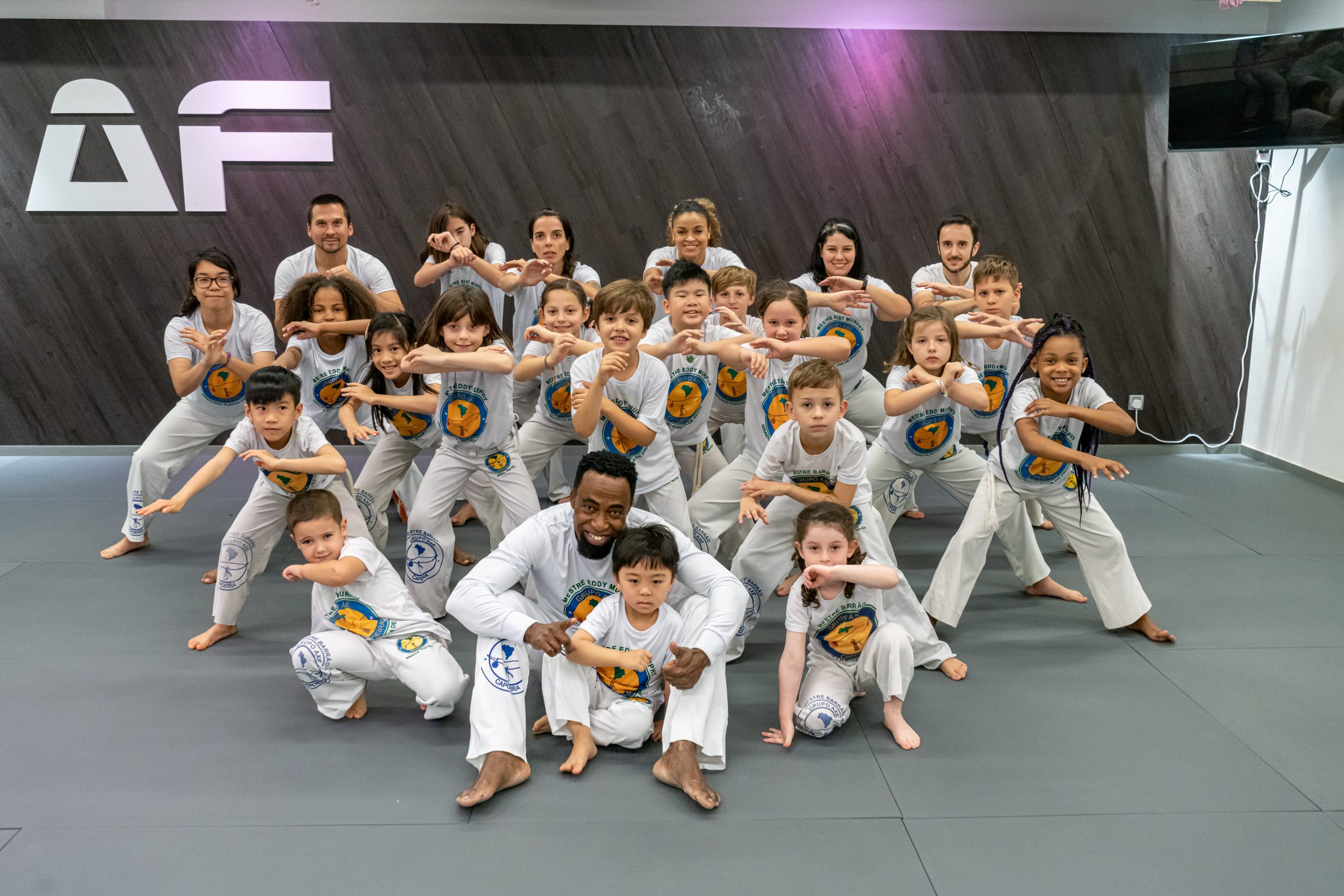 Capoeira is excellent for both physical and mental strength, says Murphy. "It has also helped me open new windows," he says, "in Macao and across the world." In his teens, he says that being proficient at the sport on the streets was important so 'you could put up a good fight when challenged to a duel' which, if you won, would 'prove your worth and earn you some experience'. He says the streets of Brazil are different today but capoeira is no less respected as a tradition and a sport that is great to participate in or even just to watch.
"Being one of Grupo Axé Capoeira's five masters is a huge privilege. It has taken me to so many countries where I can work with other students and teachers," he says. Two years ago, he visited '12 different places' across the world in just 12 months. "I admired Russia. The people I met didn't speak English but they were really respectful. Respect opens up new ways to learn as if you show someone respect, you can learn from them and vice-versa. Some of my students in Macao are as young as three. They learn respect at that age like all of the people in my classes," Murphy says.
For his students, Murphy tells them that 'before you even step through the door, you leave all your problems on the other side and come in with a clean and open mind'.
Racism and bullying are also hot topics. "My classes are a tool that I can use to help make people better at dealing with racism or bullying. Most of my students are young – they are the foundation of our future. If they can become better people theen the future will be a better place." Murphy adds that his goal is to be the young people's 'father figure' or 'at least someone they can one day look up to and say they are who they are because of my teaching, just like I did with Mestre Big Dinho'.
Mestre Eddy Murphy has had a highly colourful career and is looking forward to many more years of passing those capoeira skills on to thousands of others. He loves Macao and plans to expand his club and influence over the coming years in a bid to keep this unique martial art in the public eye. He applies this motivation as much to himself as he does to his students.
"Never give up," he says. "Not only in capoeira or in sport – but in life too. Always keep an open mind and never stop trying. Sometimes you want to go in one direction and you hit a wall. You may want to give up but don't. There's another door nearby. Step aside, open that door and keep going. Other opportunities are waiting for you."