'I'd like to show the world that there is a Macao athlete called Angela Wong'
'I'd like to show the world that there is a Macao athlete called Angela Wong'

Link copied
Angela Wong came back from a major injury to win the SAR's only gold at the World University Games. She tells Macao News what that was like.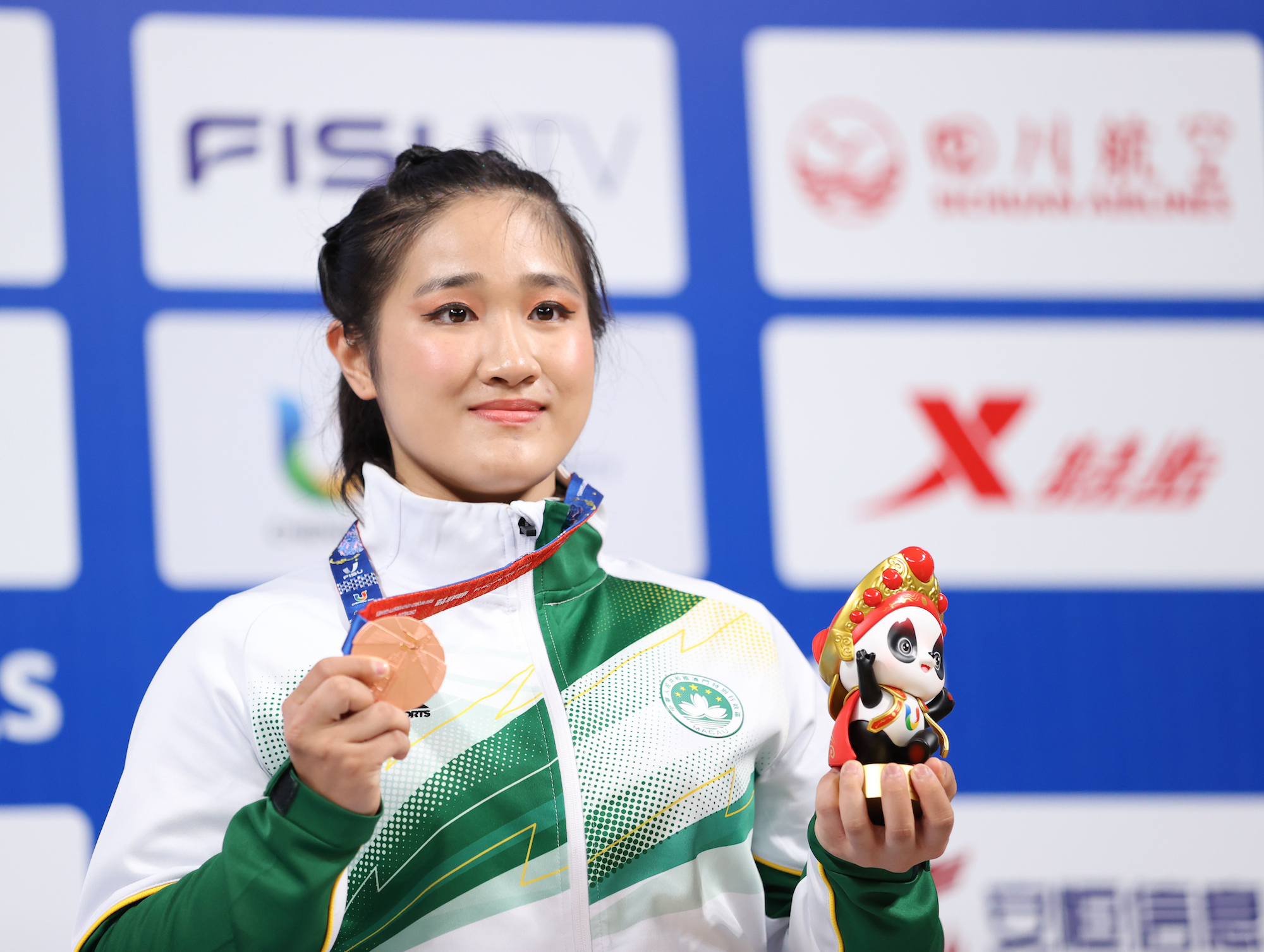 It's never easy for an athlete to come back from an injury. Especially a serious one, in the anterior cruciate ligament (ACL). But Wushu athlete Wong Sam In – who goes by Angela – did it. Just over a week ago, the 21-year-old won Macao's first and only gold medal in the 2023 FISU World University Games. 
On 29 July, Wong achieved bronze in the women's 'nandao' tournament in Chengdu – where the games were held. The next day, she won gold in the 'nanquan' category. Nandao is performed with a broadsword, while nanquan is fists only. 
These were far from her first medals, as Wong is already an established junior athlete on the international stage. Before her ACL injury, she'd won gold in Bulgaria, Korea, Brazil and Brunei. 
Wong is currently in her fourth year at the University of Macau, about to complete her Bachelor's in Computer Science. She spoke to Macao News about her triumphant comeback in the sport she loves, mental health, and dream to "show the world that there is a Macao athlete called Angela Wong."
This interview has been edited for length and clarity.
What was it like to win a gold medal at the World University Games? 
I had an ACL injury in training about a year ago, so winning two medals [one gold, one bronze] was unreal and unexpected. Especially given I was still halfway through my recovery and still feeling like I need more muscle training.
My coach and I didn't really expect medals in the competition, since I hadn't competed for three years due to the pandemic. Even on the first day, when I won a bronze medal, it was unexpected – but I was happy.
How did you feel before stepping onto the mat?
Right before my turn, a competitor from the Philippines got an injury like mine. At that moment, I felt really scared. I was already feeling the pressure, since I was next, and that just brought back the memory of my injury. 
How did you get into Wushu?
I started to practise Wuhsu when I was eight years old, in 2010, after watching a Chinese New Year Wushu performance at the Macao East Asian Games Dome. I was already doing many extracurricular activities at the time, and swimming was one of them. My mother requested that I finish learning how to swim before learning Wushu… which I did that same year.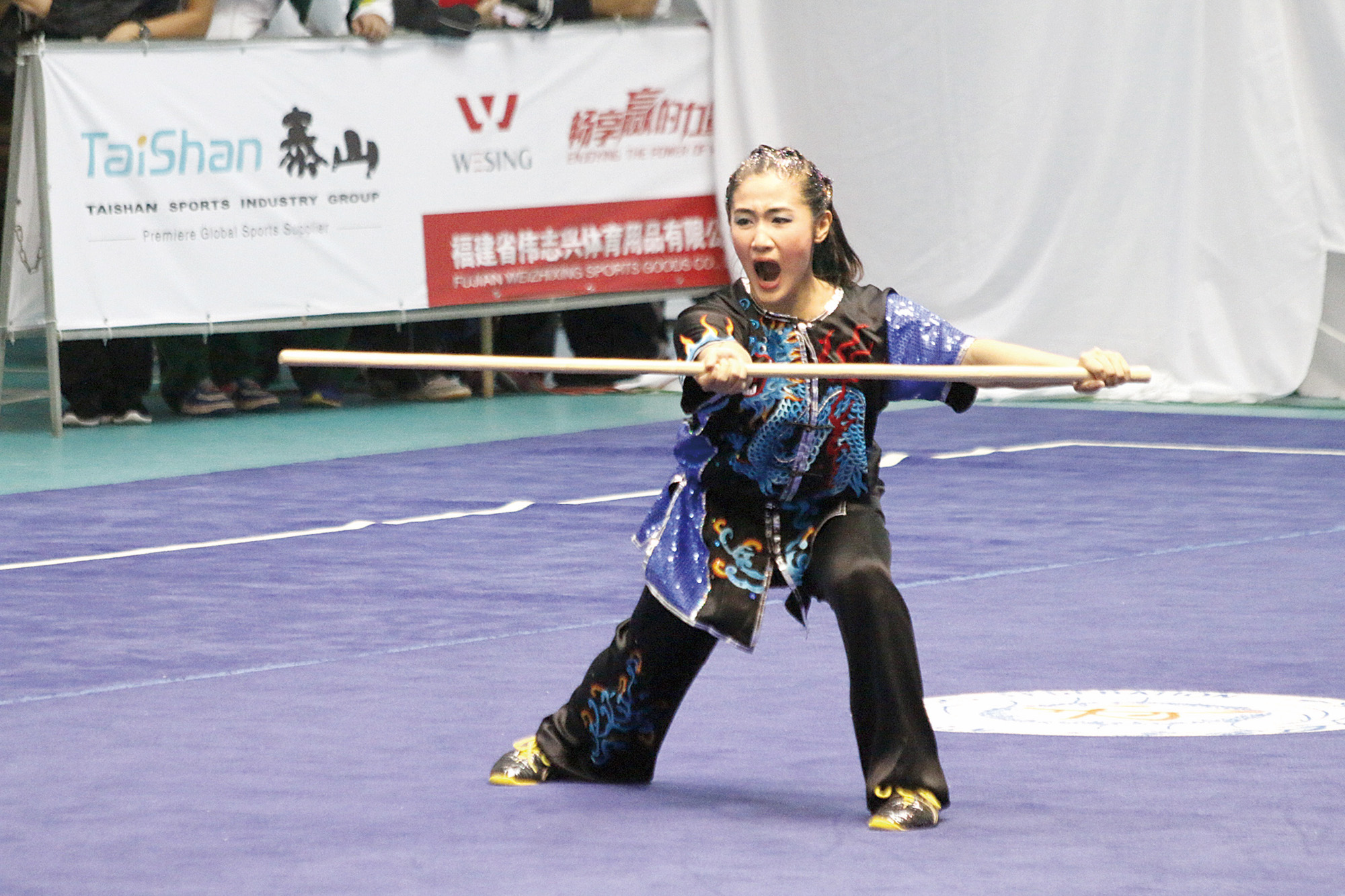 What makes a good Wushu athlete?
We require a lot of flexibility – something I was not that good at in the beginning. Coaches force you to stretch. Even when I joined the Macao Wushu team in 2013, I had to work on my stretching to catch up with others. 
There was actually a testing period when I joined the Macao Wushu team. I had to get to a certain level of flexibility so I could stay in the team. That was a tough time, because it was not only flexibility that I needed to spend time on, but keeping up with the training program. It was very intense and much harder compared to the Wushu martial arts school [I'd previously attended].
Martial arts in general are often perceived as male-dominated sports. What's your view on that?
In martial arts, it's true there are not many girls. The ratio of girls gets fewer as they grow older. Especially once they get injured, they leave martial arts. Even in our Macao team. Right now, there are less than 10 of us and 15 boys. 
Competitions are still fair in Wushu, however. The male match intensity is much higher than the female, but there is no sexism in the competition. 
I would say that girls should treat martial arts just like any other thing they enjoy doing. Your gender does not limit what hobby you pursue. 
How do you balance training with your studies?
Our coach says, 'If you miss a lesson in a week, it's almost like missing a week's training.' He was trying to enforce that consistency is key and that training every day is the best way to sharpen your skills and see improvements. So, I've always had this mindset throughout my Wushu career. 
But as I grow older, I realise that sometimes we also need to give ourselves a break. So if my studies are getting a little too difficult, I usually take a break [from Wushu] to finish everything. And if a competition is getting closer, I put less effort into my studies. That way, I can stay focused on both sides.
Tell us about your coach.
His name is Iao Chon In and I first met him at the Wushu school when I was 10 years old. He is now the Macao Wushu team's head coach – and brought me onto the team. 
He spends time honing my skills and taolu movements [the routine in Wushu], but more importantly, he also cares about my mental health. It makes things easier. Sometimes, when he notices that I didn't play well for a few days, we sit and try to seek the root of the problem together. 
When he takes our team to any competition, he always gives us the greatest support. I like that he cares for the athletes. 
What is the one thing you always do after a competition? 
Call my parents and tell them about my performance. If I win a medal, we celebrate together.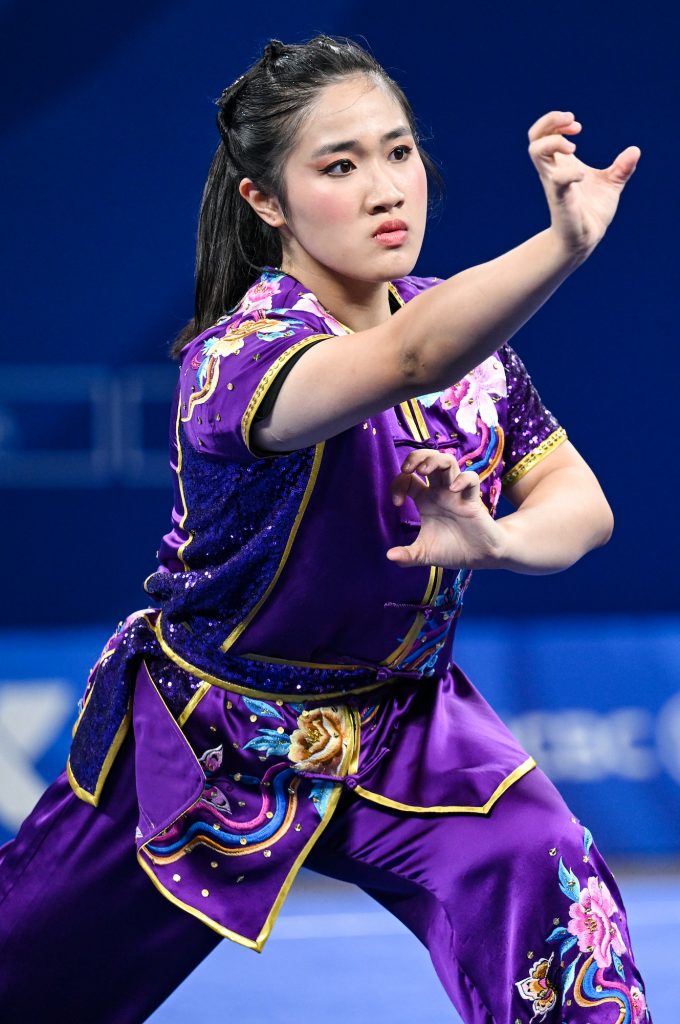 What was their reaction after you won a gold at the World University Games? 
They were really happy with my results in the competition. It was unexpected for them, too, because of my injury. They were emotional and told me afterwards that they cried, hugged each other, and were screaming at home. 
They've always been very supportive. For the first five years, when I first started Wushu, my mum used to rush back from work to pick me up from home to take me to the Wushu school. She always stayed until I finished training. 
When I was younger, they would set rules – like, I had to finish all my homework and only then would they take me to Wushu. But besides this rule, they have never said, 'Oh, you cannot play Wushu anymore.' Even after I got injured. 
Do you play any other sports? 
Swimming, tennis, volleyball and in school I used to play football with the boys. 
Where do you see yourself five to 10 years from now? 
I wish to participate in even bigger competitions, like the World Wushu Championship. Because that is the highest level a Wushu athlete can get to. So, I hope to challenge myself in that competition someday. I want to show the world that there is a Macao athlete called Angela Wong and that she plays Wushu really well.