Global Wellness Day scores huge success
Global Wellness Day scores huge success

Link copied
The chance to get out and try something different, with a very healthy angle, drew hundreds of eager residents to Macao Tower.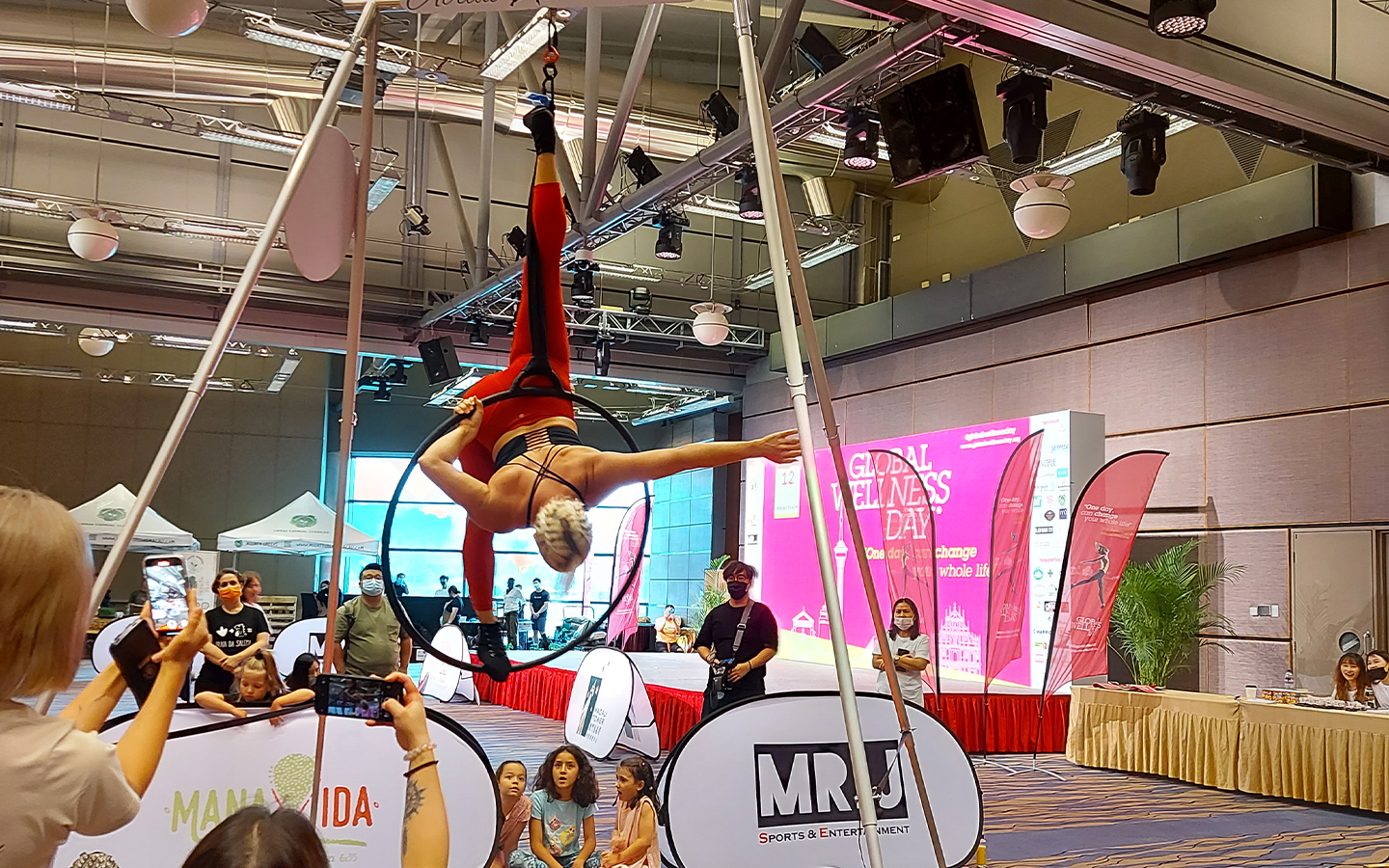 Attendance reached 300 people per turn at the Macau Tower to celebrate Global Wellness Day last Saturday, undeterred by inclement weather which forced the event indoors.
Organised by Mana Vida with MR.J Sports and Entertainment, the day embraced a host of different activities from pilates in the morning to partner stretching at the end of the day. There were also workshops such as making kombucha and nut milk, and creating aromatherapy globes and paint pouring.
Around 40 SMEs and NGOs took part in the one-day event, such as Mighty Greens, Beauty Choice and Mú Art Beauty. 
Another SME present was The Green Factory which sells water filters to reduce consumption of single-use plastic bottles. 
Founder Giuseppe Piepoli said: "Global Wellness Day was very well-organised. I saw many enthusiastic people coming in. And I think it's very close to what we are doing. It's a very good chance to meet people and it's within our target clientele.
"The people who are enthusiastic about their body outside, more often they want to be clean on the inside so they take care of what they put in the body, so this can be water or food and so on. The way we use single-use plastic, we really want to avoid." 
Global Wellness Day's Macao Ambassador Cintia Martins commented: "This year, we came back stronger. Last year, we could not hold this event because of the pandemic situation. But this year, thanks to the Macao government, we're all safe and we could do this for the whole community. 
"We had tons of different surprises. We had farming, we had massages. We had exciting pilates, Zumba and aerial performances. Even the Macau Glee Club came and performed a very good piece. It was fantastic and it was definitely the best year we've ever had."
MR.J Co-founder and Director of Programme & Events Jairo Calangi added: "Basically, Global Wellness Day really wants to help with mental wellness around the globe."
 "Here in Macao, we're trying to promote the same thing, the same message to bring it out to the community. This year, we've been getting a lot of great feedback. We really want to keep exploring more opportunities to help to bring this message spread out to the Macao community. "
One participant, Johana Velasco, said: "The Global Wellness Day was amazing. I liked the pilates and Zumba. It was very relaxing for the [mind] and body. It was perfect."
Martins added: "This year has been really, really great as we exceeded our expectations.
"A lot of people came and different communities joined us. And this is what we wanted, to provide a free event where everyone can come join with their families and just have some fun and start being healthy. We wanted to provide Macao a space, a place, a time where everyone can start learning new things, learning how to be healthy and try their best to change their lives.
"For the future, we expect the whole community to come also.
"We expect more support. We expect people to come and see that these things can actually change their lives. What we really want to do is not just one day. We want to do a week, maybe a month so that we can also collaborate with schools. We can collaborate with universities and anyone who's interested to take part in this. We cannot work alone, we have to really grow together."
This year's theme focused on "protecting our mental wellness". A global non-profit project, Global Wellness Day was founded in 2012 by Belgin Aksoy – tourism industry expert and founder of Richmond Nua Wellness Spa, Turkey's first destination spa – in Turkey and has grown throughout the world, following the motto: "One day, can change your whole life". In 2020, it was celebrated in over 170 countries in 8,000 different locations.