Schoolgirl, boyfriend nabbed picking up drug parcel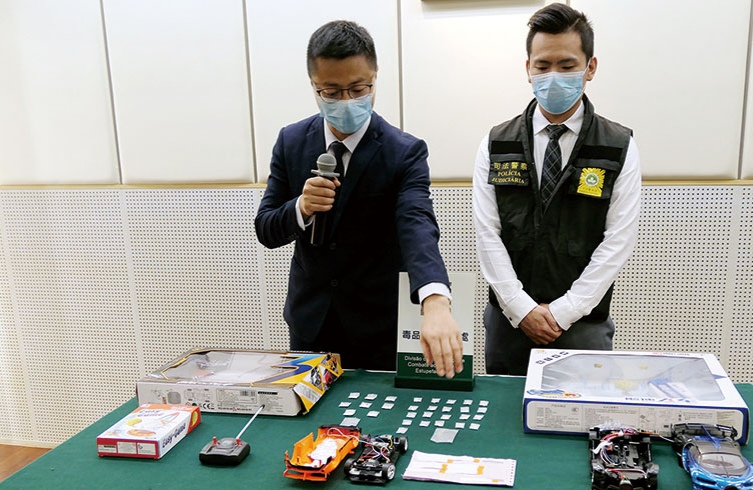 A 17-year-old schoolgirl and her boyfriend were arrested after they collected a parcel sent through the post which contained cocaine weighing 13.2 grammes with a street value of MOP 44,000, Judiciary Police (PJ) spokesman Leng Kam Lon announced in a special press conference on Thursday.
The female suspect, surnamed Teng, is a high school pupil, and the male suspect is a 23-year-old surnamed Mak who told the police that he is unemployed. Both suspects are local residents.
According to Leng, the police have strengthened cross-border intelligence exchanges concerning drugs hidden in Macau-bound parcels. Based on intelligence analysis, the police discovered that the two suspects had been hired by a Hong Kong drug trafficking gang to collect a parcel from an express mail company in Ilha Verde district.
Leng said that on Wednesday when the two suspects picked up the parcel at the express mail company, the police stopped them and found the parcel had 29 packets of cocaine weighing 13.2 grammes wrapped in aluminium foil hidden in a remote-controlled toy car with other toys packed around it to avoid a customs check.
According to Leng, the police suspect that the sender is from the gang that is also behind the drug parcel case that the police busted on Monday. Leng said the police would continue their investigations into other possible suspects.
Leng said Mak told the police it was the first time he had committed the crime and said that he had been promised MOP 3,000 by the gang for collecting the drugs and selling them in Macao, while Teng told the police that she was just accompanying her boyfriend to collect the parcel, adding that she did not receive any money, but knew there were drugs in the parcel.
Both tested positive for drugs at the Conde S. Januário Hospital Centre, according to Leng.
The duo were transferred to the Public Prosecutions Office (MP) yesterday for further investigation, facing charges of illegal use of drugs and trafficking in narcotic and psychotropic substances, according to Leng.
(The Macau Post Daily/Macau News)
PHOTO © The Macau Post Daily/Iong Tat Choi