Government orders 20 million masks after 1st Wuhan virus case confirmed
Locals can each buy a maximum of 10 surgical masks every 10 days at designated pharmacies upon presentation of their Macau ID card starting Thursday night.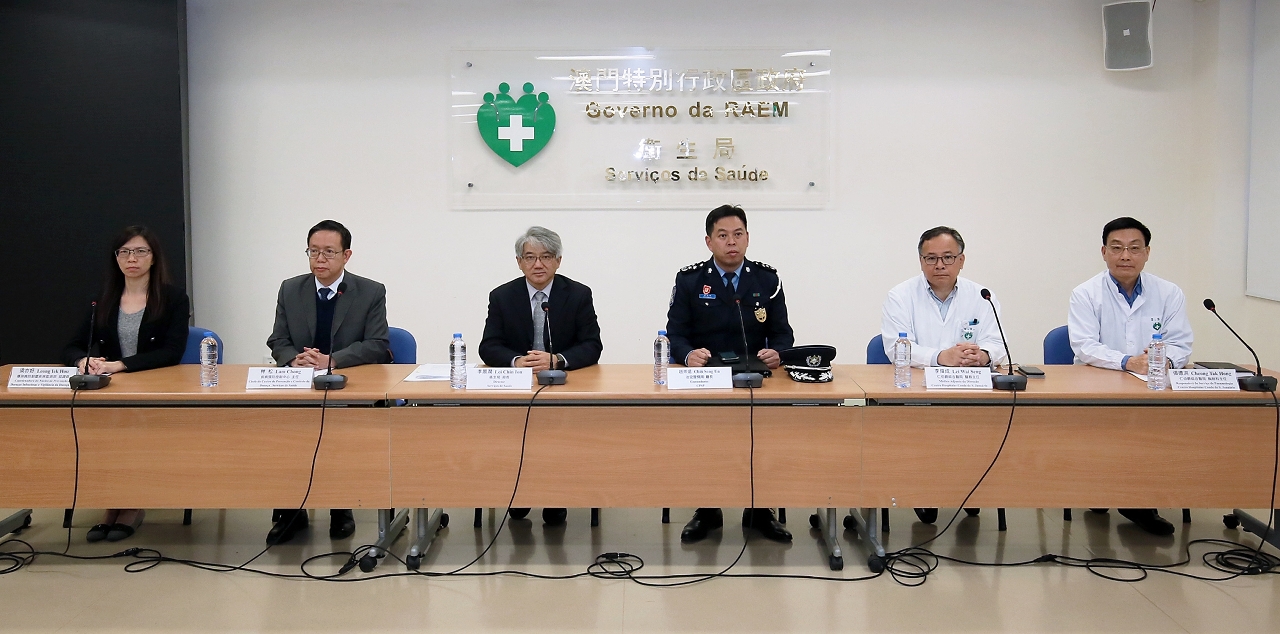 Macau on Wednesday recorded its first confirmed case of coronavirus, colloquially known as Wuhan virus, with the government saying that the 20 million surgical masks that it has ordered will be released in a rationing system in which locals can each buy a maximum of 10 surgical masks every 10 days at designated pharmacies upon presentation of their Macau ID card starting Thursday night.
During two press conferences about the viral menace on Wednesday, one in the morning and the other in the afternoon, the government said that the patient is a 52-year-old woman from Wuhan, where the virus outbreak started.
According to information released by Public Security Police (PSP) Commander Chio Song Un, the patient caught the high-speed train from Wuhan to Zhuhai and entered Macau via the Barrier Gate on Sunday. The patient's surname was not released.
She took a StarWorld shuttle bus (licence plate MU2698) at about 11 p.m. and got off at the hotel in Zape, then went over to the nearby Landmark Hotel to check-in.
On Monday, she bought medicine from a pharmacy near the Landmark Hotel, met two friends and had dinner in the area, and on Tuesday she was playing baccarat at Landmark's casino on the third floor at about 3 p.m. before heading to the public Conde de S. Januário Hospital Centre at 4 p.m. for treatment.
According to the hospital's clinical director Lei Wai Seng, the patient initially did not have a fever but had a sore throat and been coughing for about a week. She was immediately taken to the hospital's isolation ward and was diagnosed with the SARS-like coronavirus after two lab tests, after which she was immediately quarantined.
Lei Wai Seng added that two women and a man have been identified as people who had been in close contact with the patient. The trio's lab tests have so far come out negative for the deadly virus, but they will have to remain in the hospital's isolation ward for 14-day clinical observation.
The guestrooms where Macau's first confirmed Wuhan pneumonia virus patient and the three other people had stayed were disinfected by specialist staff sent there by the government on Wednesday.
Health Bureau (SSM) Director Lei Chin Ion also said that the condition of the patient from Wuhan was "not highly contagious".
Mad dash for masks since Macau's first case was reported Wednesday morning, there has been a mad dash for surgical masks and hand sanitizers by locals and visitors alike, with many shops and pharmacies saying they were out of stock Wednesday afternoon.
While some pharmacies were charging 3 patacas per mask, one pharmacy was reportedly charging customers 500 patacas for a box of 30 masks, or nearly 17 patacas per mask.
Lei Chin Ion said that people should wear surgical masks "when appropriate", as he announced on Wednesday afternoon that the government has ordered 20 million surgical masks. He said they would all be made available to local residents.
Under the measure, each local resident will be able to buy 10 masks upon presentation of his or her Macau ID card (BIR) at 56 pharmacies that provide prescription medicine for the public hospital, but they can only purchase more after 10 days under the measure.
Non-resident workers will be excluded from the measure, according to the press conference.
Asked how much each mask will cost under the measure, Lei Chin Ion said he didn't know as the price varies for each batch.
Using masks 'rationally'
Lei Chin Ion also said that one mask a day was enough, based on scientific research, urging residents to be "rational" when using the masks. He also said that soap was more effective when washing hands than sanitizers.
An SSM statement last night urged the public not the panic, and to wear surgical masks when at medical facilities or when they have a fever or symptoms of respiratory problems.
According to SSM's data, there are a total of 194 pharmacies in Macau, 160 of which were out of stock of surgical masks Wednesday afternoon. There are eight suppliers of surgical masks in Macau, of which only one still had stock of 150,000 masks left on Wednesday, according to the bureau's data.
As of 5 p.m. Wednesday, the Health Bureau (SSM) had recorded 23 suspected cases of the Wuhan virus since January 1, including the one confirmed on Wednesday, 18 of which have meanwhile tested negative to the virus, while four were still awaiting their lab tests results.
Mandatory masks for casino staff
Other measures that the government is putting in place is requiring all casino staff to wear masks at work and requiring all travellers to fill in health declaration forms upon arrival at all border checkpoints. Casinos have also been ordered to scan visitors' temperature at entrance points.
The government urged residents to refrain from travel to Wuhan and suspended all package tours between Macau and Wuhan.
Lei Wai Seng added that in order to prevent infections at the public hospital, visiting hours have been reduced to just from 6 p.m. to 8 p.m., and every person at the hospital needs to wear a surgical mask. Every new patient at the emergency unit will first be assessed if they are a Wuhan virus high-risk person. If so they will be immediately transferred to the hospital's special emergency unit, according to Lei Wai Seng.
The government also ordered the operators of Macau's public buses and the LRT system to disinfect their facilities and ensure proper ventilation and the personal hygiene of their staff.
CE meets respiratory expert
Meanwhile, Xinhua reported on Wednesday that Chief Executive Ho Iat Seng on Wednesday met Zhong Nanshan, a renowned respiratory expert and head of a high-level team of the National Health Commission (NHC), at Government Headquarters.
According to the statement, Ho reassured Zhong that the local government is paying close attention to the situation of the Wuhan virus.
According to the Macau Post Daily, Xinhua quoted Zhong urged Macau to work closely with Guangdong to "prevent super-spreaders", or highly contagious carriers of the Wuhan virus.