Gaming operators undertake to invest MOP 108 billion in Macao by 2033
Gaming operators undertake to invest MOP 108 billion in Macao by 2033

Link copied
Proposals include hi-tech theme park, incubator centre to develop hi-tech innovation and shows by superstars like Aaron Kwok Fu-shing and Leon Lai Ming.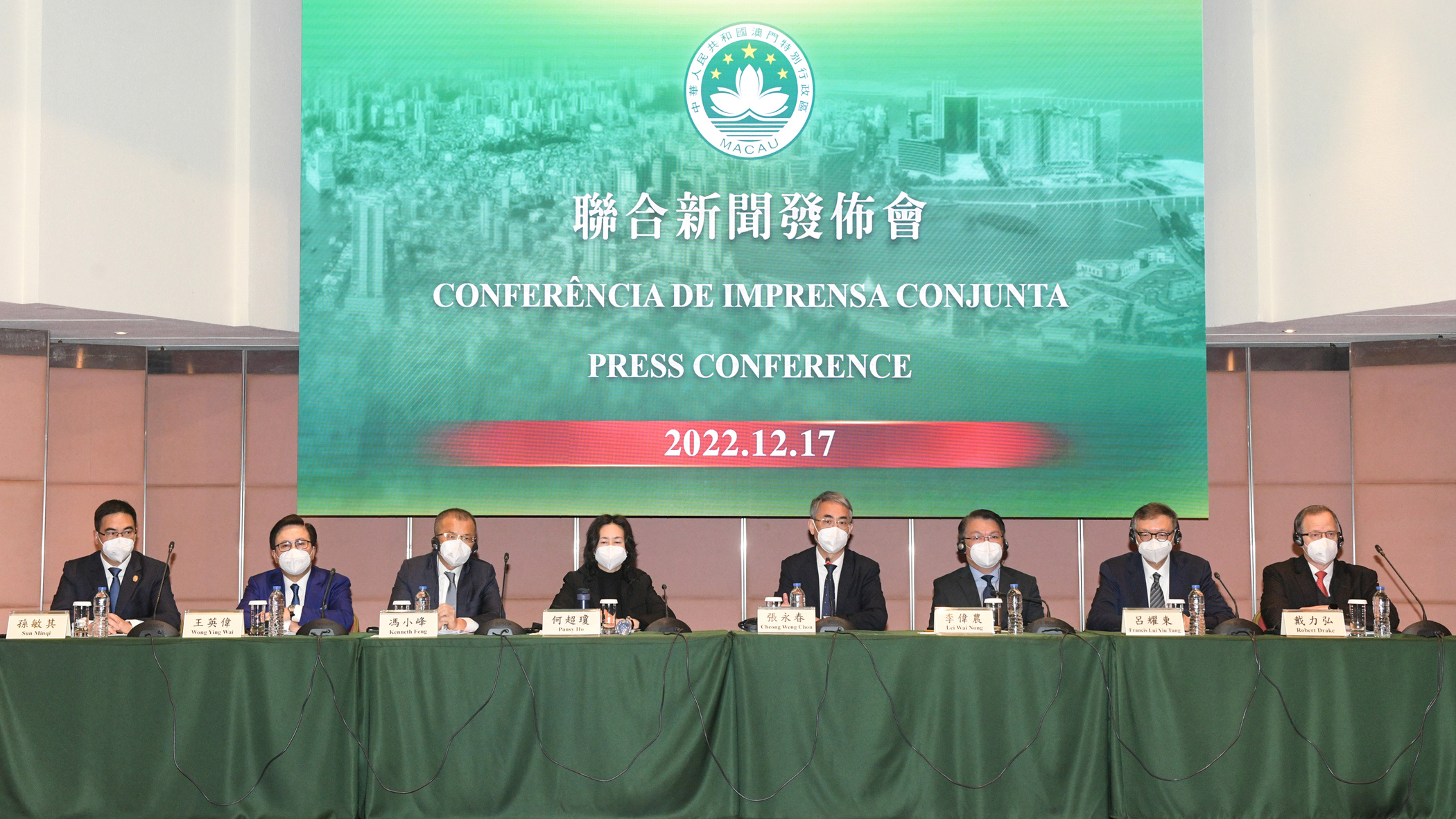 Macao's six gaming operators reaffirmed their formal commitment to invest a total of MOP 108.7 billion (US$13.5 billion) in non-gaming attractions over a 10-year period starting next year.
The six companies, which signed their concession agreements with the government on Friday, reiterated their investment pledges during a joint conference at the Macau World Trade Centre on Saturday morning. The event was also attended by Secretary for Administration and Justice, Andre Cheong Weng Chon, who chaired the government's gaming concession bidding committee, and Secretary for Economy and Finance Lei Wai Nong, whose portfolio includes supervision of the gaming sector.
On Friday, Chief Executive Ho Iat Seng signed the six concession agreements, which will take effect on 1 January 2023 and have a validity of 10 years.
During the concession tender earlier this year, the government had requested the bidders to focus their proposals on priority investment in non-gaming attractions and initiatives to attract more foreign visitors to Macao.
Tourists from mainland China, Hong Kong and Taiwan accounted for some 90 per cent of Macao's visitor arrivals in the pre-pandemic year of 2019.
The incumbent gaming operators' investment promises are listed in their respective concession agreements. The operators also pledged to invest a total of MOP 10.1 billion in gaming facilities during the concession period.
The six operators were represented by senior representatives during Saturday's press conference.
MGM Grand Paradise, represented by Pansy Ho, said that its plans to invest MOP 15 billion in non-gaming elements such as culture, health tourism and gastronomy, as well as initiatives to attract more foreign visitors to Macao, while its total investment during the concession period would amount to MOP 16.7 billion. MGM also announced the launch of an incubator hub for culture and art businesses and an entertainment complex.
Galaxy Casino, represented by Francis Lui and Buddy Lam, said that MOP 27.5 billion of its total 10-year investment of MOP 28.5 billion would focus on attracting more foreign visitors to Macao. The company also pledged to build a high-tech theme park, art museum, 4,000-seat theatre for music performances, a concert hall for classical music and opera, and "Asia's best venue" for variety shows.
Venetian Macau, represented by Wilfred Wong, reaffirmed his company's pledge to invest MOP 27.8 billion of its promised 10-year investment of MOP 30.2 billion in non-gaming attractions, the further development of the MICE segment in particular, as well as the setting-up of an incubator centre to help develop Macao's entrepreneurship and technological innovation, and a themed garden combining elements from gardens in Singapore and London.
Melco Resorts, represented by Lawrence Ho, said the company intended to invest MOP 10 billion during the concession period in non-gaming attractions, such as 90 resident shows by famous artists from Hong Kong, among them Aaron Kwok Fu-shing and Leon Lai Ming, between next year and 2025, as well as shows by artists from overseas. The company also announced the relaunch of its House of Dancing Water show in 2024 and the construction of an indoor water park.
Wynn Resorts, represented by Linda Chen, reaffirmed the company's commitment to invest MOP 13 billion over the next 10 years in non-gaming facilities and initiatives to attract foreign visitors, such as by cooperating with airlines. The company also announced plans to build a theatre for shows tailor-made for Macao, an international cuisine hub and an "interactive and immersive" entertainment centre.
SJM Resorts, represented by Daisy Ho, said her company would invest MOP 13 billion during the concession period in non-gaming attractions and programmes to attract more foreign visitors to Macao. She also announced plans to renovate the company's Lisboa flagship hotel-casino and to redevelop Macao's main thoroughfare, Avenida de Almeida Ribeiro, and parts of the waterfront the Inner Harbour, including the Ponte 14 & 16 properties.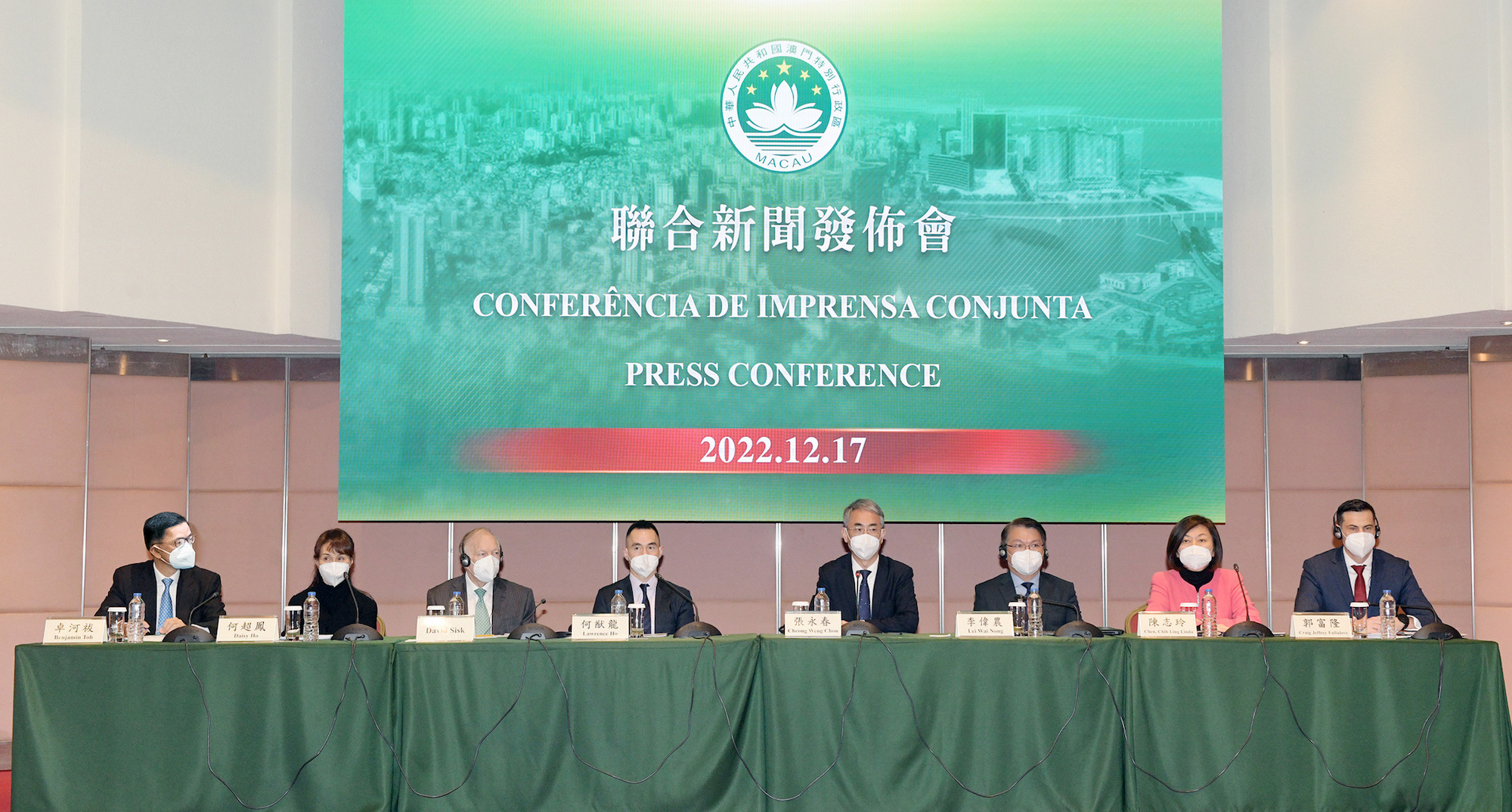 The government's international tender drew seven bidders – Macao's six incumbent gaming operators and a local affiliate of Malaysian's gaming giant Genting, which failed in its bid.
Macao's first gaming concessions were granted by its then-Portuguese administration in the mid-19th century. Macao's gaming concessions give the government much more leeway over how the gaming industry is run than conventional business licences, The Macau Post Daily reported.