Walk-in Covid-19 jabs for over-60s start
Walk-in Covid-19 jabs for over-60s start

Link copied
No appointment necessary for over-60s at all 18 vaccination points; health workers will assess outpatients and inoculate them if they agree.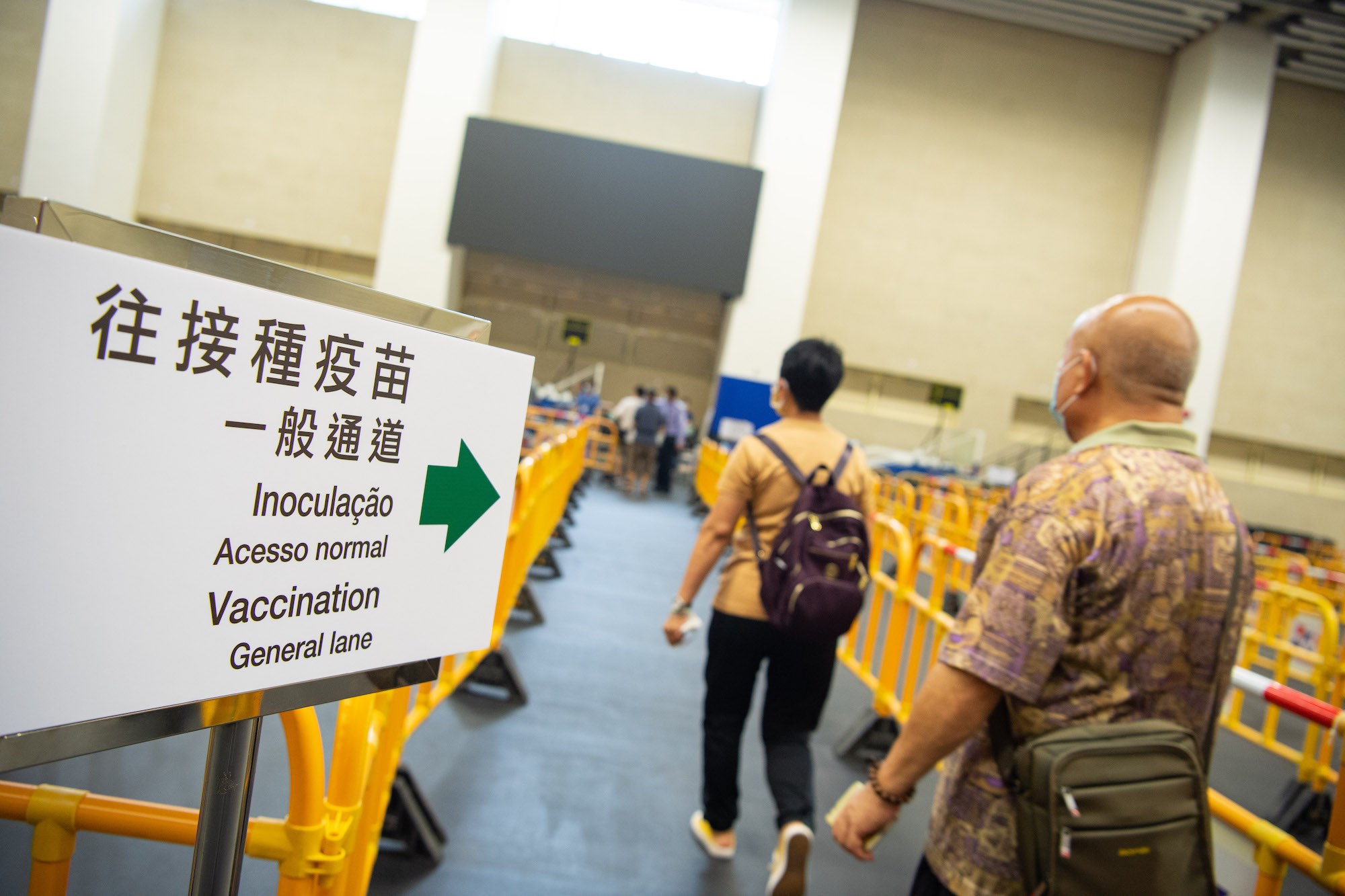 Starting today, walk-in Covid-19 vaccinations will be on offer for anyone aged 60 or over at all 18 inoculation facilities in the city.
Tai Wa Hou, a clinical director of the Conde de São Januário Hospital Centre, announced that "all senior citizens aged 60 or over can directly go to Macao's inoculation facilities for their jabs without the need to make an appointment."
Two types of Covid-19 vaccines are currently available in Macao, China's Sinopharm inactivated vaccine and Germany's BioNTech mRNA vaccine. Currently, Sinopharm jabs are administered to those aged 18 or over, while BioNTech shots are given to those aged 12 and up.
Only 3 out of Macao's total of 18 inoculation facilities are used for BioNTech inoculations, namely the public hospital's blood sample collection room, the Ocean Gardens Health Centre and the Ilha Verde Health Centre.
All potential vaccinees must pass a health assessment by medical workers at the inoculation facility before being given their jabs.
When the government launched its Covid-19 vaccination programme in February, people had to make an appointment. However, since early June, walk-in vaccinations have been available at all inoculation facilities in the city – provided that places are still available.
Under today's new rules, all those aged 60 or over can get their walk-in Covid-19 vaccinations at all inoculation facilities – regardless of whether places are still available.
Walk-in vaccinations remain available for all other age groups – but only provided that places are still available when they arrive.
In related news, the Novel Coronavirus Response and Coordination Centre announced that as of 4 pm yesterday, 513,239 doses of Covid-19 vaccine had been administered to 285,858 people in Macao, comprising 56,719 who had received their first jab and 229,139 who had received their second jab.
Macao's Covid-19 vaccination rate now stands at 41.9 per cent.
A total of 10 adverse events were reported in the past 24 hours (until 4 pm yesterday). The total number of adverse events since the start of the vaccination drive stood at 2,171, or 0.42 per cent of the total number of jabs, including seven serious cases.