Sunday's NAT drive finds only negative results so far
Sunday's NAT drive finds only negative results so far

Link copied
More than 80,000 tested, just under 56,000 given the all-clear, full results due shortly. Ongoing 'high risk' programme for Nepalese, Vietnamese and others ends tomorrow.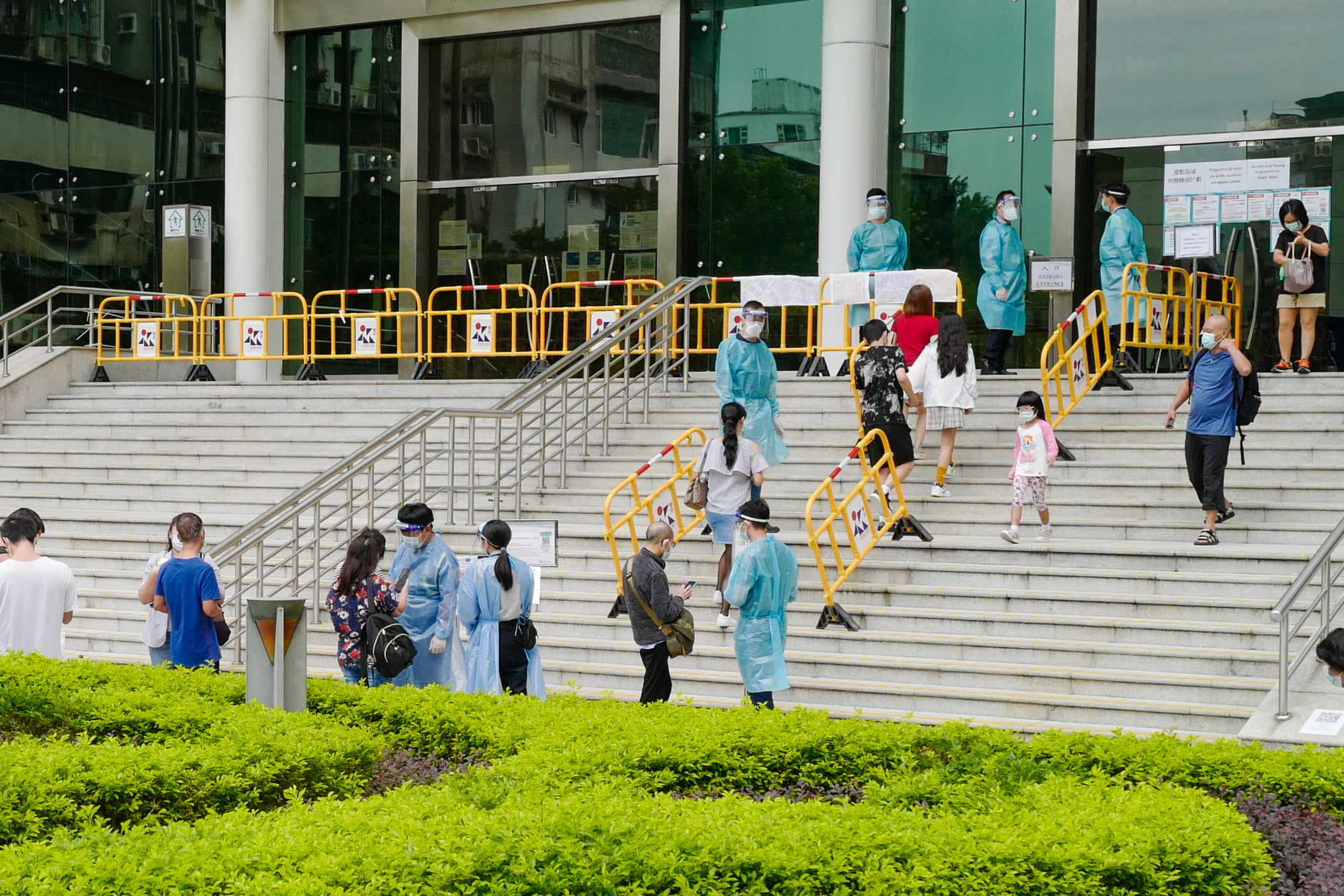 Sunday's lightning nucleic acid test (NAT) drive turned up no Covid-19 positive results by midnight last night.
Starting at 9 am, more than 80,000 people were tested in the space of just 15 hours, following the Health Bureau's announcement on Saturday night that it would target people living near the city's locked-down Red Zones. According to the latest figures, 55,961 proved negative.
The one-day drive, officially known as key area NAT programme, covered people living near the several Red Code zones related to the city's 72nd, 73rd and 75th Covid-19 cases.
The key areas comprise the neighbourhoods surrounding the zones set up due to the 72nd case, namely Kam Do Lei Fa Yun building in Rua de Pedro Coutinho, Victoria Hotel in Estrada do Arco near Iao Hon district, and Grand Emperor Hotel in Avenida Comercial de Macao in Nam Van district; zones set up due to the 73rd case, namely Son Lei Building in Iao Hon district; and zones set up due to the 75th case, namely Phase 1 of San Mei On Building and Kam Heng Building in Iao Hon district.
Yesterday's testing was aimed at those living in the key areas between 26 September and 4 October, as well as anyone who visited for significant amounts of time.
The key areas' residents were notified by SMS based on their home addresses on the Macao Health Code system.
On Saturday, Tai Wa Hou, a clinical director of the Conde de São Januário Hospital Centre, said that the aim of the one-day mandatory tests was to discover possible hidden cases while the Covid-19 incubation period was still ongoing, with the aim of preparing the good conditions for Macao to resume a normal way of life, provided that all the test results are negative, such as restarting business and economic activities, recreational and sports activities, classes in schools, and normal cross-border movement of people with Guangdong province.
The centre had also urged people who do not live in the key areas but stayed there for prolonged periods of time, such as for work and other activities, between 26 September and 4 October, as well as those who used public bus routes 1, 7, 8, 10, 12, 18, 19, 21A, 23, 25, 25B, 51A and AP1 during that timespan, to volunteer to be tested as well, particularly those who were not wearing a facemask while staying there.
Yesterday's mandatory tests for those living in the key areas, which were free of charge, were carried out at 12 general testing stations and one special-care testing station.
Macao has so far carried out three mandatory citywide NAT drives, which all produced negative results. Yesterday's tests were the city's first neighbourhood-specific, key area NAT drive.
The centre said that the Macao Health Code colour of those who failed to undergo the mandatory tests yesterday will become yellow at midnight tonight, which bars them from leaving Macao, entering various premises in the city, and using public transport.
Those whose Macao Health Code colour has turned yellow due to their failure to undergo the mandatory tests will only have their health code colour return to green after undergoing a Covid-19 test at their own cost of MOP 70 at the city's regular NAT stations. 
The government's ongoing mandatory high-frequency NAT drive for "high-risk" target groups comprising non-resident workers from Nepal and Vietnam, and local and non-local renovation and laundry workers and security guards, which started about a week ago, is slated to end tomorrow night. 
The government has extended the programme for the five target groups, which was initially due to end yesterday, for two more days due to one-day suspension of NATs in the city last week due to Typhoon Kompasu.
According to the centre, by the time the programme ended 56,130 people had their swabs taken under the key area NAT drive. A total of 24,322 people from other "important" groups, such as those participating in the ongoing "high-frequency" testing programme for the five target groups and those living in the city's Red Code zones and Yellow Code zones that had remained in force as of yesterday, had also had their Covid-19 swabs taken yesterday.
Among the 80,452 tests taken yesterday, 55,961 results were available as of midnight, all of which were negative The Macau Post Daily reported.
Macao's Covid-19 tally stands at 77, without any fatalities. Macao has a population of about 680,000.