Lockdown latest: 16 Red Code zones in Macao, 57 placed on high alert
Lockdown latest: 16 Red Code zones in Macao, 57 placed on high alert

Link copied
Residents in red and yellow zones face strict testing regulations and restricted movement; elderly and anyone in difficulty urged to call helpline.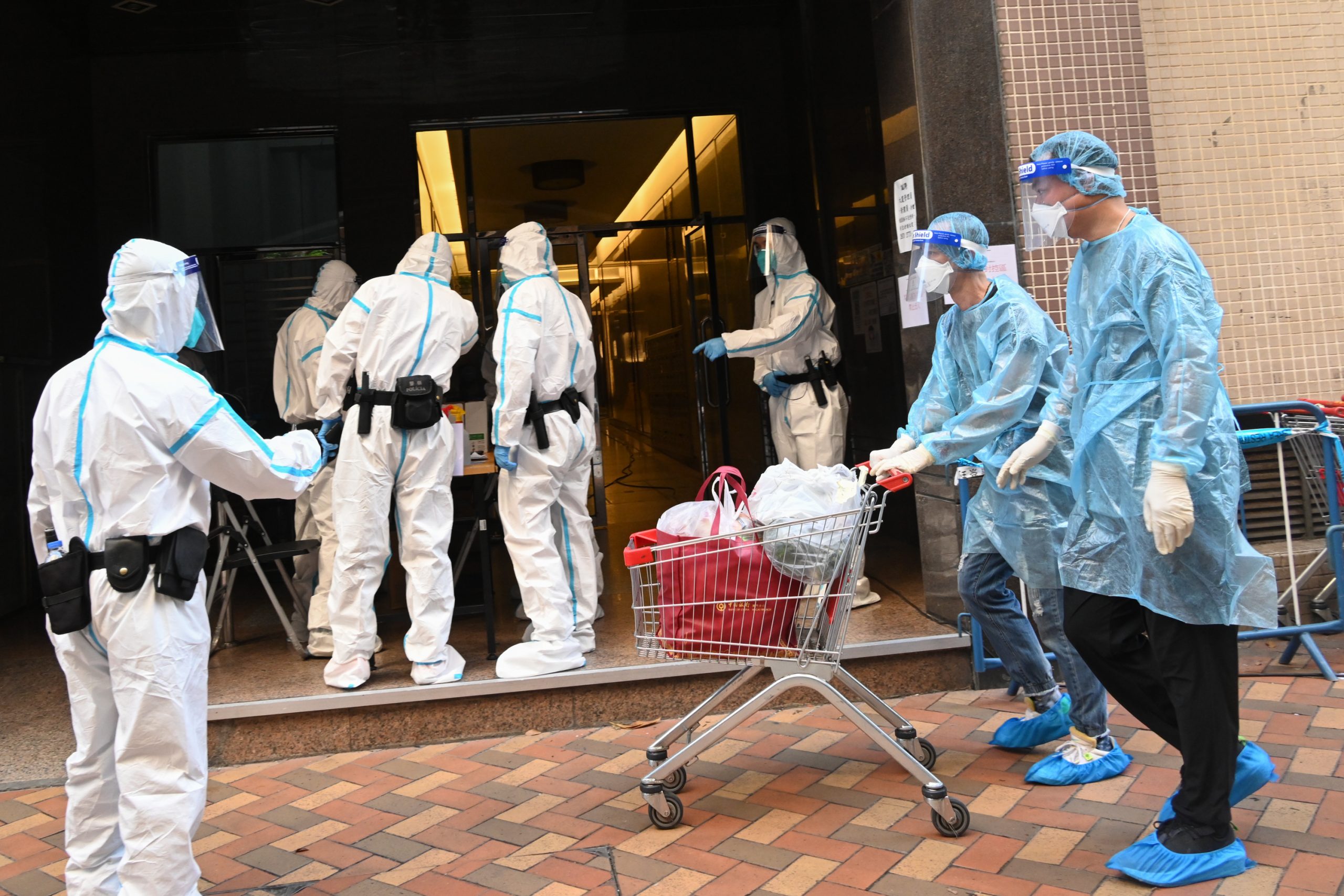 To be updated shortly…
Under latest regulations, Sixteen buildings in Macao have been locked down (classified as Red Code zones) as the city continues to try to keep the latest outbreak of Covid-19 at bay. In addition, there are now 57 Yellow Code zones that have been added to the city's growing list of lockdown and precautionary zones as of 11 pm on 27 June.
Red Code zones will be imposed after two units or families have tested positive Covid-19, rather than two persons. Persons in these zones are required to perform a nucleic acid tests (NAT) on days 1 and 5 respectively and rapid antigen tests (RAT) on days 2, 3 and 4. Other control measures include imposing restrictions on departure from Macao. 
If there are no indications that the spread of the virus persists within the zone during that period and there is a negative result on the fifth day, Health Codes will be converted to yellow on the 6th and 7th days and a NAT must be performed on the 7th day. 
During the sealed control period (Day 1 to 5), only people are allowed to enter, and all individuals are prohibited from leaving, with the exception of epidemic prevention workers.
Individuals from the affected areas can only pick up materials and consumables assigned at the indicated locations, in order to reduce travel as much as possible. Affected individuals will undergo either on-site isolation medical observation or referred to an appropriate centrally managed medical observation site, according to identified needs. Health codes will turn green if NAT results on the 8th day are negative.
Buildings or areas with one unit or family (rather than one person) that has tested positive for Covid-19 will be listed as prevention areas, with the Yellow Code designation. Areas previously classified as Red Code zones may now be reclassified as Yellow Code zones if after undergoing one NAT, they do not meet the requirements of being classified as a lockdown zone.
Measures include four NATs on days 1, 2, 4 and 7 (book on this link) and RATs on days 3, 5 and 6. The results of free NAT will not be made available in the Macao Health Code. For all individuals in Yellow Code zones, their Health Codes will turn yellow. Health codes will turn green if NAT results on the 8th day are negative.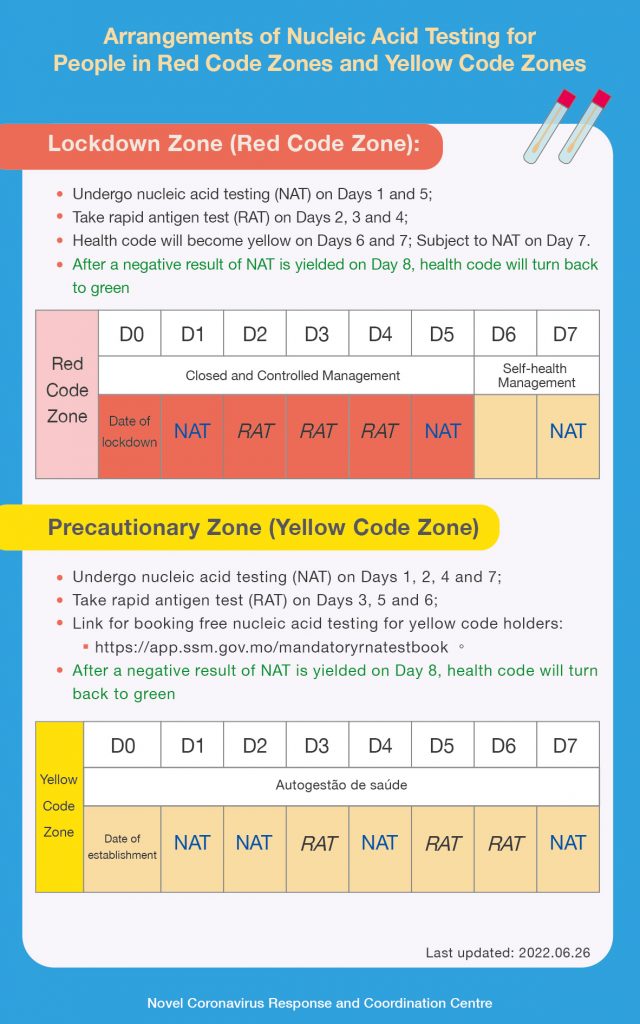 All elderly people living alone and people with difficulties, whether psychological or mental, can call the IAS hotline (phone number: 28261126) for assistance through specialised staff.
The updated zones as of 11 pm on 27 June are (new additions in bold):
Red Zones
1. Rua de Afonso de Albuquerque 33-35G, Edifício Tat Cheong
2. Rua de Cantão 49-63, Rua de Foshan 48A-78, Praça de D. Afonso Henriques 76-90, Hotel Fortuna
3. Rua Direita do Hipódromo 77, Edifício Fei Choi Kong Cheong (Block 1)
4. Travessa dos Bombeiros 5-5H, Edifício Tat Cheong
5. Rua de Manuel de Arriaga 13E, Edifício Yan On
6. Estrada dos Cavaleiros 182-188, Edifício Concórdia Square RC-W, Estabelecimento de Comidas Ng Iap
7. Praça das Portas do Cerco 315, Edifício Comandate Pinto Ribeiro (Torre I)
8. Avenida de Horta e Costa 23-33, Rua de Francisco Xavier Pereira 104-104B, Edifício Va Fai Kok
9. Avenida da Longevidade 51, Edifício Son Lei
10. Rua Central da Area Preta, La Marina (Tower 4)
11. Rua da Madre Terezina 32-32A, Pátio de Horta e Costa 11-11A, Edifício Veng Chan
12. Rua da Barca 60E, Largo da Cordoaria 4-6A, Edifício Sok Fan
13. Rua Cinco do Bairro Iao Hon 27-39, Rua Dois do Bairro Iao Hon 37-49, Rua Seis do Bairro Iao Hon 40-64, Rua Um do Bairro Iao Hon 36-48, Edifício Mau Tan
14. Rua de Entre-Campos 2-2C/ Rua do Patane 24, Edifício Chong Kio
Yellow Zones
1. Avenida Marginal do Patane 331-339, Rua Marginal do Lam Mau 330-342, Travessa Marginal do Lam Mau 15-31, Yo Ho City Center
2. Rua de Nam Keng 73, Flower City (Edifício Lei Seng)
3. Avenida do Conselheiro Ferreira de Almeida 128, Edifício Pak Wai (Block 3)
4. Rua do Canal Novo 263, Edifício U Wa (Block 6)
5. Rua do Padre Eugénio Taverna 86, Trust Legend (Tower II)
6. Estrada do Repouso 102-108A, Edifício Hou Van Keng
7. Rua 1º de Maio 36, Edifício U Wa (Block 12)
8. Rua de Manuel de Arriaga 64-64B, Edifício Shun Lei
9. Rua de Afonso de Albuquerque 38-40A, Edifício Chun Fong
10. Avenida da Praia Grande 241-253, Edifício Tak Fong
11. Rua de Afonso de Albuquerque 37-45, Edifício Tak Weng
12. Rua de Afonso de Albuquerque 31C-31G, Edifício Man Heng
13. Rua do Almirante Costa Cabral 146, Edifício Parkway Mansion (Block 2)
14. Avenida Olímpica 177-259, Rua de Évora 10-72, Flower City – Lei Pou Kok
15. Praça de Lobo de Ávila 16-18, Lake View Garden
16. Rua da Emenda 40, Carnes Assadas Lam Kei
17. Rua Central de T'oi San 302, Edifício Jardim Iat Lai (Block 6)
18. Estrada do Repouso 122-122B, Edifício Lei Fat
19. Rua de Sanches de Miranda 14-14A, Edifício Seng Fat
20. Rua Sul do Patane 159, Van Sion Son Chun 
21. Rua da Baçia Sul 281, Vai Choi Garden (Block B)
22. Rua de Dezoito de Dezembro 14/Rua da Mitra 16, Edifício Man Yi
23. Rua de Manuel de Arriaga 3J-3N, Edifício Tim Chui
24. Pátio da Barca 23-29, Rua do Lu Cao 35-35D, Pátio da Quina 2-16, Rua da Restauração 19-19B, Edifício Pak Heng
25. Rua da Tribuna 356, Edifício Lok Fu Garden (Lok Chi House)
26. Travessa das Docas 18, Edifício Nga San
27. Rua dos Ervanários 24A-26A, Edifício Cheng Heng
28. Calçada de Eugénio Gonçalves 3-3A, Edifício Son Hong
29. Estrada da Areia Preta 43-45, Rua da Areia Preta 2-10, Rua das Hortas 1-9, Edifício Yau Seng (Block 2)
30.Pátio da Quina 1-9, Prosperity House
31. Praça de Ferreira do Amaral 17-25, Avenida Comercial de Macau 23-85P, Torre Lago Panorâmico
32. Rua Norte do Canal das Hortas 166, Vai Yin Garden (Block B) 
33. Estrada Marginal do Hipódromo 135-135D, Rua Alegre 14-60, Hang Fa Garden
34. Avenida Marginal do Lam Mau 579, Van Sion Son Chun
35. Rua de Fernão Mendes Pinto 29, Rua de Francisco Xavier Pereira 92B-96A, Edifício Veng Kai
36. Rua Central 49-49B, Pátio do Pagode 2-4, Calçada de Santo Agostinho 2, Edifício Luen Fai
37. Rua do Almirante Sérgio 7A-9A, Edifício Kuong Fat
38. Rua do Campo 56-96, China Construction Commercial Building
39. Travessa dos Anjos 37,  Edifício Pou Ka
40. Rua de Évora 389-427, New World Garden (Block 1)
41. Avenida do Almirante Lacerda 129C, Rua dos Estaleiros 31-43, Avenida Marginal do Patane 764, Kai Hou Court 
42. Rua Três do Bairro Vá Tai 15-27, Rua Vá Tai 8-12, Praça das Portas do Cerco 50-94, Jardim Do Mar Do Sul (Block 2)
43. Avenida de Venceslau de Morais 92, Edifício Lei Tim
44. Estrada de Adolfo Loureiro 11-13AB, Edifício Iong Long 
45. Rua do Canal Novo 96, Edifício Hoi Pan Garden (Block 10)
46. Rua da Palmeira 71-31, Edifício Tat San
47. Travessa da Ilha Verde 26-62D, Edifício Cheng Choi
48. Travessa da União 7-7B, Edifício Lun Tak
49. Rua do Lu Cao 29-29B, Edifício Lhuong Lou
50. Estrada Marginal da Areia Preta 212, Edifício Hoi Pan Garden (Block 14)
51. Avenida da Concórdia 49, Edifício Weng Hoi (Torre C)
52. Praça das Orquídeas 124, Van Sion Son Chun (Block B)
53. Avenida de Vale das Borboletas/ Avenida da Harmonia/ Alameda da Harmonia/ Avenida de Lok Koi, Edifício Lok Kuan (Block V)
54. Rua de Xangai 21E, Edifício I Tou
55. Avenida Dr. Sun Yat Sen 75, The Manhattan – North Tower
56. Rua do Almirante Sérgio 75-79/ Pátio da Papaia 41, Edifício Lai Heng
57. Rua Um de Koi Nga 12, Edifício Koi Nga (Block V Edifício Ameixa)