Macao's third mass NAT starts tonight at 9 pm
Macao's third mass NAT starts tonight at 9 pm

Link copied
Test is aimed at city's entire population, including those who have already been vaccinated.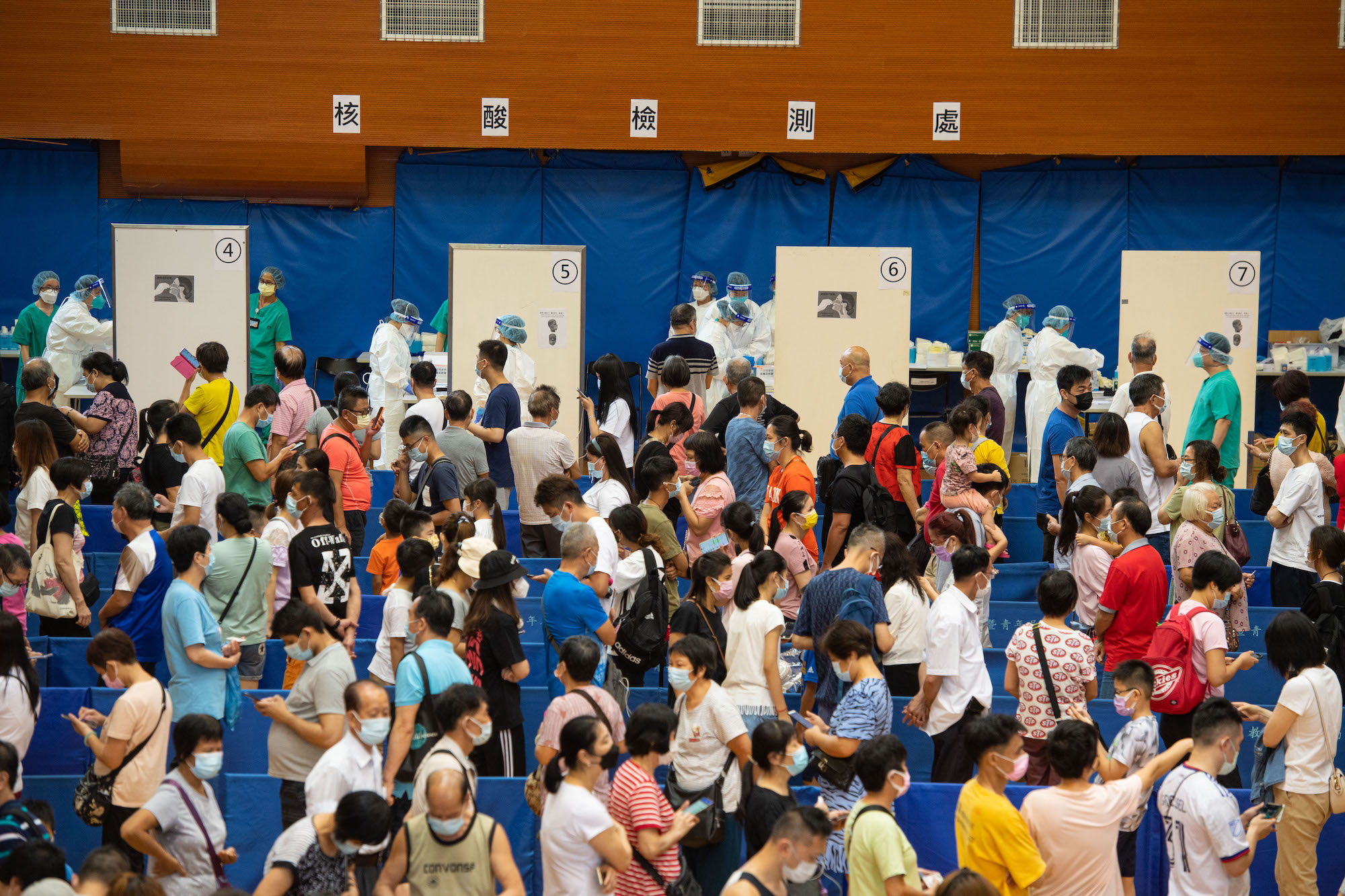 The Novel Coronavirus Response and Coordination Centre announced that it will conduct the third mass nucleic acid test (NAT) from 9 pm tonight until 9 pm on Thursday 7 October.
The target is Macao residents and all people staying in Macao. Those who have taken NATs 24 hours before 9 pm today are required to participate in the mass NAT, as are those who are vaccinated against Covid-19.
NATs can be performed at least 24 hours after leaving the vaccination site. The nucleic acid test is free. There are 41 inspection stations in Macao. All inspection stations have been completely cleaned and disinfected after the second round of mass testing. 
The appointment link for the third mass NAT will be open at 5 pm today. The test results will not be uploaded to the Macao Health Code, and they cannot be used for immigration purposes. 
For the convenience of the public, three of these sites have self-paid stations (for which prior booking is required) that can provide certification. The inspection results can be registered with a health code and used for immigration purposes. Self-paid stations must also strictly implement appointment arrangements, which can be accessed through this link. If it is not an emergency or necessary, the Novel Coronavirus Response Coordination Centre urges citizens to stay at home and avoid going out.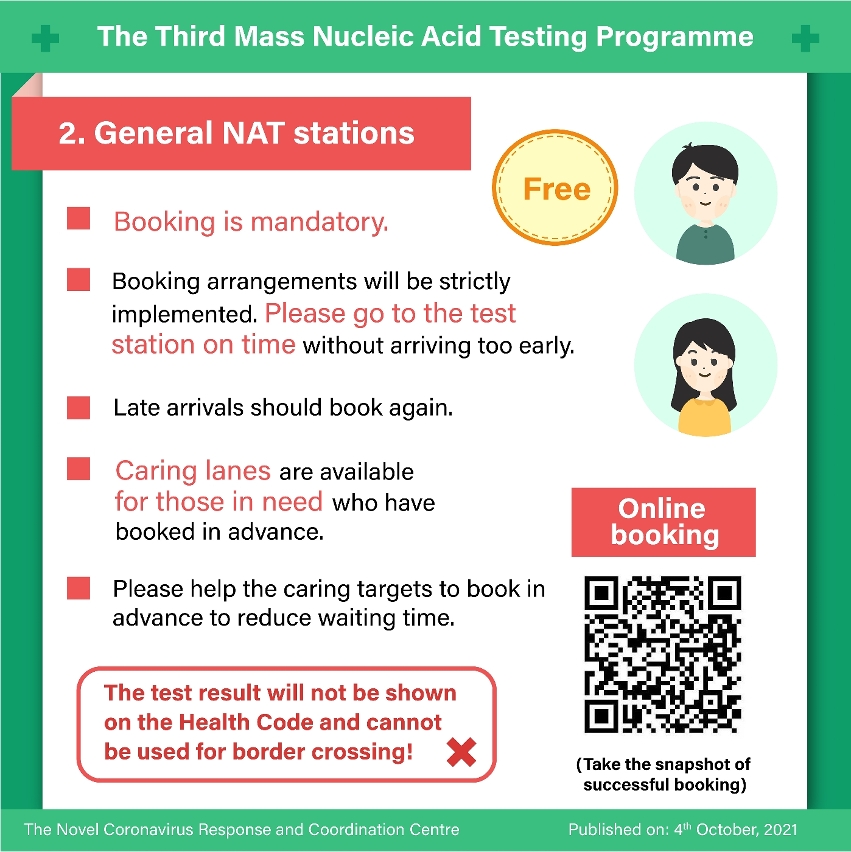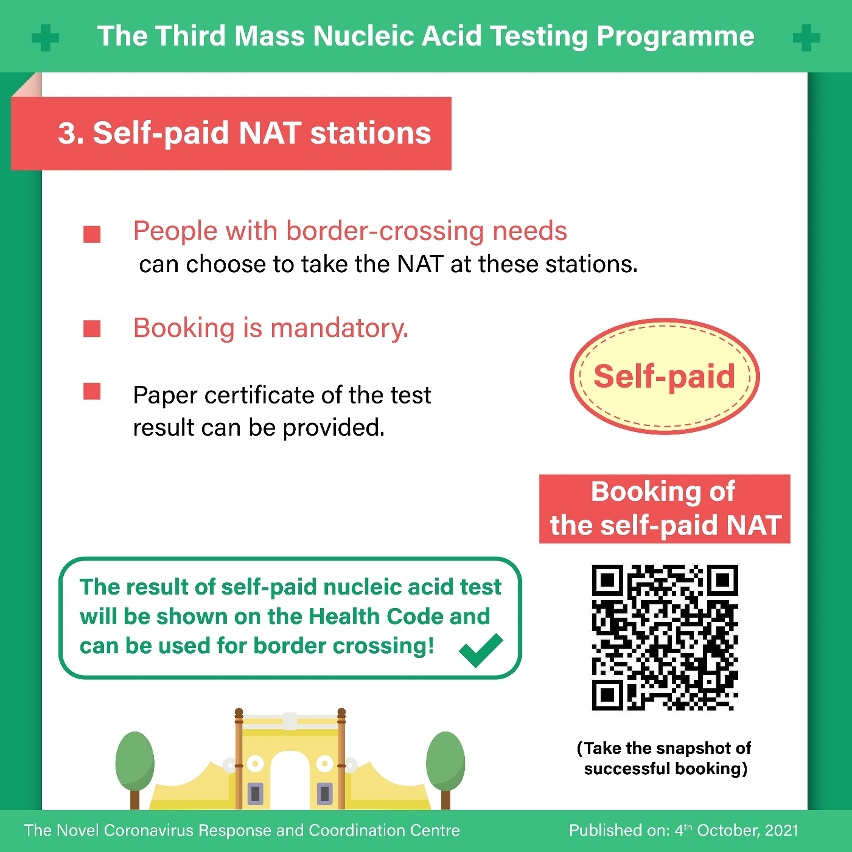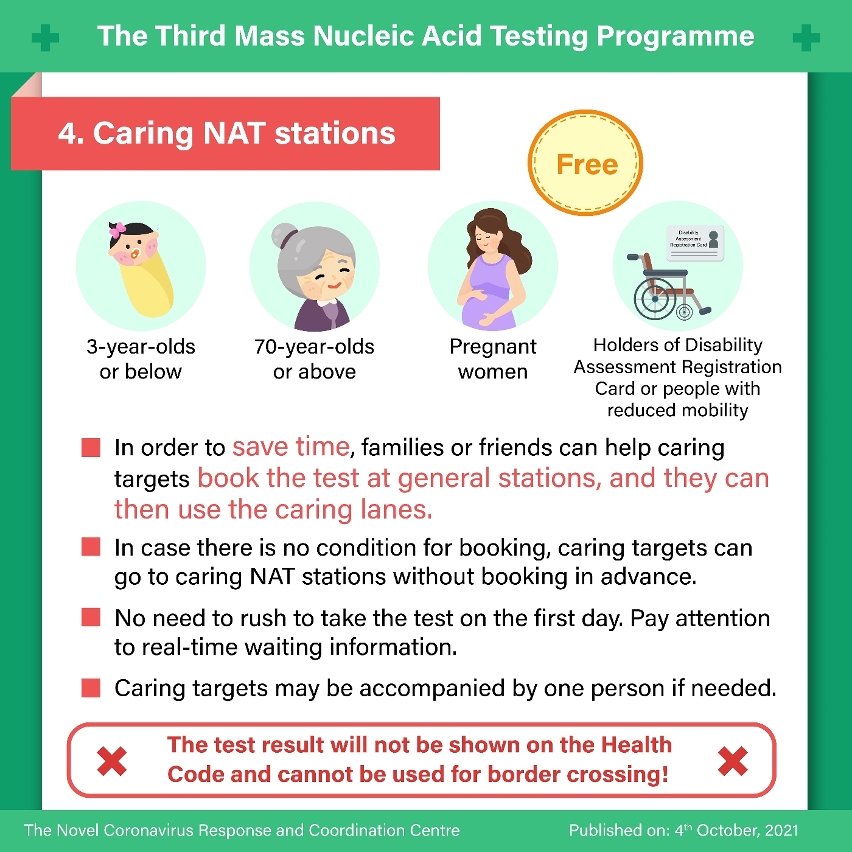 To optimise crowd management, the booking system for citywide testing operates on the basis of sampling stations, aiming to ensure accurate control of users. Real-time waiting information at different stations will be publicised every four hours, including the number of testing points in each station, the number of people waiting, the estimated waiting time, and the number of people who have made appointments. The expected waiting time will be displayed in three colours.
🟢 Green → expected to take less than 30 minutes
🟡 Yellow → expected to take 31 to 59 minutes
🔴 Red → expected to take more than 60 minutes.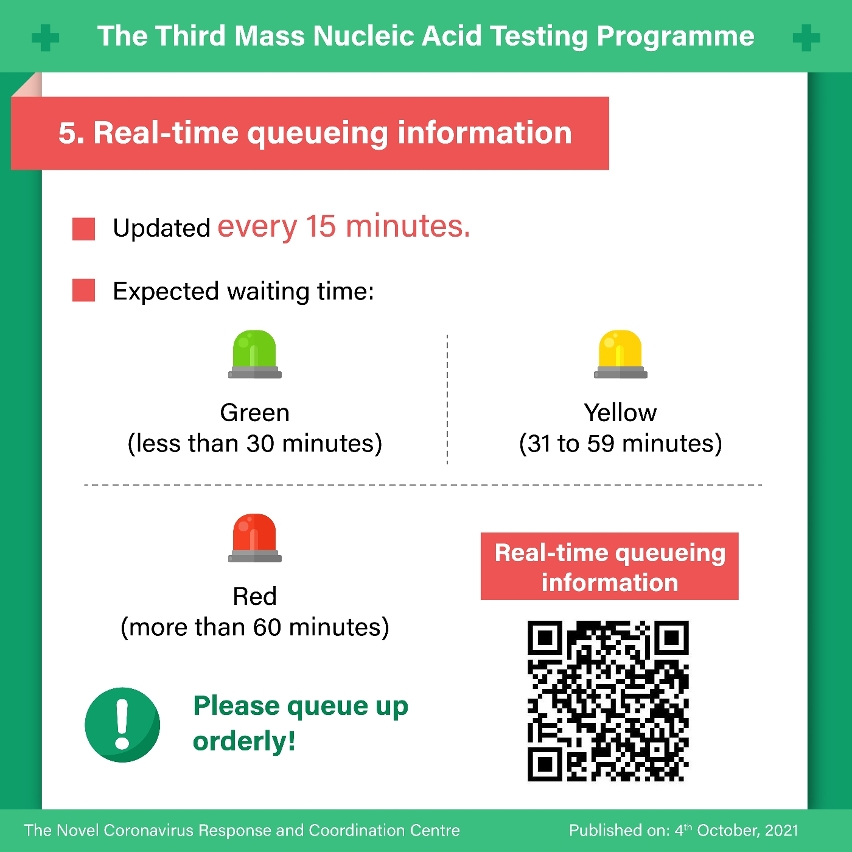 The centre urges citizens to make appointments as soon as possible, and recommends that citizens check the latest information on relevant testing stations before going out, and make arrangements based on the real-time situation.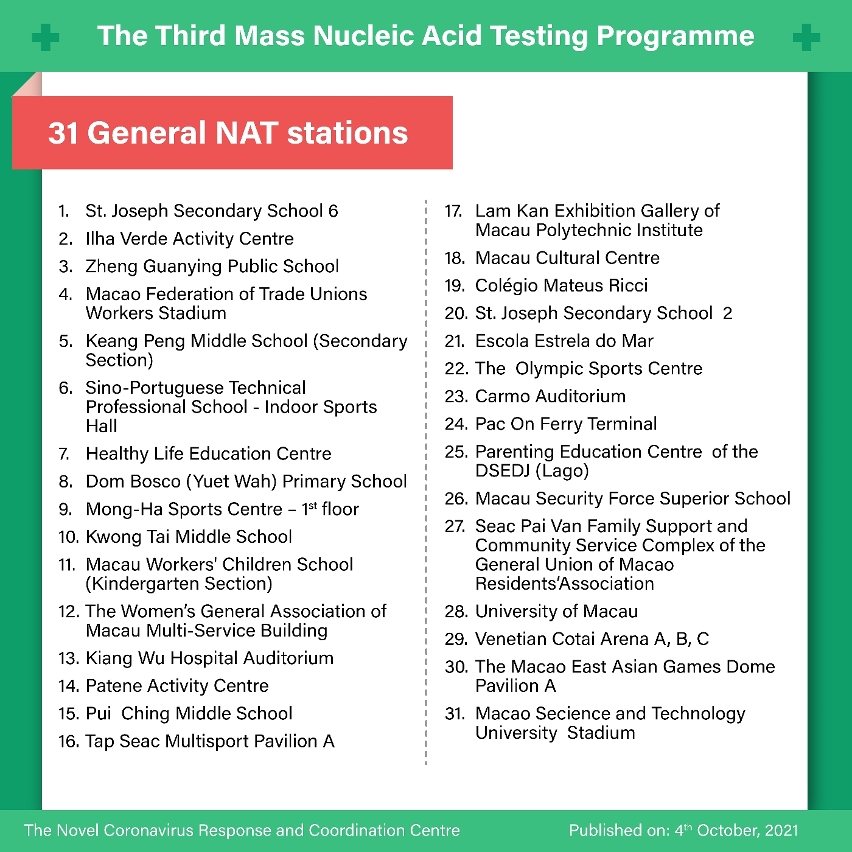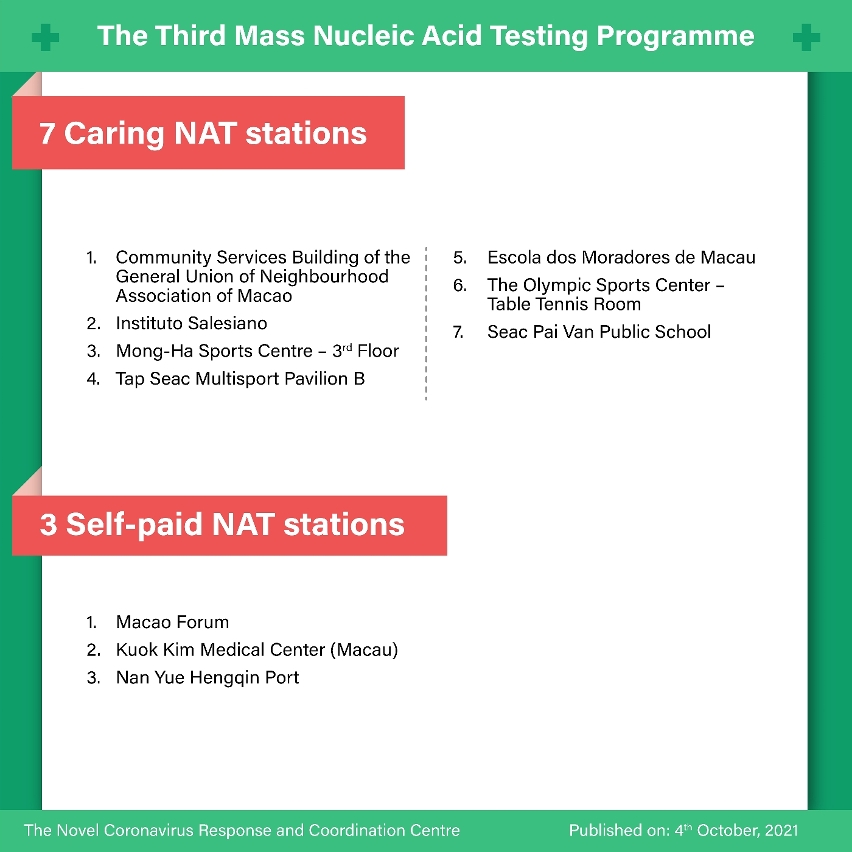 Health officials said that appointments must be made for the NAT stations. People should arrive on time and wait their turn. It is not recommended to arrive too early. If necessary, people can test one hour in advance. Anyone arriving after their appointment time will need to make a new appointment. The original identification document must be brought for the test. The registration certificate must be consistent with the health code declaration certificate, and non-Macao residents should bring their passport, reservation code and a screenshot of the health code.
Those with a yellow code can be tested at the inspection station, while those with a red code need to go to the inspection station of Conde S. Januário Hospital for sampling.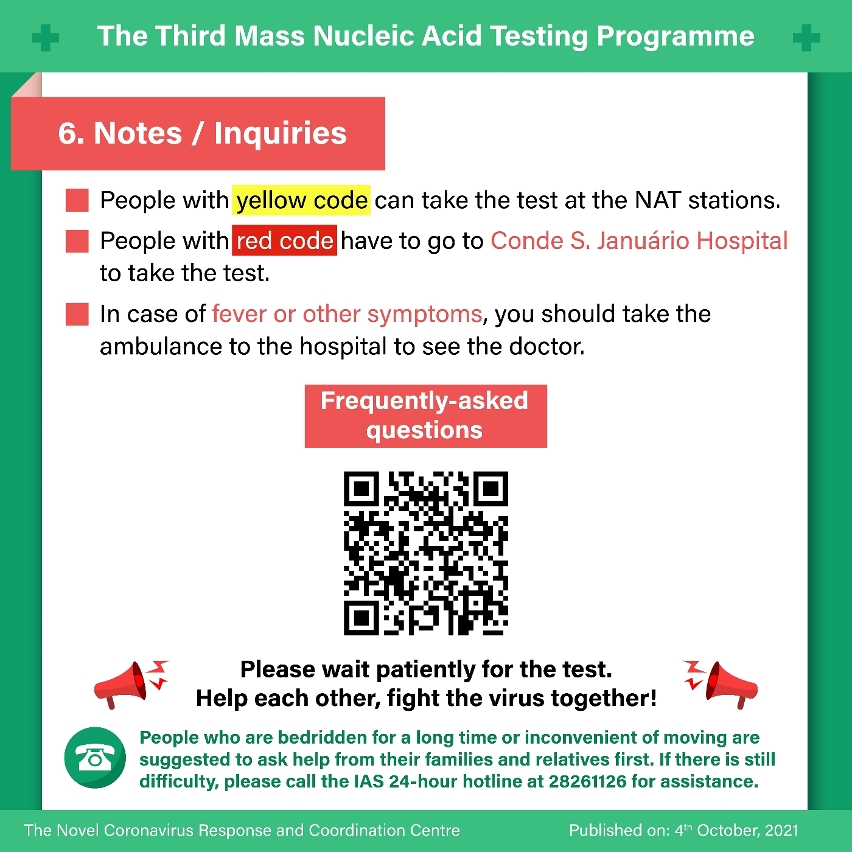 If fever or other symptoms occur, patients need to be taken to the hospital by ambulance. People who are bedridden are advised to seek assistance from relatives and friends first. Those who still have difficulties can call the 24-hour hotline of the Social Welfare Bureau 2826 1126 for assistance.