Macao unlikely to be hit by Covid-19 surge at CNY: Chief Executive
Macao unlikely to be hit by Covid-19 surge at CNY: Chief Executive

Link copied
Ho Iat Seng denies government is placing economy ahead of residents' health, encourages population to 'take care of themselves'.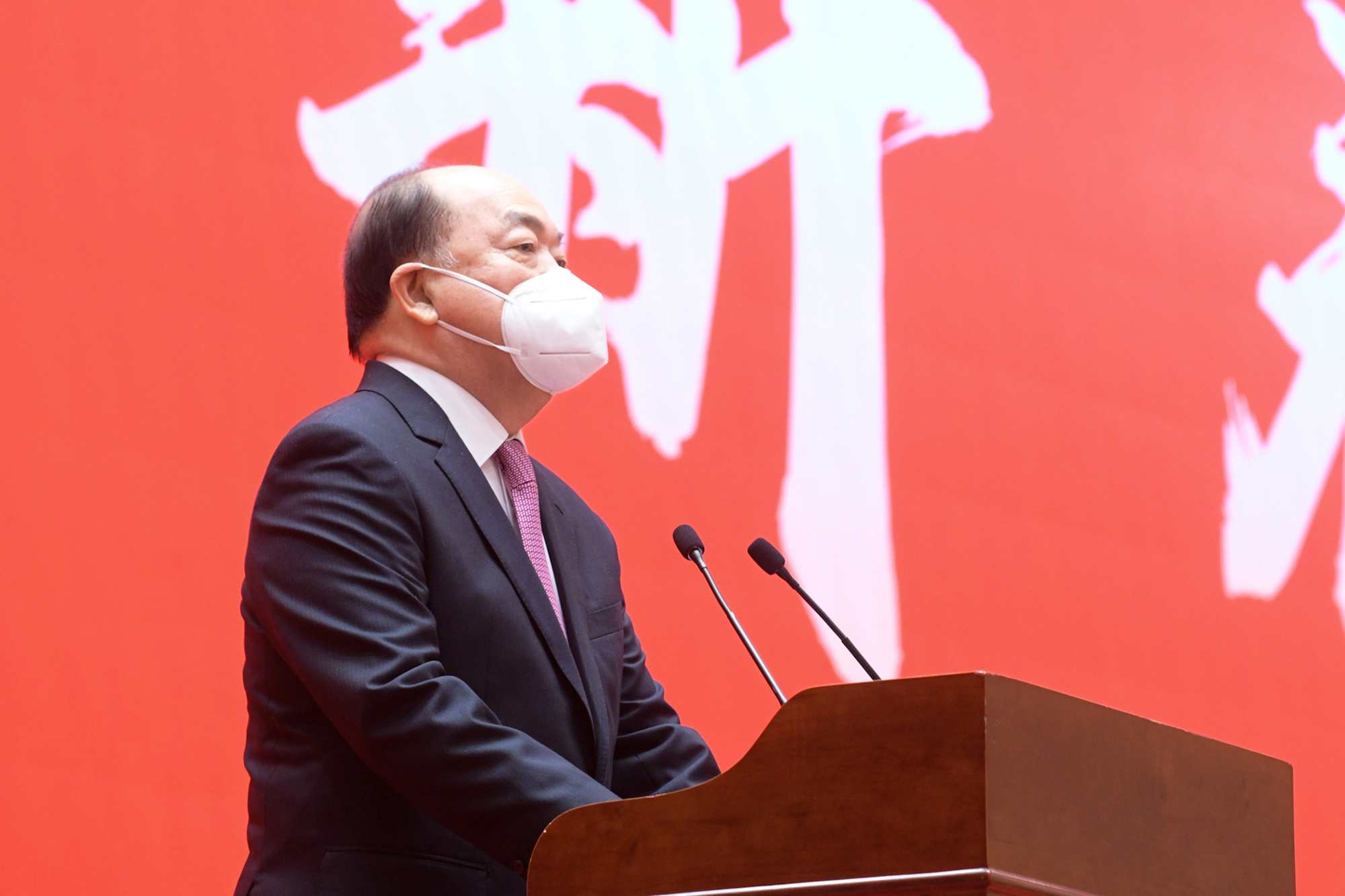 Chief Executive Ho Iat Seng said yesterday the government expected that it would be "unlikely" for Macao to be hit by widespread Covid-19 infections again during the upcoming Chinese New Year (CNY) holiday.
The chief executive also dismissed the claim that the government's decision last month to ease the city's Covid-19 curbs aimed to boost the local economy "at the expense of" residents' health.
Ho reaffirmed that "many" residents who had been infected with Covid-19 chose not to report their positive self-test results on the Health Bureau's (SS) e-platform, because of which, he said, the government was unable to come up with a more accurate estimate of the real number of people in Macao who have been infected with Covid-19 since last month's launch of the government's adjusted anti-Covid-19 approach.
Nevertheless, Ho underlined, the government has estimated that at least 70 per cent of the population has already been infected with Covid-19, based on its various Covid-19-related figures.
Ho noted that those who have recovered from Covid-19 will have a relatively strong level of antibodies equivalent to having received a Covid-19 jab, adding that their antibody levels will normally remain relatively strong for "a period of time" before starting to decline. Consequently, Ho said, for the time being the government does not expect a new wave of widespread Covid-19 infections to occur in Macao in the near future.
Health officials have said that Macao had its first peak of Covid-19 infections around Christmas, following the government's decision to abandon its long-running dynamic zero-Covid approach early last month.
The chief executive insisted that the government does not aim to boost the local economy at the expense of residents' health by adjusting its approach to tackling Covid-19.
Ho said that the government has now been aiming to protect residents' health via providing Covid-19 vaccines and medicines used for relieving Covid-19 symptoms.
Ho pointed out that the government has purchased a "large" quantity of BioNTech mRNA bivalent jabs used for the administration of booster shots. In addition, he said, the government will continue with its current measure that imposes restrictions on the amounts of certain medicines used for relieving Covid-19 symptoms that each person can buy from local pharmacies each time, until their supplies become "ample".
Ho said that in the new landscape tackling Covid-19, it is now residents who take up the major role of ensuring their own health. He said that the government had "achieved" its two objectives of providing Covid-19 vaccines and medicines for relieving Covid-19 symptoms, adding that consequently, residents should be able to make use of them to ensure their own health.
Furthermore, Ho also underlined that the experience of Macao's current Covid-19 infections indicates that Covid-19 vaccinations are able to protect people from suffering from serious conditions or even dying from the novel coronavirus. Ho noted that the vaccination rate among senior citizens living in care homes run by social service organisations is higher than the jab rate among seniors living in their own homes in the community. Consequently, he said, many "very old" senior citizens living in care homes were able to get through this "difficult and tough" period caused by last month's Covid-19 infection peak, in "strong" contrast to those living at home, The Macau Post Daily reported.