Macao still reaching for herd immunity
Macao still reaching for herd immunity

Link copied
Over-60s encouraged to take advantage of free walk-in jabs at any of the city's 18 vaccination stations.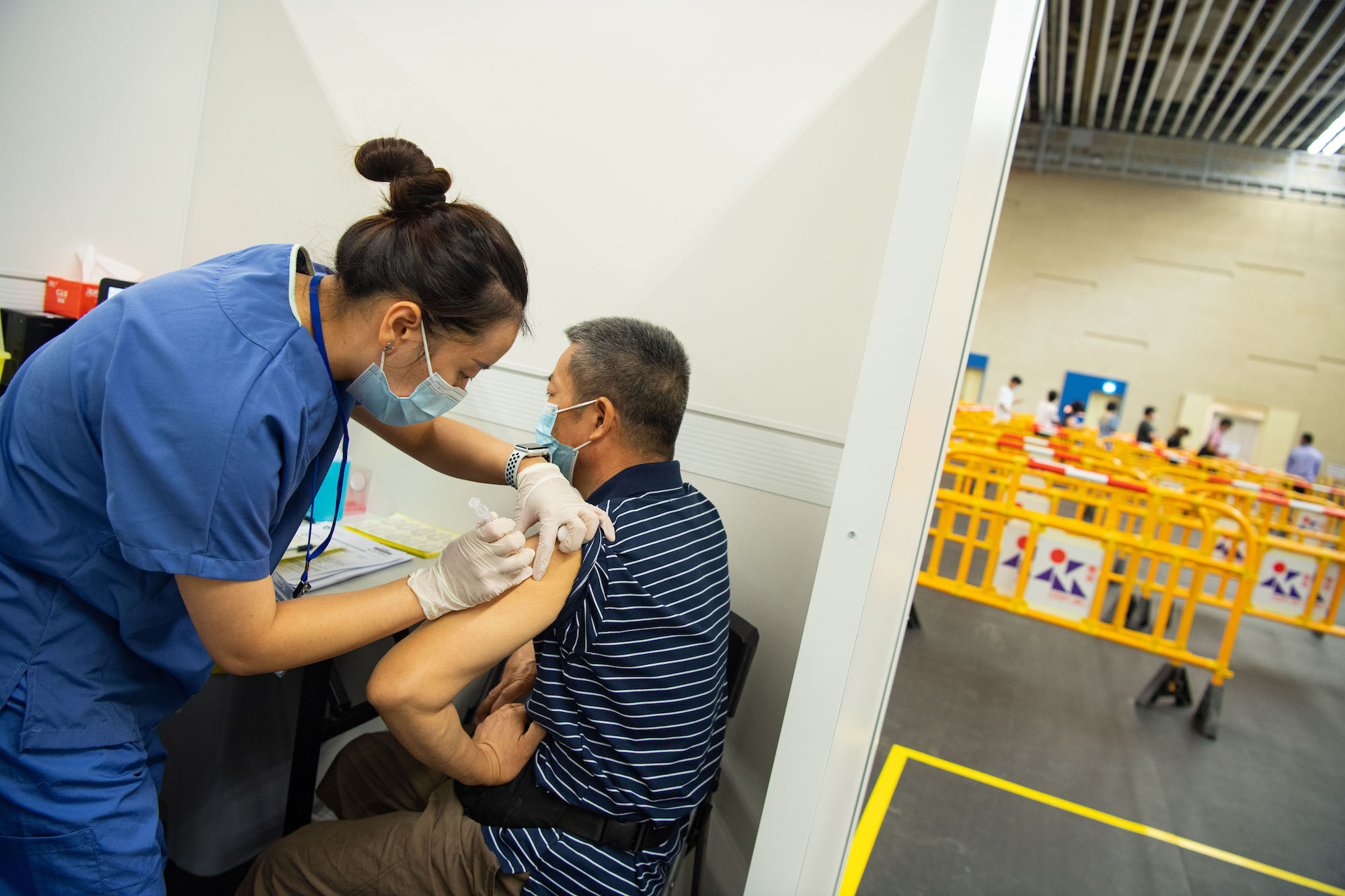 Macao's youngsters and old folks are reluctant to get vaccinated against Covid-19, unlike 40-somethings whose jab rates top 70 per cent.
Tai Wa Hou, a clinical director of the Conde de São Januário Hospital Centre, said that inoculation rates among senior citizens and teenagers are the lowest, both at around 20 per cent.
Tai reaffirmed that inoculating against the novel coronavirus is the only way for residents to return to normality.
He noted that "Covid-19 herd immunity for the 40-49 age group has now been [basically] achieved" because of the around 70-per cent vaccination rate.
The Health Bureau (SSM) had previously said that Macao would need to reach a vaccination rate of at least 70 per cent of the population in order to achieve herd immunity. However, the SSM said last month that due to the respective efficacy rates of 80 per cent and 95 per cent of the Sinopharm inactivated vaccine and BioNTech mRNA vaccine , Macao would need to reach an inoculation rate of at least 80 per cent of the population in order to achieve herd immunity.
Tai said that as of 4 pm yesterday, 540,087 doses of Covid-19 vaccine had been administered to 297,948 people in Macao, comprising 54,007 who had received their first jab and 243,941 who had received their second jab.
Macao's Covid-19 vaccination rate stood at 43.7 per cent as of 4 pm yesterday. According to the latest demographic statistics, Macao's population stood at 682,500 at the end of June.
A total of 17 adverse events were reported in the past 24 hours (until 4 pm yesterday). The total number of adverse events since the start of the vaccination drive stood at 2,284, or 0.42 per cent of the total number of jabs, including seven serious cases.
As of 12 pm yesterday, according to Tai, the vaccination rates among different age groups were: 
12-19: 20.43%
20-29: 61.2%
30-39: 65.15%
40-49: 70.34%
50-59: 48.35%
60-69: 23.19%
70-79: 11.72%
80+: 2.5%
Tai reaffirmed that over 10,000 places for vaccinations are available per day at Macao's 18 inoculation facilities. He noted that in addition to places allocated to those who have made an appointment, walk-in places are also available. Tai pointed out that over-60s can get walk-in vaccinations at any inoculation facility.
Tai said that in the wake of the Delta variant family cluster inoculating against Covid-19 is the most effective way for Macao's fight against the novel coronavirus.
Tai underlined that achieving Covid-19 herd immunity is the prerequisite for residents to return to normal life, The Macau Post Daily reported.
The government launched a three-day mass nucleic acid test (NAT) drive on Wednesday last week after Macao confirmed four Covid-19 cases the day before, a family of four comprising a couple and their two children, a schoolboy and a schoolgirl known as the "Xi'an Quartet". All of them were infected with the Delta variant. All of the 614,465 people who took part in last week's 72-hour citywide NAT drive tested negative for Covid-19.