Four Covid-19 Delta variant cases confirmed in Macao
Four Covid-19 Delta variant cases confirmed in Macao

Link copied
Authorities warn against mainland travel as Chief Executive issues emergency order; supermarkets curb panic buying.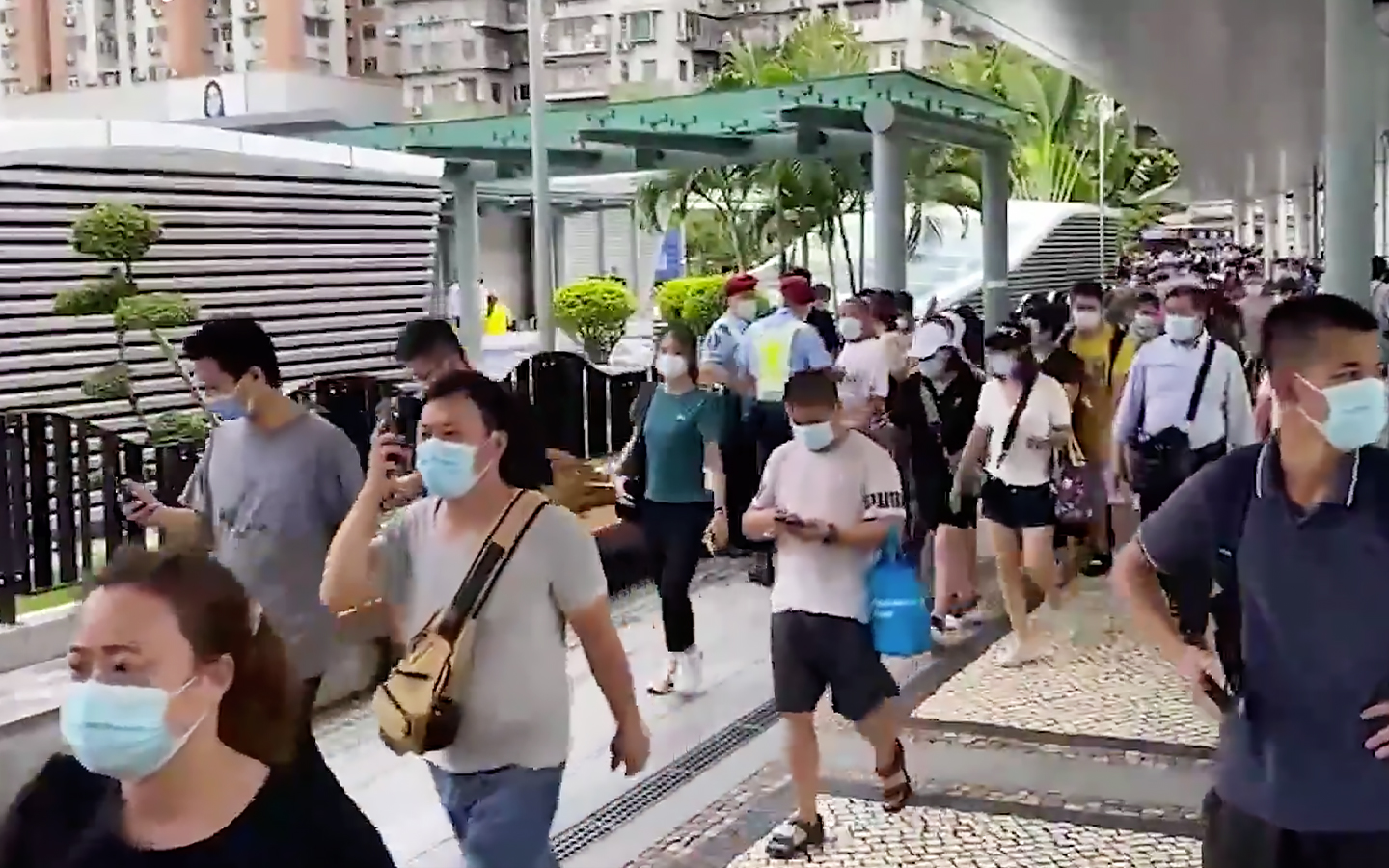 Last updated: 08:27 am on 4 August 2021 
The Novel Coronavirus Response and Coordination Centre has announced that all four Macao residents who tested positive today for Covid-19 have been infected with the Delta variant. The health codes of residents living in three residential buildings, one of which was where the family was living, will now become red. The health code of residents living in five buildings in close proximity will become yellow.
According to the Centre, the local health authorities were notified by their counterparts in the neighbouring city of Zhuhai in Guangdong province earlier today that a married couple from Macao had tested positive in Zhuhai on Monday. They later announced that their two children who live with them in Macao are also infected with Covid-19.
The couple's daughter went with the Hou Kong Middle School Dance Group – made up of 30 students – to Xi'an in central China from 19 to 24 July.
The Health Bureau (SSM) believes that the girl was infected with the novel coronavirus when she flew from Zhuhai to X'ian, the capital of Shaanxi province, on 19 July. The Zhuhai-Xian flight, CZ3761, was the same aircraft used for a flight from Nanjing to Zhuhai, CZ5846, earlier that day. Two passengers on that flight were confirmed as Covid-19 patients later last month in Zhongshan and Zhuhai respectively.
The schoolgirl took part in a six-day exchange trip to Xi'an. SSM staff believe that she infected her parents and brother after returning to Macao.
The SSM has classified the schoolgirl's case as an imported case, while her three family members' cases have been classified as "connected to imported cases". The family cluster has sparked fears among residents as the quartet had visited various parts of the city before being confirmed as Covid-19 patients yesterday.
Their student son stayed at the family home in Edificio Mei Lin on Rua de Coelho do Amaral. On 25 July, the family went to the Federal Restaurant for lunch from 1 to 2 pm.
The son went out from 1 pm to 3 pm on 26 July to the Wong Ieng Kuan Library in Luis de Camoes Garden where he surfed the Internet. From 6 pm to 7:30 pm on 27 July, he went to have dinner with the family at the Ah Ga Tea Restaurant near their residence.
All four family members are under "medical observation".
The Macao government has declared a "state of immediate prevention" to prevent a sudden coronavirus outbreak. The state of immediate prevention was declared by Chief Executive Ho Iat Seng by executive order, to "avoid the transmission of the novel coronavirus in Macao and to safeguard residents' life and property."
They are the first local Covid-19 cases since April last year, raising Macao's Covid-19 tally to 63. 
The father is a 51-year-old driver working for the Macao Health Bureau. His 43-year-old wife works for a fruit shop in Edificio Weng Fat on Rua do Rebanho near Red Market.
The public health centre in Seac Pai Van and public health station in Coloane, where the driver works, have temporarily closed for disinfection. 
The fruit shop near Red Market has also been temporarily closed for disinfection by the Macau Municipal Affairs Bureau (IAM). 
In related news, the Novel Coronavirus Response and Coordination Centre announced that from 3:30 pm today, anyone planning to leave Macao needs to present a negative Covid-19 test result issued within the past 24 hours. The centre has also urged the local population to leave Macao only if absolutely necessary.  
Macao confirmed its first Covid-19 case on 22 January 2020. No Covid-19 fatality has been reported in Macao. 
In response to the development of the pandemic situation, the Macao Government Tourism Office has announced more hotels are needed as medical observation hotels. Therefore, the Metropole Hotel will be used as a medical observation hotel from 4 August to provide 112 rooms, and the Sheraton Hotel will be used as a medical observation hotel again on 5 August providing 2,000 rooms.
The Economic and Technological Development Bureau (DSEDT) emphasised that the food supply in Macao is sufficient and stable. As of July, rice stocks reached 1.3 million kilograms and 860,000 liters of cooking oil, which is enough for a month's local consumption.
The authorities have also asked the 16 supermarket groups in Macao to adopt temporary purchase restrictions at their 264 supermarkets, which have posted relevant notices to remind citizens not to panic buy.