Emergency services simulate lockdown in Coloane's Seac Pai Van public housing estate
Emergency services simulate lockdown in Coloane's Seac Pai Van public housing estate

Link copied
Hundreds of first responders and residents successfully join forces to practice what to do in the worst-case scenario.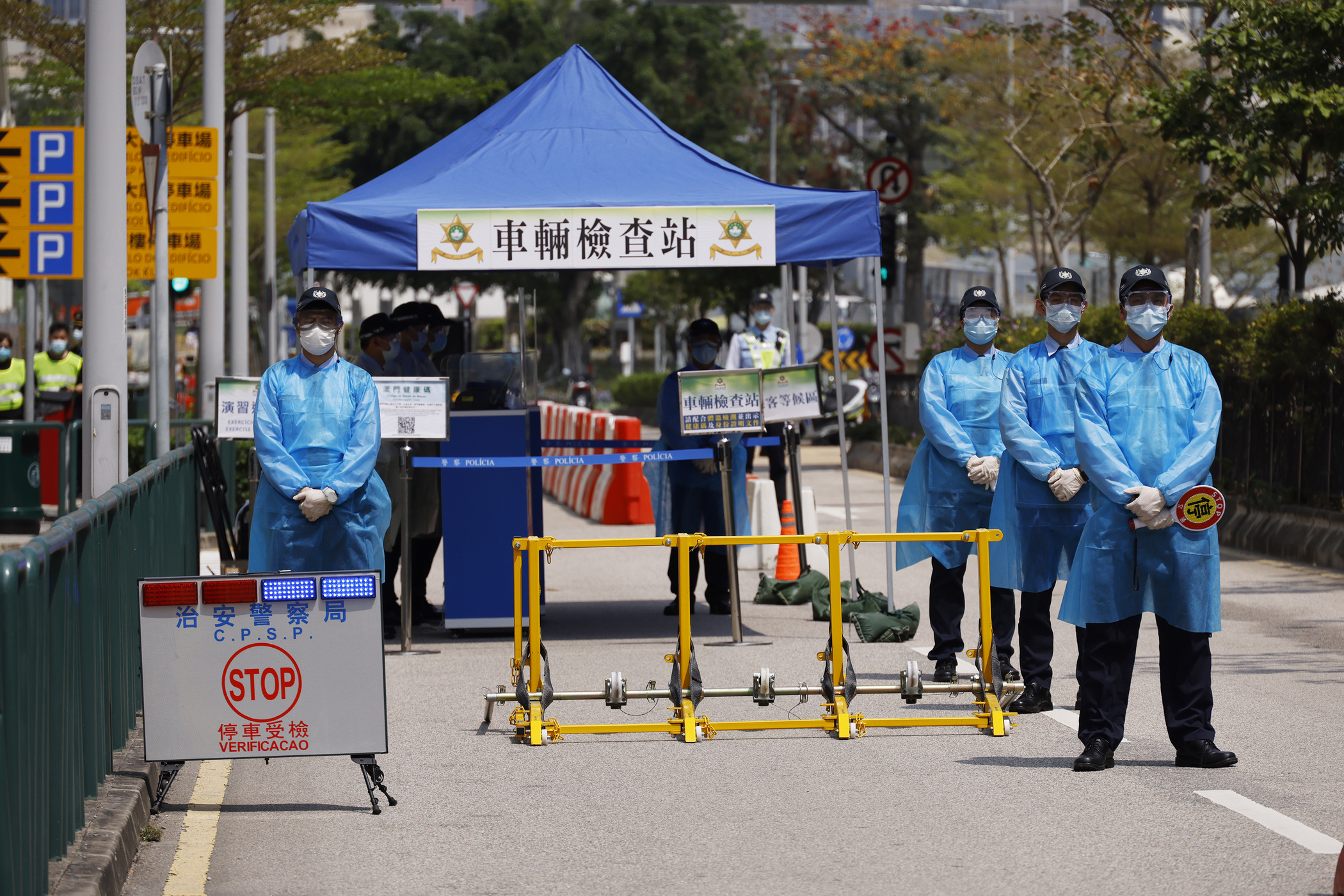 Police, firefighters and health officials staged a lockdown drill in one of Macao's most crowded public housing estates on Monday.
The emergency team rehearsed what to do if a resident was infected with Covid-19 and three family members sharing the same flat developed symptoms.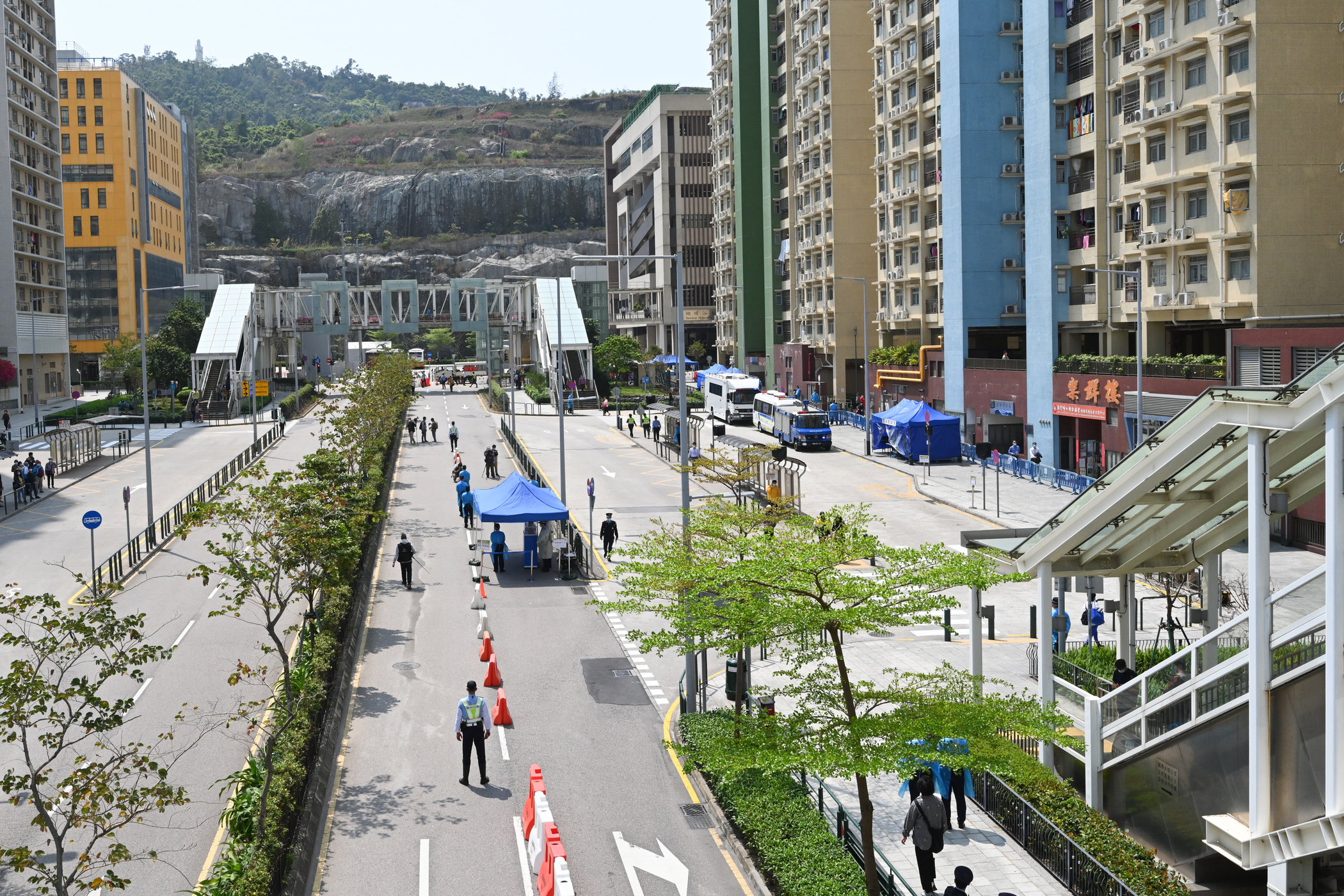 At the end of the drill in Seac Pai Van in Coloane, which lasted two and a half hours, Secretary for Social Affairs and Culture Elsie Ao Ieong U said that if the government needs to implement such measures it would try to keep a Covid-19 affected area as small as possible so that fewer residents would be inconvenienced. She also admitted that the government did not have a specific formula for how long a Covid-19 lockdown would last, adding that it would be determined by health officials based on the situation of the area's outbreak.
Ao Ieong also said that over 500,000 residents, almost all of Macao's population, have provided their home address on their Macao Health Code, adding that this has provided a good foundation for the possible implementation of the Covid-19 prevention and control measures divided by areas and levels.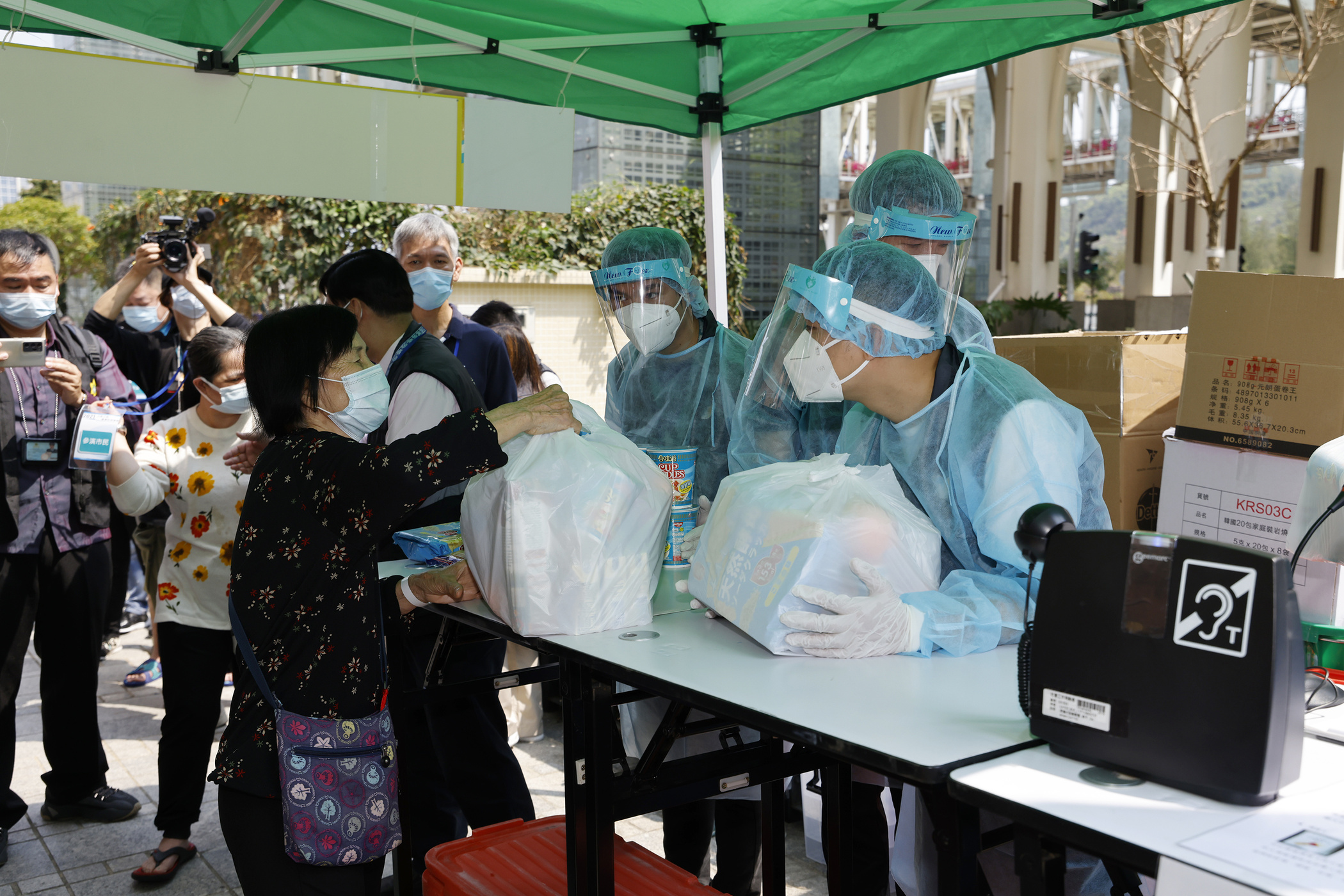 According to the plan for community-based Covid-19 prevention and control measures, the Macao Health Code colour of those who live in an affected area where health officials consider there is a high risk of Covid-19 spreading will indicate red, after which the area will be subjected to a lockdown which forbids residents living there to leave the area. The Macao Health Code colour of those who live in an area possibly affected by Covid-19 will indicate yellow, which bars residents from leaving Macao.
Yesterday's drill was jointly carried out by the Novel Coronavirus Response and Coordination Centre and the Civil Protection Operations Centre at Lok Kuan social rental housing estate in Seac Pai Van.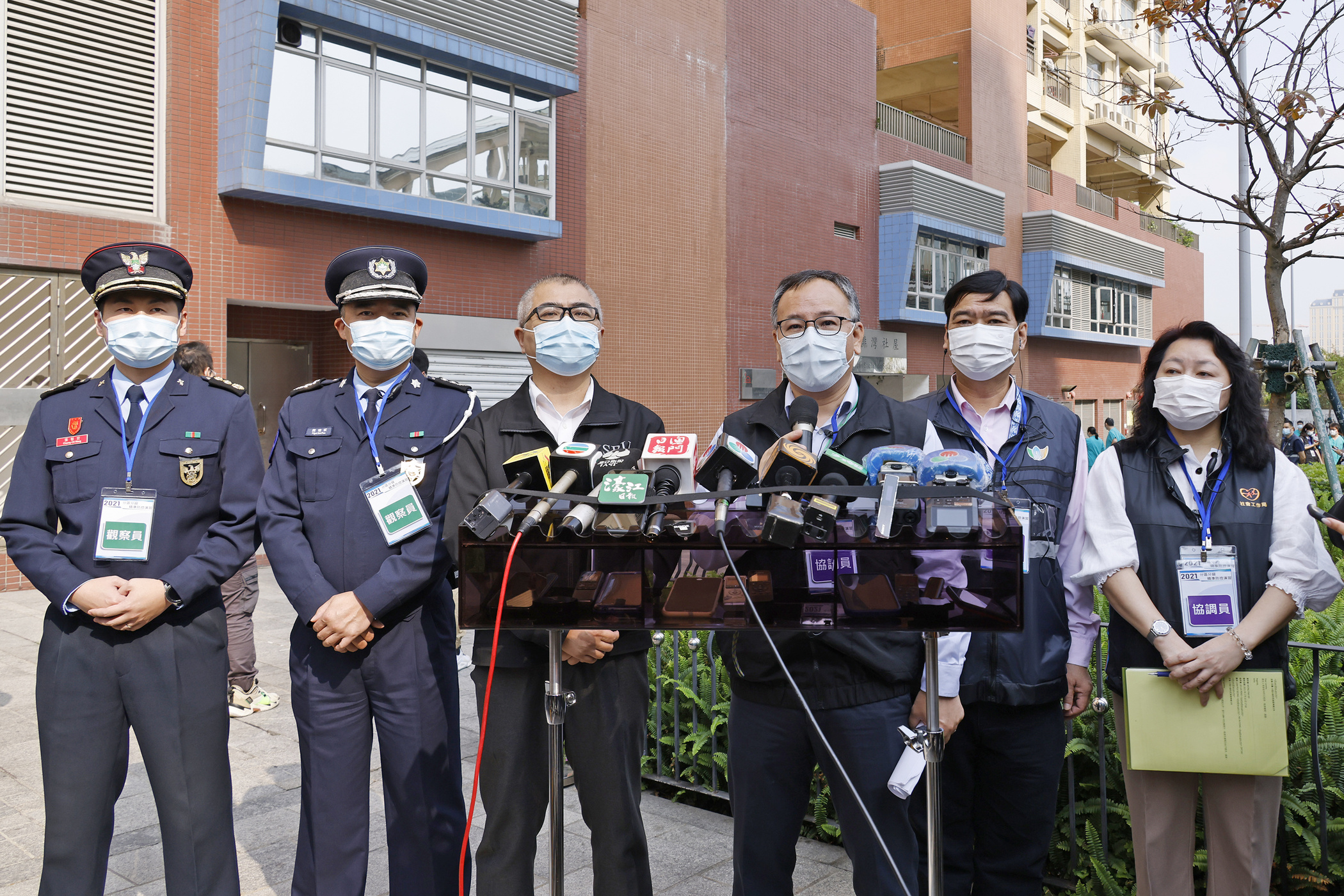 Lei Wai Seng, a senior Health Bureau official, noted that the Macao Health Code colour of residents living in a building where a local Covid-19 case has been confirmed will indicate red. All residents there must undergo a nucleic acid test. The Health Bureau will contact those who have already left the building to return there to undergo a nucleic acid test as well. The building's residents must stay in their homes while waiting for their respective NAT results, according to Lei.
Lei said that in case a building is subjected to a lockdown, the Health Bureau will make the NAT results of the affected residents available within six hours.
According to Lei, the lockdown of a Covid-19 affected building would be lifted depending on the residents' NAT results and the development of the building's Covid-19 epidemic situation.
In yesterday's drill, IAM officials showed how residents of a locked-down building would collect dried food at a point outside the building. In case a lockdown is imposed, each resident can collect dried food items sufficient for a 48-hour period. IAM officials will also provide hot meal boxes for those who ask for them at the food collection point.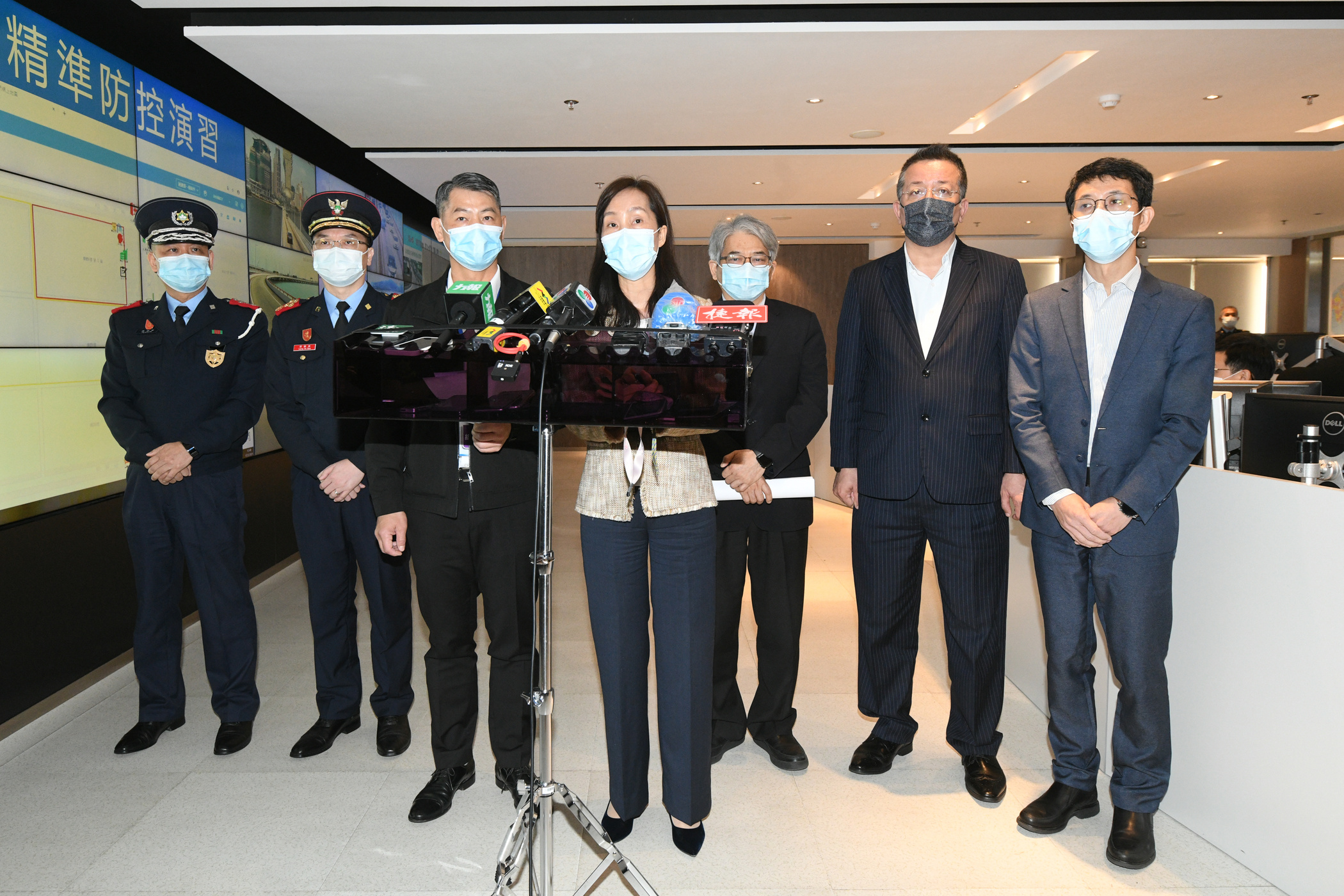 Ao Ieong said last year that the government planned to divide Macao into 30 "Covid-19 affected areas" for the possible implementation of its community-based Covid-19 prevention and control measures.