609 people given Covid-19 jab exemption
609 people given Covid-19 jab exemption

Link copied
Health Bureau's vaccination drive intensifies as all public servants face 'jab-or-test' requirement from next Monday.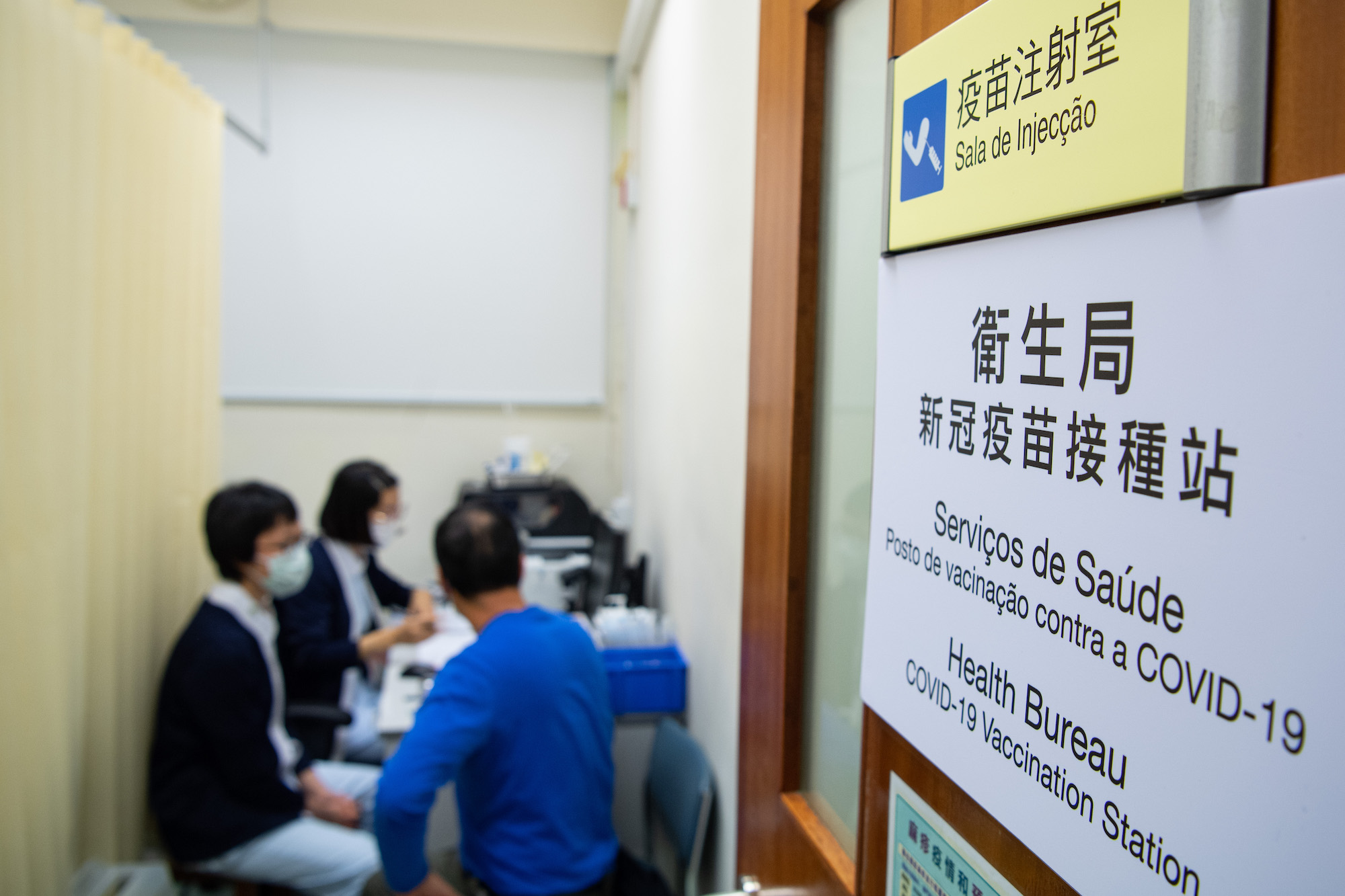 The Health Bureau (SSM) has issued 609 people with a doctor's certificate confirming that they are unable to be vaccinated against Covid-19 due to health reasons, 190 of whom are pregnant women.
Tai Wa Hou, a clinical director of the Conde de São Januário Hospital Centre, said the certificates were issued following the introduction of the new Covid-19 vaccination measure last week.
The SSM's new guidelines on Covid-19 vaccinations and nucleic acid testing (NAT) for "all staff members" in the city, stated that all those in contact with service users during their work, or all those who work with their colleagues in indoor workplaces, will have to be tested once every week, or even more frequently, if they have not been inoculated.
The new measure applies to almost the entire working population in the city, regardless of whether working in the public or the private sectors, except for very few groups of people such as freelancers. The required frequency of the NATs for those who have not been inoculated depends on their respective occupations. 
All public or private entities have to draw up their own specific rules that enable them to implement the new measure.
The Public Administration and Civil Service Bureau (SAFP) announced on Tuesday last week that it will start implementing the new jab-or-test measure for public servants on 27 September, under which all public servants must either display a Covid-19 vaccination record, or present a NAT certificate confirming that they have been tested for the novel coronavirus within the past seven days, when entering their respective workplace. 
Public servants who are unable to go to work due to their failure to display the inoculation record or the negative NAT result face disciplinary proceedings for "unexcused absence from work".
The SAFP said that only those who hold a doctor's certificate confirming that they are unable to get vaccinated against Covid-19 due to certain health reasons can have their NAT cost exempted, so public servants who choose not be inoculated without a health reason will have to pay for the regular Covid-19 tests themselves. A nucleic acid test costs MOP 80.
The SSM has also stated that those who need to obtain an officially-recognised doctor's certificate confirming their unsuitability for Covid-19 vaccinations must make an inoculation appointment at one of the city's vaccination facilities first. 
They can only get such a certificate at the vaccination facility after being assessed by a doctor there as being unsuitable for Covid-19 vaccinations.
The Public Administration and Civil Service Bureau, which is tasked with managing the government's public servants, is the only public entity that has announced specific rules to get the new vaccination-or-test measure off the ground.