Macao's neurodivergent community comes out in support of a greener planet
Macao's neurodivergent community comes out in support of a greener planet

Link copied
This is the third consecutive year that Macau IC2 has joined forces with the Artyzen Grand Lapa Macau for the event.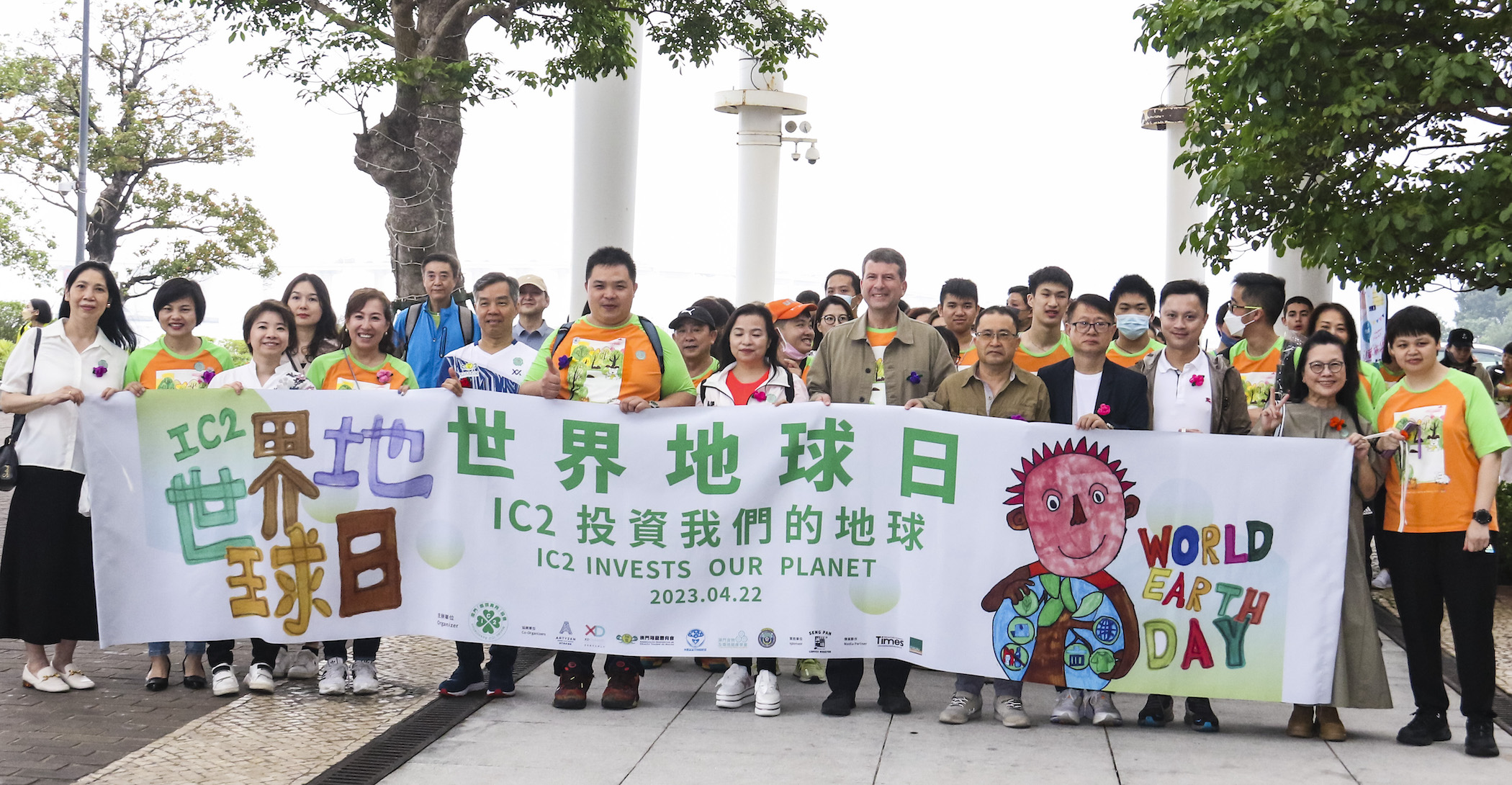 The Macau IC2 Association's World Earth Day 2023 gathering was forced to move indoors on Saturday due to unsettled weather, with the event's signature tree planting session pre-filmed and shown during an hour-long series of activities at the Artyzen Grand Lapa Macau's Kam Lai Heen restaurant.

However, the event's "green walk", from Fisherman's Wharf to the Artyzen Grand Lapa, still took place prior to the indoor activities. 
"This change is sort of aligned and in sync with the theme of the event and it actually adds extra kick to the event, which is about protecting our planet, including the climate change that affects not only our day-to-day lives, but also our economy, as well as our events," local environmentalist Rubi O told Macao News.
Cecilia U, secretary of the Society of Food & Environmental Health (Macao), addressed the gathering – timed to coincide with the global Earth Day held every 22 April since 1970 – and encouraged the 150 or so attendees to reduce food waste. "Through wise and kind diets consisting of climate-friendly food ingredients, everyone can play a role in mitigating the global crisis of climate change, biodiversity, pollution and waste," she said.
[See More: Urban Gardening: an answer Macao's been looking for?]
This is the third consecutive year that Macau IC2 has joined forces with the Artyzen Grand Lapa Macau for the event. Both previous events were held on the luxury lifestyle hotel's lawn. Saturday's gathering, subtitled "IC2 Invests In Our Planet", included a fashion show using recycled materials and a choral performance by the association's members, as well as some games and refreshments held later in the garden by the hotel's celebrated Thai restaurant Naam. 
"We take pride in sharing emotional wisdom with our guests, covering various bold initiatives that contribute to a low-carbon future", said general manager Rutger Verschuren. "It's encouraging to see our team's passion for hospitality combined with eco-friendly practices, adding an extra level of environmental responsibility".
O said that more people were becoming interested in reducing their carbon footprints when it came to food. "As a tourist city with a lot of F&B elements, I think it's a basic requirement and common sense for us to be aware of how long the ingredients have travelled and how much natural resources have been put into growing our food produce, then shipping them all the way to Macau", she told Macao News. "We have a bigger role in integrating sustainability into our day-to-day activities".
[See More: Instructor trains people with intellectual disabilities to organise events for local companies]
Every year, the World Earth Day event is organised and run by members of the Macau IC2, which promotes the rights of neurodivergent people and helps them develop life skills. It currently has 179 members. IC2 stands for "I Can Too", meaning that neurodivergent people can take on whatever challenges life throws at them.
"Anyone in Macao is able to perform green living and make it [part of the] culture. We should make it a standard in Macao, promoting it in schools and various associations in Macao," Macau IC2 President Antonio Luis Leong told Macao News at Saturday's gathering.