LRT in Taipa to start operating in 2019 says Secretary Raimundo do Rosário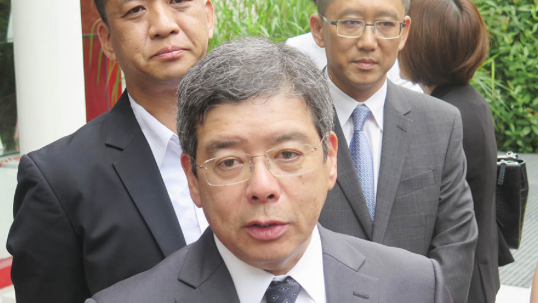 Secretary for Transport and Public Works Raimundo do Rosário said on Wednesday he was confident that the Taipa section of the Light Rail Transit (LRT) will start running in 2019.
Rosario made the upbeat remark while speaking to reporters on the sidelines of a plaque unveiling ceremony that marked the official re-opening of the Carmo Post Office in Taipa, following its renovation.
Rosario said that construction of the 11stations on 9.3 kilometres of track in Taipa and Cotai would be completed by the end of this year.
Meanwhile, also speaking to reporters at the renovated post office, Transport Infrastructure Office (GIT) director Ho Cheong Kei sai that construction of the lRT depot in Cotai had recently restarted.
Earlier this year, the government said it had terminated the construction contract of the depot's original contractor. The government said it had paid 85 million patacas to the original contractor for initial work.
The government said earlier this week that it has granted China Construction and Engineering (Macau) Company Limited the contract for depot construction project, for 1.07 billion patacas.
When asked by reporters why the government dis not call for tenders for building the depot, Cheong said his office wanted construction to be started as soon as possible.(Macau News / The Macau Post Daily)