Fire in Fortune Tower's switch room causes blackout, 2 in hospital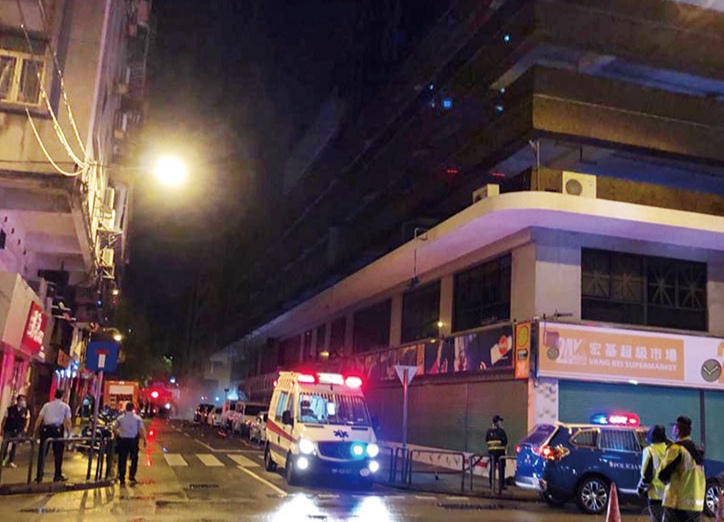 A fire erupted in the switch room of Fortune Tower in Avenida do Ouvidor Arriaga in the early hours of Sunday, causing a power outage in the sprawling two-block residential estate for a period of time, according to the Fire Services Bureau (CB).
The Fire Services Bureau received a call about the fire at around 1 a.m. on Sunday. Firefighters rushed to the scene and found that smoke was coming from the estate's switch room. They quickly extinguished the blaze, Kuok Pan, who heads the Areia Preta fire station, told reporters at the scene after the fire-fighting operation.
About 10 residents self-evacuated during the fire, Kuok said. No one was injured by the blaze, but two men were taken to the private Kiang Wu Hospital and the public Conde S. Januário Hospital Centre respectively, Kuok said, adding that the former told paramedics that he felt unwell after inhaling smoke, while the latter needed to be taken to hospital as he could not use his ventilator at home due to the power outage.
Kuok said that the bureau deployed 12 fire engines and ambulances with 47 firefighters and paramedics to the scene for the operation.
After an investigation, firefighters concluded that the blaze was caused by an electrical fault in the residential estate's switch room, Kuok said.
After the fire-fighting operation, the Fire Services Bureau told power utility CEM and the estate's property management company to send staff to the scene to restore the electricity supply, Kuok said.
(The Macau Post Daily/Macau News)
PHOTO © MPDG