Chui Sai On and senior officials take their first LRT ride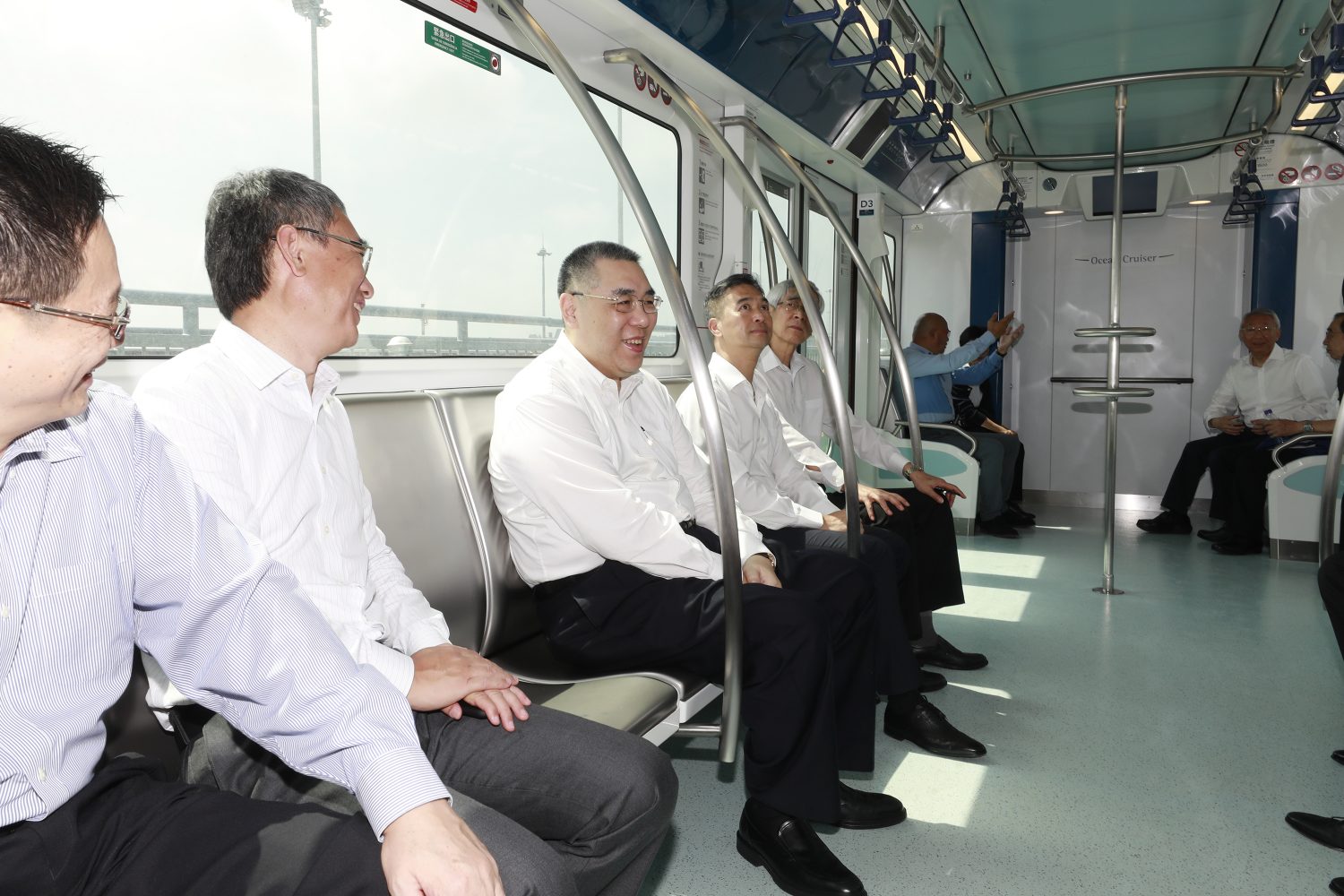 Chief Executive Fernando Chui Sai On, accompanied by senior officials and members of his top advisory body took their first ride on the Light Rail Transit (LRT) system, according to a statement by the Chief Executive Office on Monday.
The journey included the LRT Taipa line's depot in Cotai. The system is slated to come into service later this year.
In the morning, the members of Chui's delegation went to the operations control centre of the LRT depot where Transport Infrastructure Office (GIT) Director Ho Cheong Kei briefed them about the centre's operation and facilities, such as its automatic operation system.
In the operations control centre, Leung Tin Chi, engineering manager of Mitsubishi Heavy Industries, which is the supplier of Macau's LRT system and trains, gave a presentation on the daily tests of the LRT operation, the statement said.
After visiting the LRT depot, which is located opposite Wynn Palace, Chui and his entourage took a ride in the "Ocean Cruiser" train for a round trip which departed from the depot and arrived at the western terminus of the LRT Taipa section at Ocean Gardens before returning to the depot, the statement said.
Each LRT train consists of two or four carriages, with each carriage carrying up to 100 passengers, according to the GIT website.
During his visit, Chui asked about the operating hours of the LRT Taipa section, the statement said, adding that the delegation members discussed topics such as the possible inclusion of cultural and creative elements in the designs of the LRT stations and carriages, and the use of footbridges linking up with LRT stations.
The LRT trains will run daily from 6 a.m. to 1 a.m., according to the GIT website.
The government has still to announce the LRT fares and the date of the operational start of the LRT Taipa section. However, the government has repeatedly reaffirmed that the LRT Taipa section will come into service in the second half of this year. Early this month, Rosário told reporters that the government expected the Taipa section to come into service on December 19 at the latest – i.e. the day before the 20th anniversary of Macau's return to the motherland.
According to the Macau Post Daily, the government has pledged that the total cost of the LRT Taipa section, including the construction, the rolling stock and the setting-up of the system, will not exceed the previously budgeted amount of MOP 11 billion.