About 70 march in Macau to celebrate domestic violence law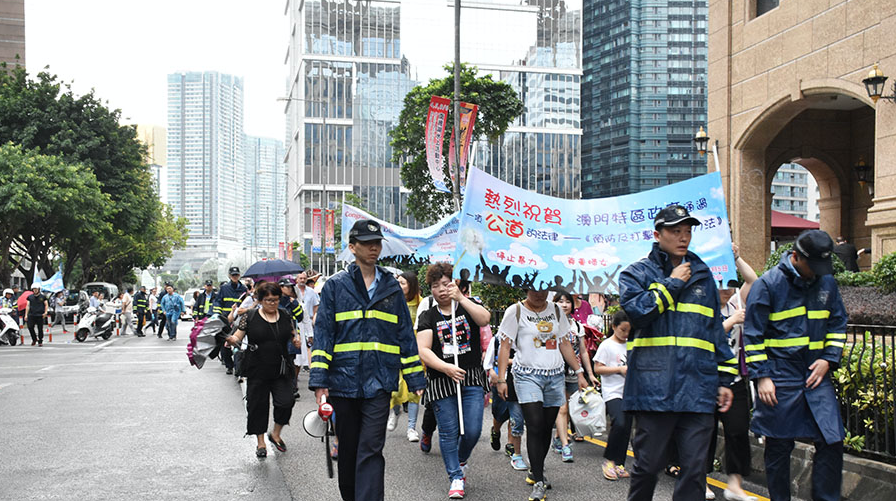 About 70 residents took part in a celebratory march on Sunday to express their gratitude for the long-awaited passage of a government-drafted bill on preventing and combating domestic violence.
The Good Shepherd Centre, organiser of the event, began the walk from Vasco da Gama Garden at around 3 p.m., heading towards Government Headquarters, where the group handed in a letter to say "thank you" to the government, lawmakers and anyone else who took part in the legislative process.
The Law on Preventing and Combating Domestic Violence, which is slated to take effect in October, was finally passed by the legislature last month. It will be reviewed three years after it takes effect.
The bill, originally known as the Domestic Violence Prevention Bill, was first drafted in 2011. The bill had seen various changes over the years.
The law states that domestic violence be defined as a public crime – which allows the police to investigate without the victim's consent. A person charged with domestic violence now faces up to five years behind bars if found guilty.
Sister Juliana Devoy, director of the centre, who had been campaigning for many years for domestic abuse to become a public crime, said she was happy to see that the government was willing to listen to residents, adding that it wasn't just a victory for women, but for families too.
Devoy said that some may not be able to appreciate the passage of the law, but as someone who has been working with victims of domestic violence for the past 25 years, she welcomed it.
The law also broadens the definition of domestic violence, which now includes any form of physical, mental or sexual abuse to indirectly and directly-related family members, those cohabitating and former partners, but same-sex couples are not protected by the law.
(Macau News / The Macau Post Daily)