Mass-testing forges ahead as Typhoon Nalgae bears down on Macao
Mass-testing forges ahead as Typhoon Nalgae bears down on Macao

Link copied
Sixty NAT testing stations operating flat-out to test everyone in city by 11 am tomorrow. Caseload now at 11. Health chief says 'don't worry too much'.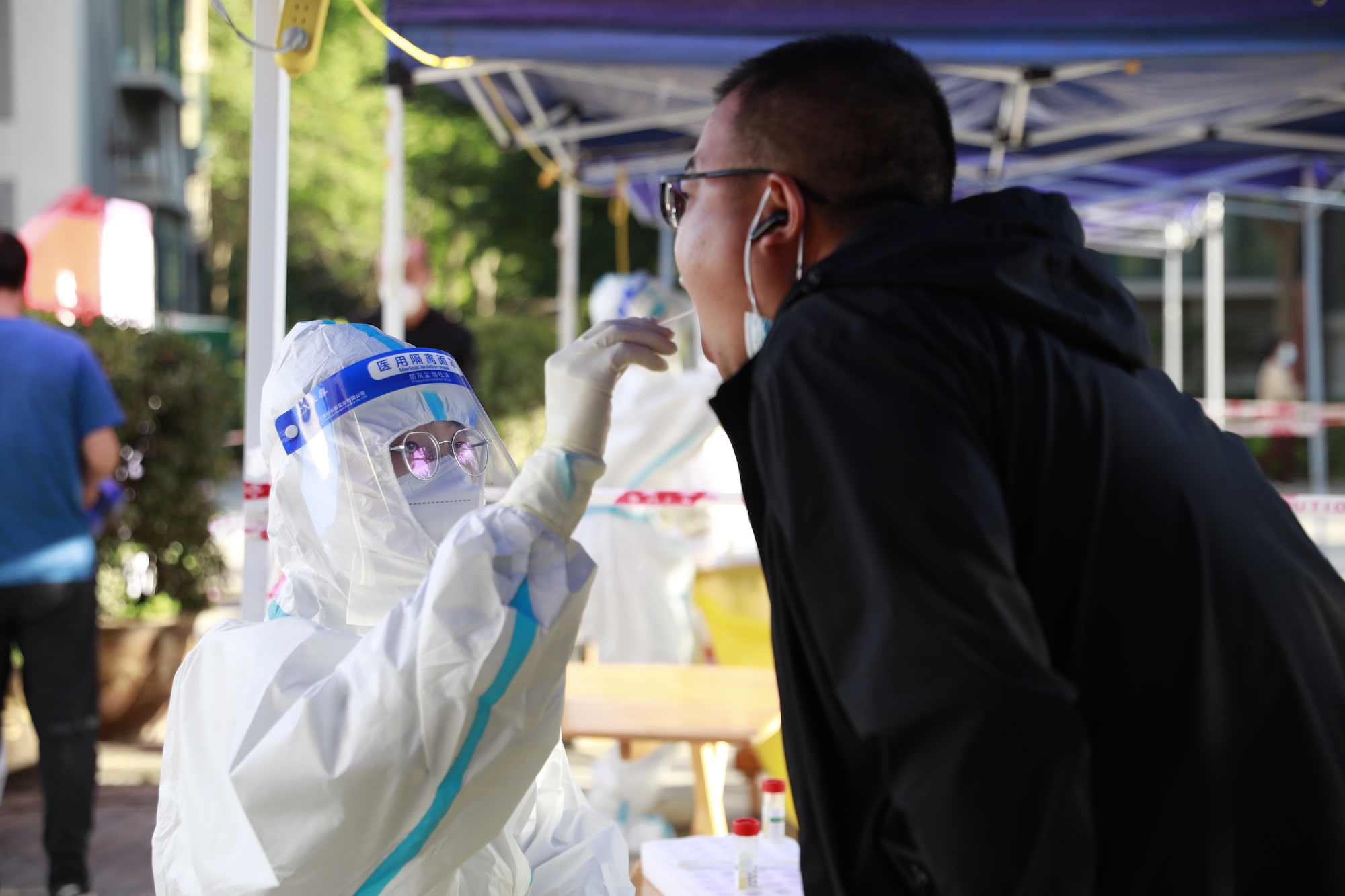 Mass-testing is well underway this morning at 60 stations across Macao – despite the approach of Typhoon Nalgae – as health authorities seek to quash the spread of the latest Covid-19 outbreak, which has so far accounted for 11 cases.
The drive, which is compulsory for everyone in the city, will run until 1 am tomorrow morning, and then restart at 7 am and end at 11 am. Health officials have said that everybody should wear a KN95 mask. Employers have been urged to allow their staff to attend testing during working hours.
The nucleic acid test (NAT) drive, the first since several rounds of mass-testing that Macao endured this summer, was launched after a 58-year-old local man who works in Macao and lives in Zhuhai tested positive for Covid-19 in Zhuhai yesterday morning and health authorities were unable to identify the source of his infection.
The measures taken during the summer outbreak, which began on 18 June and lasted for nearly two months, have cost the Macao government around MOP 1.08 billion that included the expenses of carrying out 14 NATs, rapid antigen test (RAT) kits and KN95 facemasks for the entire population, according to the Novel Coronavirus Response and Coordination Centre.
For the time being universities, secondary schools will not suspend classes, and day nurseries will run as normal, while primary schools and kindergartens are suspended due to the approaching Typhoon Nalgae. 
The triple-jabbed man works in a fresh seafood shop near Praça de Ponte e Horta in the Inner Harbour area. He is normally tasked with delivering seafood to restaurants.
Zhuhai's health authorities told the Macao Health Bureau yesterday morning that the 58-year-old man underwent a Covid-19 nucleic acid test in Zhuhai on Sunday night, and his test came up with a positive result yesterday morning.
Health Bureau Director Alvis Lo Iek Long underlined that the mass NAT drive does not mean that Macao's Covid-19 situation is serious, and the testing aims to enable the government to rule out potential Covid-19 in the community. The health chief urged residents "not to worry too much" about the situation.
Lo said that the government aims for the citywide NAT drive not to affect civil society's normal operations and residents' normal daily lives.
He added that those who already underwent a NAT in Macao or Zhuhai yesterday will not need to participate in the current drive.
Lo also reaffirmed that residents and others must self-test for Covid-19 with a RAT kit at home and upload their negative RAT result onto the Health Bureau's platform before going to a NAT station for their NAT.
Macao's current Covid-19 situation began on Tuesday last week when a 66-year-old local woman tested positive for the novel coronavirus in Zhuhai. Her son and younger sister, as well as a 57-year-old local man living in the same building in Fai Chi Kei, were also diagnosed with Covid-19 later last week.
In addition, a 43-year-old local woman, who works as a croupier at MGM COTAI, as well as her two sons, tested positive for Covid-19 on Sunday. A 34-year-old local woman living in the same building in Iao Hon district was also diagnosed with Covid-19 later the same day.
According to the Health Bureau, the 66-year-old woman and the 43-year-old woman visited an express courier outlet in the underground shopping centre next to the Gongbei checkpoint in Zhuhai on Tuesday last week at the same time.
Yesterday afternoon officials announced that the wife and a son of the 57-year-old man had also been diagnosed with novel coronavirus. His 26-year-old son tested positive for Covid-19 on Sunday night, while his 53-year-old wife tested positive yesterday morning. Despite having received two Covid-19 jabs, both had come down with Covid-19 symptoms such as a cough and sore throat.
Consequently, as of last night 11 cases had been reported amid Macao's current Covid-19 crisis.
Health Bureau official Leong Iek Hou said that the 58-year-old man frequently travelled across the border. Leong said he travelled from Zhuhai to Macao every day from Friday to Sunday to go to work. 
He took public bus route No MT4 from the Qingmao checkpoint to Praça de Ponte e Horta en route to the seafood shop in the morning. He took public bus route No 1 back to Fai Chi Kei at night and walked to the Qingmao checkpoint en route to Zhuhai to return home.
During his break time from work, Leong said, the man normally rested in Praça de Ponte e Horta's sitting-out area where he routinely removed his facemask to smoke.
Lo said that as the man failed to wear a facemask properly when out and about, he had raised the level of the Covid-19 risk in the community, The Macau Post Daily reported.