MIF registers slight increase in trade visitors, some exhibitors disappointed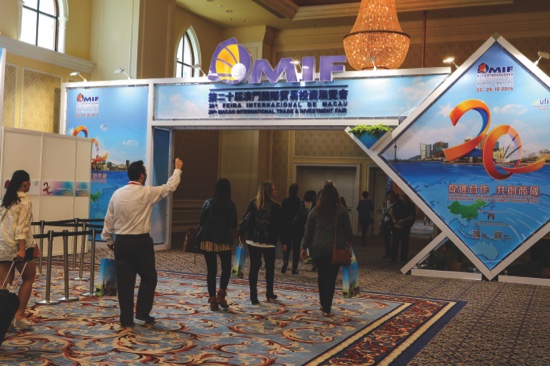 More professional purchasers showed up at this year's 20th Macau International Trade and Investment Fair (MIF) than last year, according to the organizer's preliminary data.
Running over four consecutive days at The Venetian Macao since last Thursday, the event saw a total of 50 agreements inked between chambers and governments as well as around 574 negotiation sessions held, according to official figures.
Irene Lau, the Macau Trade and Investment Promotion Institute (IPIM) executive director, told media on Sunday that the authorities recorded around a 9 percent hike in the quantity of professional buyers on the first day alone. But she also downplayed those numbers: "We are not looking for numbers of contracts or signatures that we have on the spot here. This is a platform. It's a chance for everybody to meet here every year", Lau stated.
As this year's fair highlighted, the push focused on services and products from the Portuguese-speaking nations. Lau added that firms from those countries successfully signed more than 40 contracts with other companies from around the globe. She also pledged to introduce new elements to attract more visitors in 2016.
"I think the professionalism has risen to some extent this year, and the Portuguese-speaking countries' participation has been deepened as well. Like I said last year, it's like sowing seeds. The forty-something agreements might stem from two or three years ago," she said.
Up to 117 enterprises from those countries joined the business talks with on-site buyers over a wide range of merchandise concerning beverages and food, healthcare, furniture, investment and consultancy services. They also went on a visit to Zhuhai to explore business potential there.
Nonetheless, some smaller- scale firms found the exhibition less fertile ground compared to previous years, with an apparent low turnout.
The investment promotion authorities also stressed that the fair's business matching sessions indeed helped several firms in finding business partners.
Lau hoped the budget for next year's fair would remain similar to this year's figure of MOP.
37 million despite pledges by the government for increased austerity. "I hope so, but would economize for sure if necessary," she said.
(macaunews/macaudailytimes)