Macau construction sector boots local economy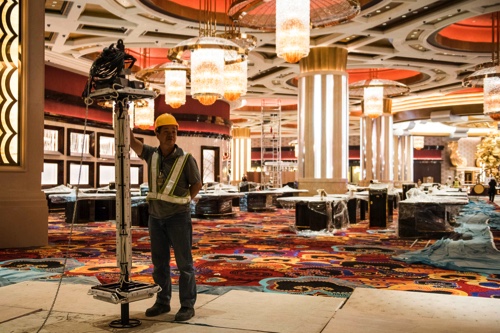 The main indicators of the construction sector registered a general increase in 2014, largely due to the construction of hotels and entertainment facilities, according to information from the Statistics and Census Service (DSEC).
The statistical data indicates that the value of construction increased by 63.2 percent year-¬on-year to MOP78.15 billion, intermediate consumption rose by 60.2 percent to MOP61.03 billion, and labor cost grew by 42.3 percent to MOP11.35 billion.
A total of 2,633 establishments were operating in the construction sector in 2014 – a decrease of 136 year-on-year. However, the number of people engaged in the sector increased by 11,361 to 45,368.
Analyzed by the types of construction project, the value of private constructions grew by 76.4 percent year-on-year to MOP66.88 billion. Of these contructions, the construction value of hotels and entertainment facilities increased by 122.3 percent, while that of private residential buildings fell by 9.6 percent. Public construction works increased by 11.6 percent year-on-year to MOP8.12 billion, and land formation and reclamation works surged by 697.7 percent due to the current land reclamation projects in progress.
Meanwhile, the construction value of Light Rapid Transit and Roads decreased by 17.2 percent to MOP1.55 billion, and the construction value of piers fell by 52.9 percent to MOP636 million.
Analyzed by location, a total of 946 construction projects were carried out on the Macau peninsula, 80 projects were based in Cotai, while 103 projects were based in Coloane. The value of construction figures increased by 94.4 percent on the Macau peninsula and 109.9 percent in Cotai, while the construction value fell by 21.6 percent in Coloane.
(macaupost/macaudailytimes)