Andrew Kim Taegon: The Macao seminary student who became a Korean Catholic saint
Andrew Kim Taegon: The Macao seminary student who became a Korean Catholic saint

Link copied
In a tale that moves full circle across the centuries, a passionate young Christian set out a path that has since been followed by millions of the faithful.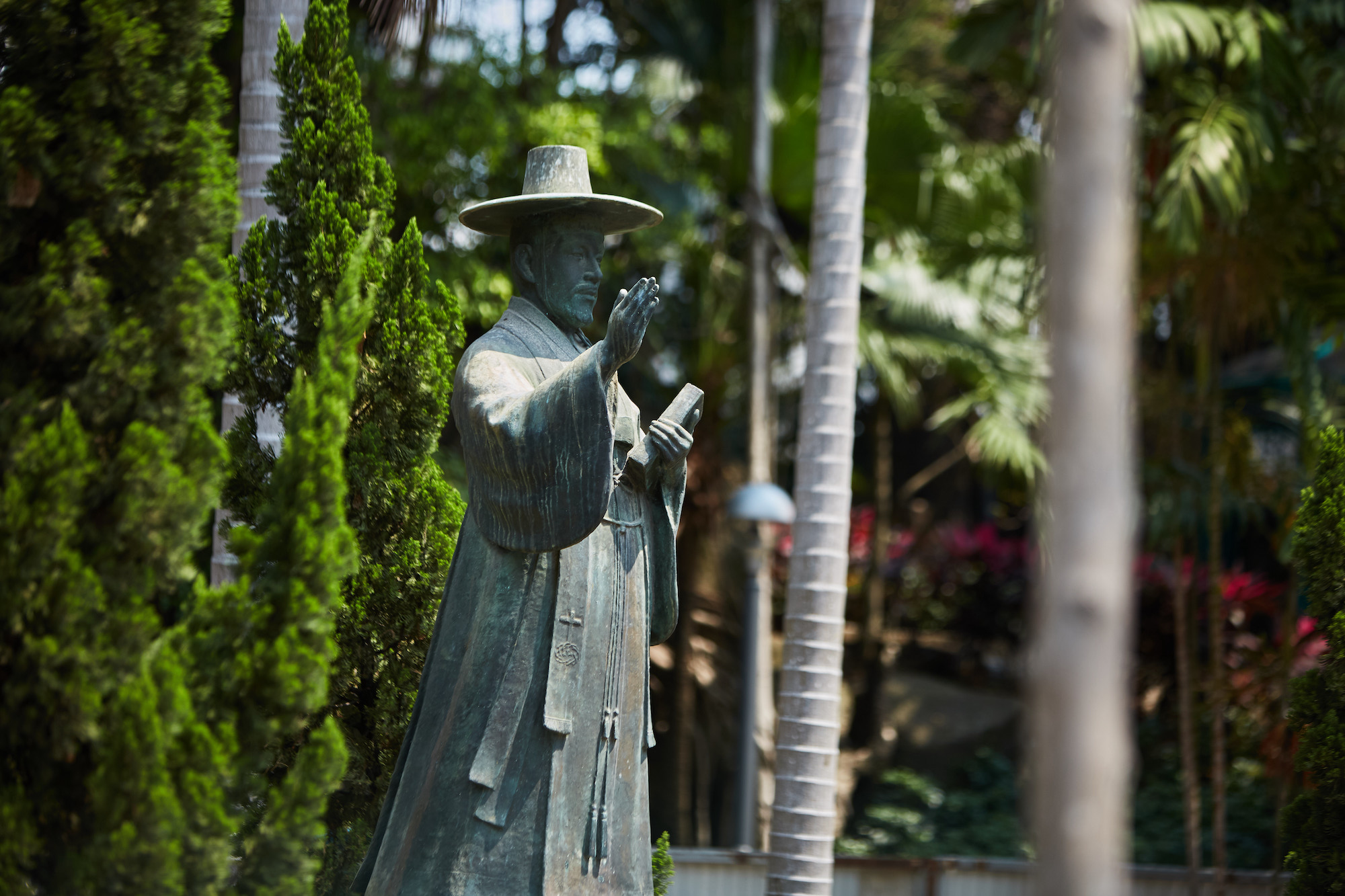 In the corner of the Luis de Camões garden in central Macao is a bronze statue of a young man with the traditional hat of the Korean scholar, holding a large book in one hand and reaching forward with the other. On the plinth below reads a brief description of his life, in Korean, Chinese, English and Portuguese.
"Andrew Kim Taegon was born in Choongcheong province (southwest Korea) in August 1821 and arrived in Macao to study theology in June 1837. Ordained a Catholic priest in August 1845, he returned to his native country in October that year. Arrested in June 1846, he was martyred in Seoul that September. In May 1984, he was made a saint."
This brief chronology hides a dramatic and passionate story, of one of the most remarkable graduates of the St Joseph's Seminary in Macao which has been training priests since 1728. 
Kim was the first Korean-born Roman Catholic priest and was named by the Vatican in 1949 as the principal patron of its clergy in Korea.
On 6 May 1984, Pope John Paul III canonised Andrew Kim, along with 102 other Korean martyrs, during a visit to Korea, in the first canonisation outside the Vatican. 
"The Korean church is unique because it was founded entirely by lay people," he said. "This fledgling church, so young and yet so strong in faith, withstood wave after wave of fierce persecution. Thus, in less than a century, it could boast of 10,000 martyrs. The death of these martyrs became the leaven of the church and led to today's splendid flowering of the church in Korea. Even today, their undying spirit sustains the Christians in the church of silence in the north of this tragically divided land." 
There are 5.8 million Catholics in South Korea, over 10 per cent of the population; among nations, it has the fourth largest number of saints in the church. It is one of the strongest Catholic churches in Asia.
Macao's central role
Macao played a key role in this story. It was where Kim found his vocation and came to understand the wider world outside the closed country created by the Joseon dynasty (1392-1910). It was the centre of the Catholic mission to East Asia. The statue in the Luis de Camões garden has become a place of pilgrimage, which – before Covid-19 restricted travel – attracted more than 100 Korean Catholics a month; believers from other nations, in Europe, Asia and the Americas, also came to see the statue. Remarkably, two of the priests in the church of St Anthony's, opposite the entrance to the garden, are Korean.
One is Peter Lee In Ho, a priest of the Clerical Congregation of the Blessed Korean Martyrs. 
"We greatly respect Saint Andrew Kim. He was our first priest. We celebrate him at the church on 20 September, the day he was martyred, and hold events for nine days before that."
Christianity first arrived in Korea in the late 16th century, when invading Japanese soldiers baptised Koreans. In 1593, a Jesuit priest visited a Japanese commander in Korea; a Korean diplomat later returned home from Beijing with theological books written by Matteo Ricci, a Jesuit priest who lived in Macao before settling in China. 
So Catholicism took root in Korea among lay people, but without missionaries. These books by Ricci, written in Chinese characters which many Koreans could read, were the main texts through which the religion spread. The first Catholic prayer-house was established in 1784. 
During the 19th century, the Joseon Dynasty outlawed the religion, mainly because it refused to worship ancestors, which the state prescribed as a cornerstone of its culture. It saw it as a foreign threat to its rule and the orthodoxy of Confucianism.
A family of martyrs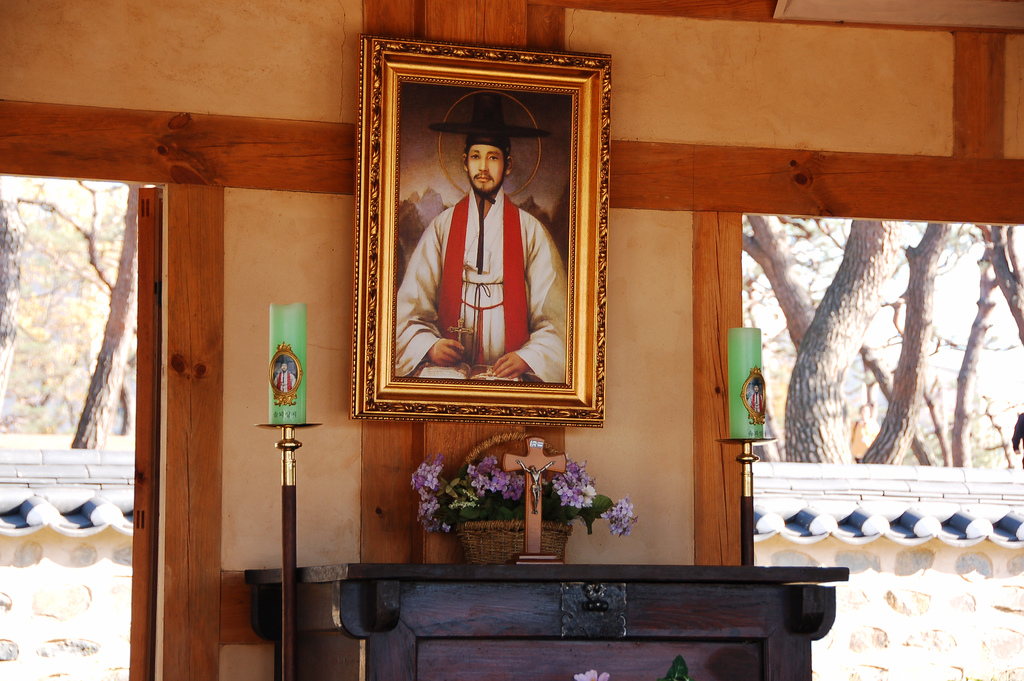 Kim was born on 21 August 1821 to parents who were converts. His great-grandfather and great-uncle had been martyred in 1814 and 1816. When he was seven, the family was forced to move and live underground. They were very poor and his mother was reduced to begging. This only made the young man stronger and more devout. 
In 1836, priests from the Paris Foreign Missions Society arrived secretly in Korea and discovered this underground church. They chose Kim and two other young men – all aged 15 – to go to Macao for training as priests. 
The environment in Korea was too hostile and Macao was the nearest place with such a facility. In March 1837, a French missionary escorted the three across the Yalu river into China; they began the marathon journey to Macao, which took three months. 
At St Joseph's Seminary, the trio began an intensive programme of study, including theology, the Bible, French, Latin and Cantonese. 
Macao was then dominated by the Church of Saint Paul; it was built at the top of a flight of steps, which has now become one of the city's main tourist attractions. 
Outside the times of Mass, only priests were allowed to enter the church. "One night Kim went to kneel on the steps and climbed them, praying as he went that God would help him to become a priest," Father Lee says. In 1839, Kim's father Ignatius was martyred for practising Christianity. 
In 1837, civil unrest in Macao forced the Koreans and their missionary teachers to move to Manila, where they continued their studies. They returned in 1839. As he neared the end of his studies in Macao, Kim was looking for an opportunity to return home. 
In February 1842, when two French warships were on their way to China, he saw it as an opportunity; he worked on board as an interpreter, but the vessel did not go to Korea. He made several unsuccessful attempts, until he entered on 1 January 1845 and made his way to Seoul. 
In a letter to a French priest, he wrote: "I know that I cannot live long in this world. We are travelling among the people. Posing as a foreigner or a Chinese, we can give witness to Jesus." 
He recruited more young people for the priesthood, made maps of Korea to enable missionaries to enter and bought a safe house. It was a life of daily danger; he could be arrested at any time. The date of his ordination was fixed for 17 August 1845 at a church outside Shanghai. 
He made the journey for the ceremony, which was a day of great emotion. After eight years of intense work, sacrifice and the threat of daily arrest by the government, Kim had achieved his ambition to become a priest; he was ordained by French bishop Jean Joseph Ferréol. The very next day he left Shanghai to return home. The journey took 40 days because a terrible storm forced him to stop for several days in Jeju island. 
Arrest, torture and a bloody end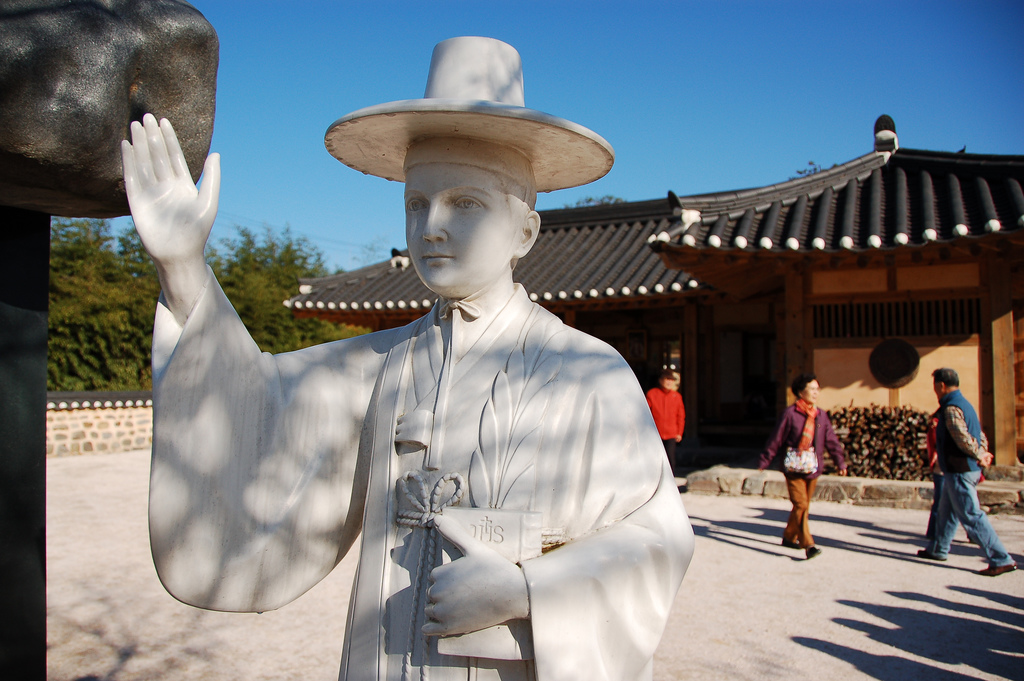 Kim's mastery of French, Latin and other languages meant that he could have practised as a priest outside his native country – away from the risks that awaited him there. This thought never crossed his mind, says Father Lee. "His purpose in coming to Macao was to return to Korea as a priest. He knew that he would be captured and was unlikely to live for long." And indeed such was the case. 
Kim was based in a parish near Seoul and worked with foreign missionaries to spread the gospel. He took a letter for the missionaries to a boat on the Yellow Sea that was going to China. On 5 June 1846, he was arrested on his way home and tortured in prison for more than three months. He was accused of proselytising and taken to Seoul for sentence. 
His humility in court moved the judge, but the prosecutor demanded the death penalty and he was sentenced to death by beheading. These were his last words: "This is the last hour of my life. Listen to me attentively. If I have held communication with foreigners, it has been for my religion and for my God. It is for Him that I die. My immortal life is on the point of beginning. Become Christians if you wish to be happy after death, because God has eternal punishments in store for those who have refused to know him." 
On 15 September 1846, he was beheaded beside the Han river, near Seoul. His ears were pierced with arrows and his face covered with lime. A group of Christians later moved his body to a mountain 50 kilometres from the capital.
Kim's death came in one of three waves of official persecution, in 1839, 1846 and 1866, in which at least 8,000 people were martyred. The vast majority were lay people, including men and women, single and married, young and old. 
On 25 July 1925, Kim was beatified, together with his father Ignatius. On 6 May 1984, Pope John Paul III canonised him, together with 102 other martyrs. The feast day for them is 20 September each year. He is considered a symbol of the sacrifice and dedication that brought Christianity to Korea. 
The church he helped to found has grown to more than five million and has become strong enough to send priests to Macao, where they conduct services in Cantonese in churches built by the Portuguese.