Macau protesters demand 40,000 HOS units by end-2019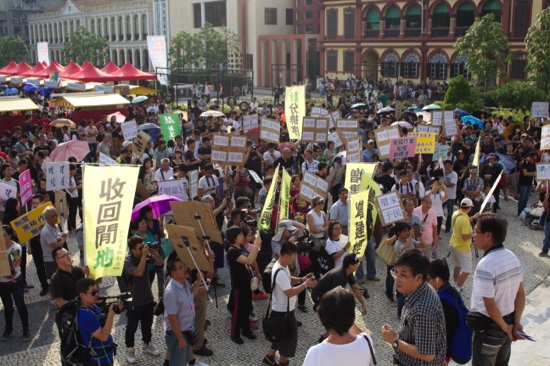 The newly founded Macau Community Development Initiative (MCDI) and the ad hoc HOS Concern Group held a protest march on Sunday urging the government to complete at least 40,000 subsidised home ownership scheme (HOS) flats by the end of 2019.
The demonstrators also demanded the resumption of the government's"points-based system" for the allocation of HOS flats that was used until late 2011.
The protesters started to march from Praça do Tap Seac at around 4:30 p.m. to Government Headquarters where five of their representatives handed a petition to an official.
MCDI Vice-President Jeremy Lei Man Chao told The Macau Post Daily in a phone interview on Sunday night that some 1,800 people had participated in the protest. The Public Security Police (PSP) said in a statement that the protest drew about 700 people and that 130 police officers were deployed to maintain order.
Earlier this month, the Housing Bureau (IH) released a priority list, processed by a computerised draw, according to which only 1,900 out of 42,699 HOS applicants will be eligible to buy a unit in the government's latest round of selling HOS flats. Applicants unlucky this time will have to apply again when the next round is held. The bureau has declined to tell reporters when the next round will be held.
Before the current law took effect in 2011, the allocation of HOS flats was based on a points system – applicants were ranked according to scores based on various factors and variables. The current law with a "lucky draw system" was passed by the legislature in August 2011.
Lei said their next move would "target the [city's] idle land plots". He declined to say what exactly the action would be.
Meanwhile, the Office of the Government Spokesperson issued a statement after the protest to say that the government "respects and understands" residents' demands for public housing, describing the protest as "legal and rational."
The government also said that it would explore the possibility of introducing a new type of public housing. "[The government] will speed up the construction of public housing and review and propose amendments to the HOS and the Social Housing laws," the statement added.
(macaunews/macaupost)