Jackson Chang appointed president of IPIM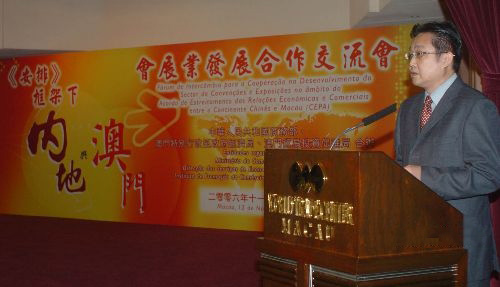 Macau, China, 27 Jan – Cheong Chou Weng was appointed today as president of the Board of Directors of Macao Trade and Investment Promotion Institute (IPIM) replacing Lee Peng Hong that headed the institute since 1999.
The appointment was gazetted today and will take effect from 1st February.
Cheng Chou Weng, alias Jackson Chang, is Executive Director of IPIM since 2003.
According to today's Official Gazette, president of Cultural Institute of Macao, Heidi Ho Lai Chun da Luz was appointed advisor of the Secretary for Social Affairs and Culture, Cheong U from next February.
Secretary U praised Heidi Ho work in the ICM considering that she contributed to the cultural development of Macau and the fact the territory became a World Heritage.
Renowned artist Ung Vai Meng, current head of the Cultural Activities and Recreation Department of the Civic and Municipal Affairs Bureau (IACM) was appointed president of the ICM to replace Heidi Ho.
Ung Vai Meng has been in the public service for over 30 years. He is a former curator of the Macau Art Museum (MAM).
(MacauNews)