Govt says 'no timetable' to resume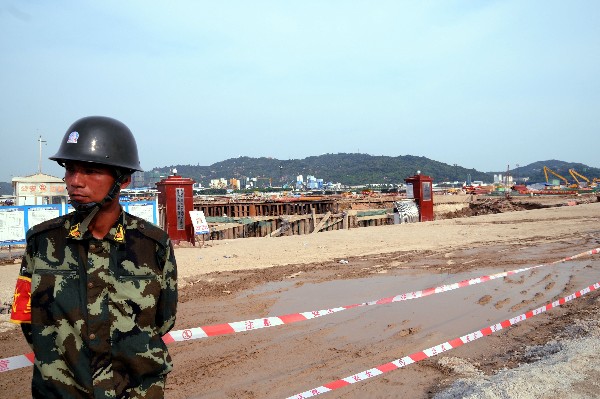 The Infrastructure Development Office (GDI) said Sunday that it had not yet set a timetable to resume construction of a tunnel that will connect Cotai and the University of Macau's future campus on Zhuhai's Henqin Island, after part of the Hengqin section collapsed on Thursday night.
A spokesperson said to the Macau Post Daily that GDI  had demanded the construction company hire experts to carry out an investigation into the incident and thus the office had to wait for the report on the investigation, because of which no timetable could be set on the resumption of the project.
The office said in a statement on Friday that the road above the tunnel entrance, on the Hengqin side, collapsed at about 11 p.m. on Thursday. There were no reported injuries.
According to local Chinese-language newspaper reports, the area affected by the collapse has a diameter of about 30 metres.
According to previous information released by the office, the whole tunnel will be 1,570 metres long while the part under the river separating Macau from the campus will have a length of just 530 metres. There will be three separate tunnel sections, one for two-way traffic in four lanes for vehicles, one for pedestrians and one for water pipes and electrical cables.
The government announced previously that the budget for the tunnel has been increased to two billion patacas from the originally announced 500 million patacas, while the government has said it expects to spend about 7.8 billion patacas on the main construction of the campus and its facilities. The original campus budget stood at about six billion patacas.(macaunews)