Alexis Tam unsure of Coloane hospital opening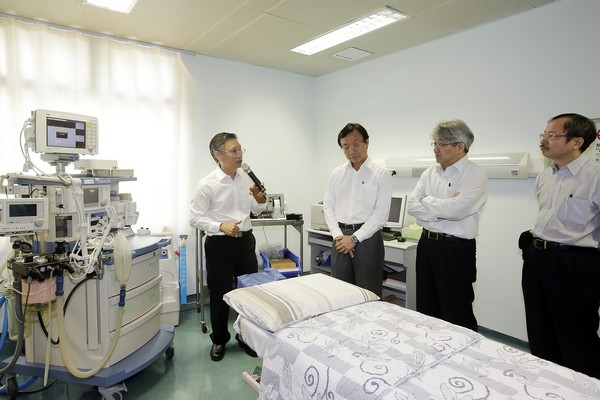 Alexis Tam has said that he does not know when Macau's second public hospital will be ready to open, adding that he "has not been made privy to the information."
"I have been asked by many [people] as to when the new hospital in Taipa will open and I can tell you that I myself would like to know the answer. I would. We do not have information on the matter. The project has been delivered to the Infrastructure Office," the Secretary for Social Affairs and Culture said, as cited by TDM.
Tam clarified that the final project has been submitted and is now in the hands of the Infrastructure Development Office (GDI). He added that it would be more appropriate to ask GDI when the hospital will open, as they are currently in a better position to answer.
Tam made these comments at the sidelines of a visit to the public health clinical center in Coloane. The facility, which is worth MOP340 million, is undergoing renovation. The completed center will accommodate 60 beds and top-of-the-line medical equipment specifically to address infectious diseases such as MERS, Ebola and bird flu.
The plan is for the center to receive patients suffering from infectious diseases over the next three years, whereupon the responsibility will be moved to the new public hospital in Taipa.
In July 2014, the Health Bureau confirmed that the construction of the Taipa hospital was taking longer than expected, as the bureau had hoped to finish the first phase of the project in 2017. Officials also indicated that the opening of a new health center in Edificio do Lago, initially scheduled to open in 2013, would be postponed.
The reason for these delays was explained to be a result of the construction company's lack of relevant experience, as well as deficiencies in the area's infrastructure, such as insufficient roads.
There are currently three hospitals in Macau offering basic and primary healthcare services – the Hospital Conde S. Januário, Hospital Kiang Wu and the Macau University of Science and Technology Hospital. The latter two are both private institutions.
None of the hospitals in Macau currently have an international healthcare accreditation, which sets the international standards for safe and good quality healthcare.
(macaunews/MDT)