Legislature passes '+2+2+100' bills amid walkout by 4 lawmakers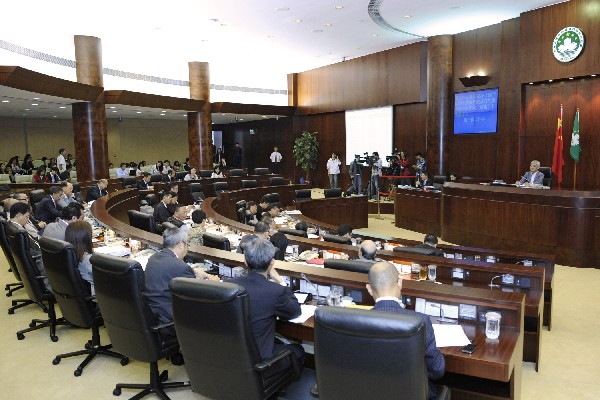 The Legislative Assembly (AL)  Tuesday approved the two government-drafted amendment bills regarding changes to two annexes of the Macau Basic Law concerning next year's direct and indirect legislative elections and the election of the chief executive in 2014.
Four lawmakers – Antonio Ng Kuok Cheong, Au Kam San, Chan Wai Chi and Jose Pereira Coutinho – who voted against the outline of bills in the first reading, walked out to express their opposition to the twin bills, according to The Macau Post Daily.
The bill regarding the changes to the method of next year's legislative elections suggests that there should be two additional seats for both directly- and indirectly-elected lawmakers, known as the "+2+2" ("gah yih gah yih" in Cantonese) option, while the bill regarding the proposed changes to the method of electing the city's chief executive in 2014 suggests that the current 300-member Chief Executive Election Committee be increased by 100 members – known as the "+100" ("gah yat baak" in Cantonese) option.
Secretary for Public Administration and Justice Florinda Chan Lai Man and other senior officials under her portfolio attended Tuesday's plenary session to answer lawmakers' questions about the bills.
The four lawmakers raised several questions about the bill regarding the proposed changes to the Chief Executive Election Committee in 2014, including the timetable for universal suffrage for the chief executive election, and whether all members of the Chief Executive Election Committee would be elected by the general public. They also complained that the bill was taking the city's democratic progress backwards.
When responding to the four lawmakers, Florinda Chan insisted that the bill had reflected the majority of public opinion.
After the answer from Florinda Chan, Coutinho walked out of the legislative hemicycle to express his dissatisfaction with the policy secretary. He did not take part in the vote.
The bill was finally approved after 23 lawmakers voted in favour while three votes against. It took the legislators just one hour and a half to discuss and pass the two bills.
The bill regarding next year's legislative election was backed by 24 lawmakers while three – Au, Ng and Chan Wai Chi – voted against it.
Currently there are 29 lawmakers in the legislature comprising 12 directly-elected and 10 indirectly-elected lawmakers and seven government-appointed lawmakers
The bills will be submitted the Standing Committee of the National People Congress (NPC) for record (legislative elections) or for approval (chief executive election).(macaunews)