Trade union group, Ng and Au groups big Macau poll winners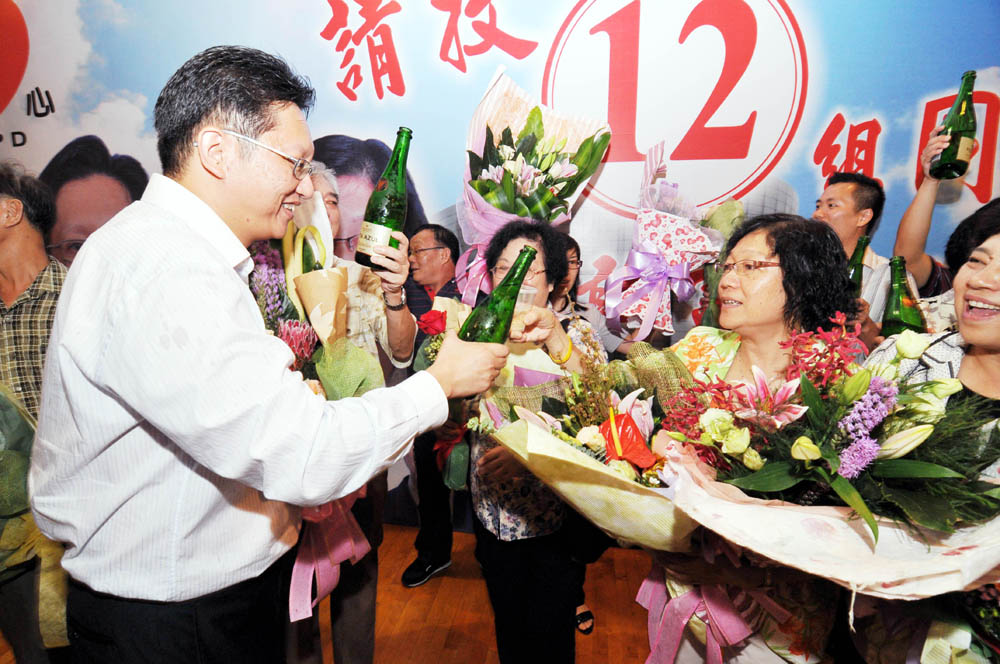 Macau, China, 21 Sept – The Development Union (UPD) of the Macau Trade Unions Federation and the two groups of the grass-roots New Macau Association (NMA), headed by pro-democracy legislators Ng Kuok Cheong and Au Kam San respectively, are the big winners of yesterday's direct legislative election, according to preliminary final figures released by the president of the Legislative Assembly Election Affairs Committee, Vasco Fong Man Chong, at 5 a.m. today.
According to the Macau Post Daily vote-counting process had been held up by complaints by a number of groups about vote counting at six polling stations.
Fong said the total number of voters from the ballot boxes of the 28 polling stations stood at 149,006 – the highest on record. He said that the number of different from the computer vote tally.
According to Fong 6,539 votes were deemed void. He said that the invalid votes will be sent to an auditing committee to double-check the votes, based on a standardised norm.
Four years ago, 3,325 votes were declared void. For the first time, electors were required to use "tick" rubber stamps to vote.
Fong said that since the validation process could still affect the final result and distribution of seats, his committee had decided not to announce the election winners.
However, Fong announced at a press conference after 5 a.m. the preliminary election results of the 16 groups that vied for the 12 seats at stake.
According to the figures announced by Fong, the Development Union garnered 21,089 votes, winning two seats for its two top ranked candidates, Kwan Tsui Hang and Lee Chong Cheng.
Most observers had not expected the group to become the election's top vote winner. Analysts attributed the big victory to the group's work over the past four years in the legislature, namely by Kwan who has become one of Macau 's most popular politicians.
The two groups fielded by the NMA – Ng's Democratic Prosperous Macau Association (APMD) and Au's Democratic New Macau Association (ANMD) – together garnered 27,446 votes.
While Ng's group won 16,423 votes, winning two seats for Ng and his second-ranked candidate Paul Chan Wai Chi, Au's group garnered 11,023 votes and one seat – for Mr. Au himself.
The NMA activists had campaigned under the slogan of "1+1=4" in an attempt to double their seats in the legislature by running with two separate groups. While not fully succeeding in the bid, they were still able to win one more seat than in the outgoing legislature.
Local Fujianese businessman Chan Meng Kam's Macau United Citizens Association (ACUM) was able to keep its two seats, winning 17,007 votes – more than Ng's group. The group's result had widely been expected.
The New Macau Development Union headed by Stanley Ho Hung Sun's fourth wife, Angela Leong On Kei, won 14,099 votes and one seat – slightly more than the Progress Promotion Union (UPP) that was jointly set up by the Macau General Union of Neighbourhood Associations (popularly known as "Kai Fong") and its junior partner, the Macau General Women's Association (popularly known as "Fu Luen"). The group won 14,042 votes.
Much to the consternation of Macau 's traditionalist camp, the "Kai Fong" led group appears to have lost one of its two directly elected seats in the legislature. Observers described the possible loss as a "big loss of face" to the group that has played an important role in Macau 's community activities for over five decades.
The New Hope group headed by civil service unionist Jose Pereira Coutinho garnered 12,902 votes, which allowed it to keep its single seat.
The newly founded pro-business Macau Guangdong Union won 10,341 votes and one seats, which had been widely expected by observers.
Outgoing legislator David Chow Kam Fai's wife Melinda Chan Mei Yi, the number-one candidate of the Alliance for Change group, won 7,855 votes and one seat, according to the preliminary figures.
However, considering that the status of the election's 6,539 votes remains under dispute, any of the seats "won" by Melinda Chan, Paul Chan and Ung Choi Kun (of Chan Meng Kam's group) could still be "lost," depending on the outcome of today's decision by the auditing committee.
Nine of the 16 groups won one or two seats, according to the provisional and unofficial result.
The seven other groups failed in winning any seats, among them the Macanese Plural Voices of Macau group that won just 905 votes (but still 13 more votes than its predecessor, For Macau, in 2005) and Agnes Lam Iok Fong's newly set up Civil Watch that garnered an impressive 5,329 votes.
Labour activist Lei Man Chao's Social Democratic Frontier Alliance got the least votes, just 256.
The Democratic Activism group including radical "streetfighter" Lee Kin Yun won 1,140 votes, nearly double its 655 votes four years ago.
Sunday's voter turnout reached 59.9 percent, as against a turnout of 58.4 percent four years ago.
(MacauNews)