Edmund Ho urges civic leaders to help maintain political stability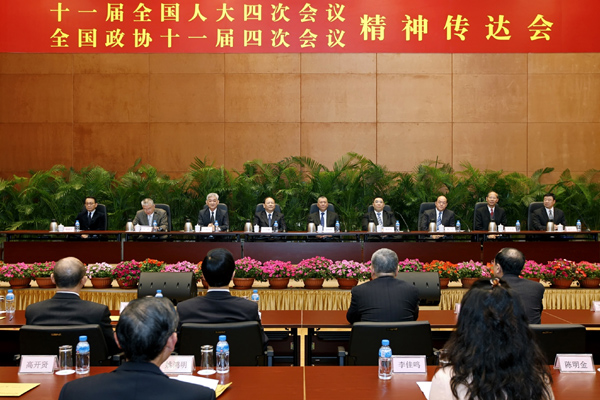 Macau, China, 23 Mar-Former chief executive Edmund Ho Hau Wah Tuesday urged Macau's civic leaders to assist the government in maintaining long-term political stability.
Ho, who is now a state leader in his capacity as a vice-chairman of the Chinese People's Political Consultative Conference (CPPCC), made the appeal in a speech during a two-hour brain-storming meeting about the conclusions of the recently concluded fourth session of the 11th National People's Congress (NPC) and the fourth session of the National Committee of the 11th CPPCC in Beijing, hosted by the Liaison Office of the Central People's Government in Macau.
According to the Macau Daily Post, Ho pointed out that the central government's newly announced 12th Five-Year Plan set a clear goal for Macau's developmental blueprint by establishing the city as a world centre of tourism and leisure.
He stressed that this goal was not just a simple economic development ambition."[This goal] must be linked to the implementation of the One Country,Two Systems principle" he said pouting out that to attain the goal the local government had to study hard how to co-operate well with Macau's neighbouring regions.
"We have to speed up the appropriate diversification of our economy and to do this we need to collaborate with our regional neighbours efficiently," he said, adding that as each region in the Pearl River Delta had its own development potential and role to play, it was imperative to ensure mutual support and co-operation to create a win-win situation for all in the region.
Ho further added that reaching the goal of developing Macau into a world centre for tourism and leisure would not only take the effort of his own generation, but also the next generation.
Meanwhile, Chief Executive Fernando Chui Sai On also addressed the gathering, pledging to improve the life of local residents, implement the recently signed Macau-Guangdong framework cooperation pact and appropriately diversify the local economy.
About 350 people, including the local government's principal officials and Macau's NPC and CPPCC members, attended the meeting.
(MacauNews)