China's third amphibious aircraft AG600 prepares for takeoff
China's third amphibious aircraft AG600 prepares for takeoff

Link copied
One of a trio dubbed 'The Three Musketeers', supersize plane has been designed for emergency rescues, fighting forest fires and marine patrolling.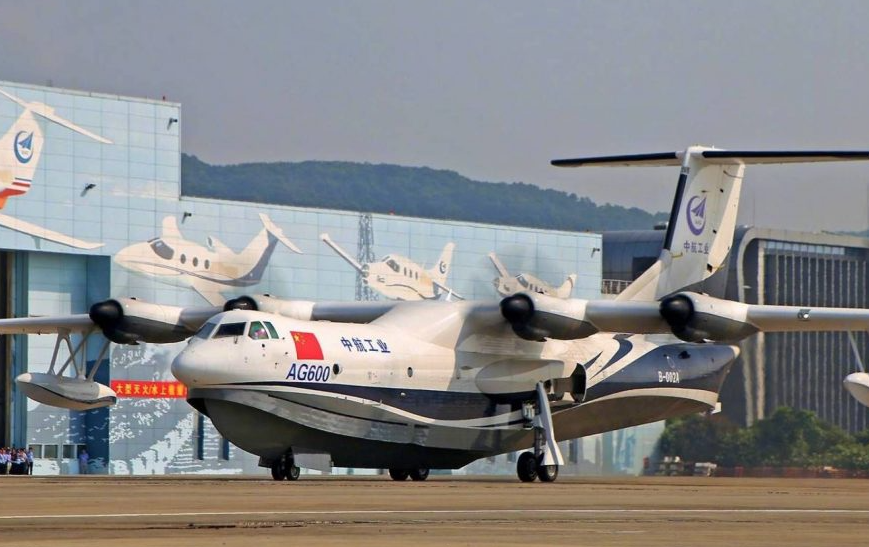 China's third supersize amphibious aircraft, the AG600-1003, is moving closer to its maiden flight this year after all four engines met up to design expectations during tests held in February.
Assembly of the large rescue plane was completed in Jinwan on 26 December and its avionics, power control, and hydraulic operation have been fully tested.
The engine trial run is vital in testing the aircraft's performance, durability and reliability.
Several AG600 aircraft are now under R&D, production, and testing in domestic cities such as Xi'an and Jinzhou, preparing for further assembly and flight tests in Zhuhai.
Two more AG600 aircraft will be assembled in Zhuhai and undergo test flights together with the 1003 later this year. 
Code-named Kunlong, the AG600 is China's first independently developed amphibious aircraft as well as the largest of its kind in the world.
It is known as one of the "Three Musketeers" in China-made aircraft along with the Yun-20 and C919.
Built by the Zhuhai-headquartered Aviation Industry Corporation of China , the 1003 is an upgraded version of the 1001.
It is designed for emergency rescues, fighting forest fires, and patrolling the sea.