Words by Rafelle Allego
Photography by Denzel Calangi
Every year since 2000, the Macao Food Festival piques our palates with delicious dishes and drinks from Macao's diverse restaurant scene. And this year is no different – the festival is once again taking place at Sai Van Lake Square, near the base of Macau Tower, from 13 to 29 November. 
Due to Covid-19, however, the festival has implemented a few changes: guests need to file digital health declarations at the entrance and maintain physical distancing. Meanwhile, the organisers have reduced the number of booths by 32.3% – or about 100-110 booths, compared to 150-160 in 2019.
That's mostly due to travel restrictions. Since international caterers couldn't join this year, it's a more low-key, local experience. Some might miss the brands from Japan, Malaysia and Singapore that you wouldn't normally find in Macao. But we see it as an excellent way to support local businesses during an especially challenging year for food and beverage outlets. 
Even with fewer booths, there's still an impressive range of flavours, from Instagram-ready sea urchin to garlicky steamed clams, succulent skewers and next-level desserts. Here's our shortlist of not-to-miss bites: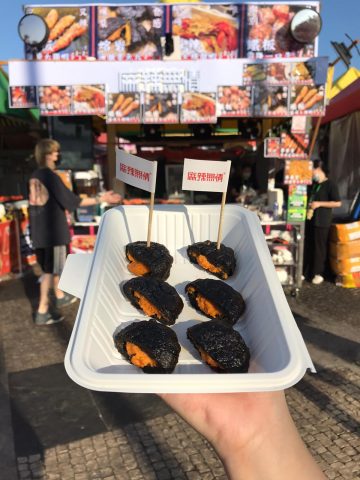 Sea Urchin in Squid Ink Balls

Where to find it: Ma La Wu Qing Macau (麻辣無情‧重慶老火鍋)
If you love seafood, head to Ma La Wu Qing Macau. The stall takes it to the next level with its novel squid-ink balls, which are visually appealing – with every bite, vibrant orange urchin oozes out of the jet-black casing – and taste great, too. 
The firm squid-ink balls offset the creamy texture of the sea urchin, while naturally briny flavours transport you to the sea. This one-of-a-kind dish is only available during the festival, so don't miss it.   
Can't make it to the festival? To sample more dishes, head to Ma La Wu Qing Macau's flagship location in Fai Chi Kei, or check out one of the other locations across the city. 
Flagship location: Shop B, G/F, Bloco 2, Edf. Weng Ken, 72 R. Norte do Patane, Fai Chi Kei; 澳門筷子基沙梨頭北街72號宏建大廈第二座地下B舖; 6520 5184.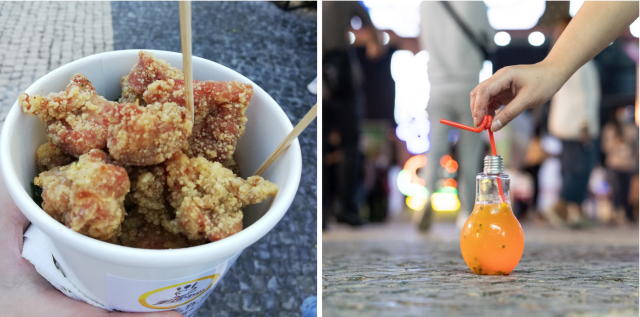 Taiwanese Fried Chicken and Passion Fruit Tea

Where to find it: Pereira Food Center
If the stall's smiley face theme doesn't give it away, Pereira Food Center aims to please. This upbeat vendor prepared not one, but two, of our favourite orders of the night: Taiwanese fried chicken and passion fruit tea. 
The latter is not just any tea: it's sour, sweet and totally refreshing. Plus, instead of the usual takeaway container, Pereira Food Center will put a smile on your face with its lightbulb-shaped cups. 
A surprisingly good accompaniment to our tangy tea, the Taiwanese fried chicken had just the right balance of crunch and seasoning, plus these poppers are easy to enjoy on the go. It's no surprise that Pereira Food Center nailed its Taiwanese dishes – the former owner is from Taiwan, and their salty, crispy, fried chicken has been a best-seller for years. 
Can't make it to the festival? Visit Pereira Food Center another time: 
Rua de Francisco Xavier Pereira 5F, B, Pereira Plaza, Macao;
澳門俾利喇街97-99號B俾利喇廣場5樓; 6393 2333.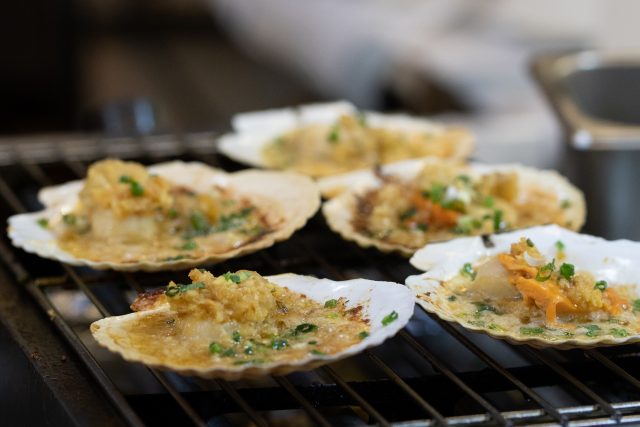 Steamed Garlic Clams

Where to find it: Orange Hot Pot 阿橙火鍋
A classic Chinese staple, steamed clams smothered in garlic and scallions is one of those comfort foods that we could eat morning, day and night. And Orange Hot Pot's iteration doesn't disappoint. The vendors have set up an open grill, topped with rows and rows of steaming clam shells which smell as good as they taste. Also on the menu, try the succulent, grilled lobsters or the jet-fresh sashimi – two of the vendor's most popular dishes.
Can't make it to the festival? Visit Orange Hot Pot restaurant: 
G/F, Vai Choi Garden (Bloco A), 266 R. Sul do Patane, Fai Chi Kei, Macao;
澳門筷子基沙梨頭南街威翠花園地下F鋪; Macao; 2826 6011.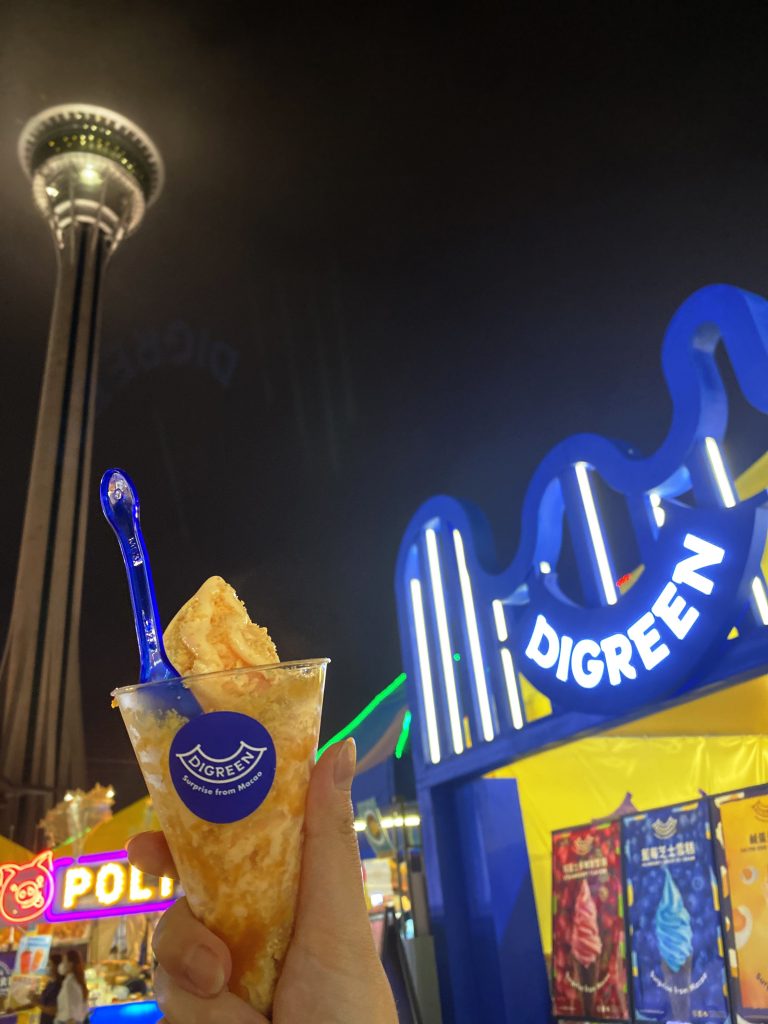 Salted Egg Yolk Ice-Cream

Where to find it: DIGREEN
Known for using natural ingredients, DIGREEN ice cream brand recently introduced a new salted egg yolk soft-serve ice cream that's drawn quite the following from festival-goers. We're all for it: we've devoured salted egg yolk on crisps, fish skin snacks and even Michelin-starred menus, and it works as ice cream, too. We found DIGREEN's iteration to be rich yet airy, salty yet sweet – a perfect finale to our foodie odyssey.   
Can't make it to the festival? Try it at DIGREEN's stall in Nova Mall: 
NOVA Mall, Av. de Kwong Tung, Taipa, Ilhas, Macao;
澳門地下一層KB06鋪; 6393 2333.
---
Head to the 2020 Macao Food Festival to feast on the city's top dishes. The festival is taking place at Sai Van Lake Square, from 13 to 29 November 2020. 
Opening hours: Monday-Thursday 5-11pm; Friday-Sunday, 3pm-12am.