PSC product centre in Macau to boost business opportunities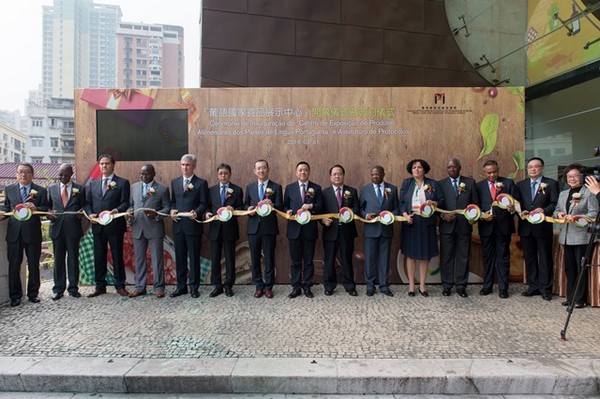 Macau's newly opened Portuguese-speaking Countries Food Exhibition Centre, where over 700 kinds of products are on display, will help companies explore business opportunities, Macau Trade and Investment Promotion Institute (IPIM) President Jackson Chang Chou Weng said on Thursday.
Addressing the opening ceremony of the centre in the so-called Glass House in Praça do Tap Seac, Chang said the facility was a part of an "online and offline interaction platform" which also consists of a website called Economic & Trade Co-operation and Human Resources Portal Between China and Portuguese-speaking Countries, which was launched in April last year.
Also speaking during the ceremony, Glória Batalha Ung, an executive director of IPIM, said that the products on display, which are from seven Portuguese-speaking countries (PSCs), include natural foods, snacks, tinned foods, coffee and alcohol.
"Every product in the centre has its own QR [quick response] code. By using their mobile phones to scan the codes, customers and companies can get information right away about not only the products, but also their producers or agents," Ung said, adding that a number of the codes even link to some online trading platforms.
Ung also said IPIM set up a similar "food exhibition point" at its liaison office in Fuzhou earlier this year, pledging to establish more such exhibition points in other IPIM liaison offices in the mainland.
Apart from Fuzhou, IPIM has liaison offices in four mainland cities, namely Chengdu, Hangzhou, Shenyang and Wuhan, according to the IPIM website.
(macaunews/macaupost)