Police discover fake jobs scheme, arresting 8 locals and 9 non-residents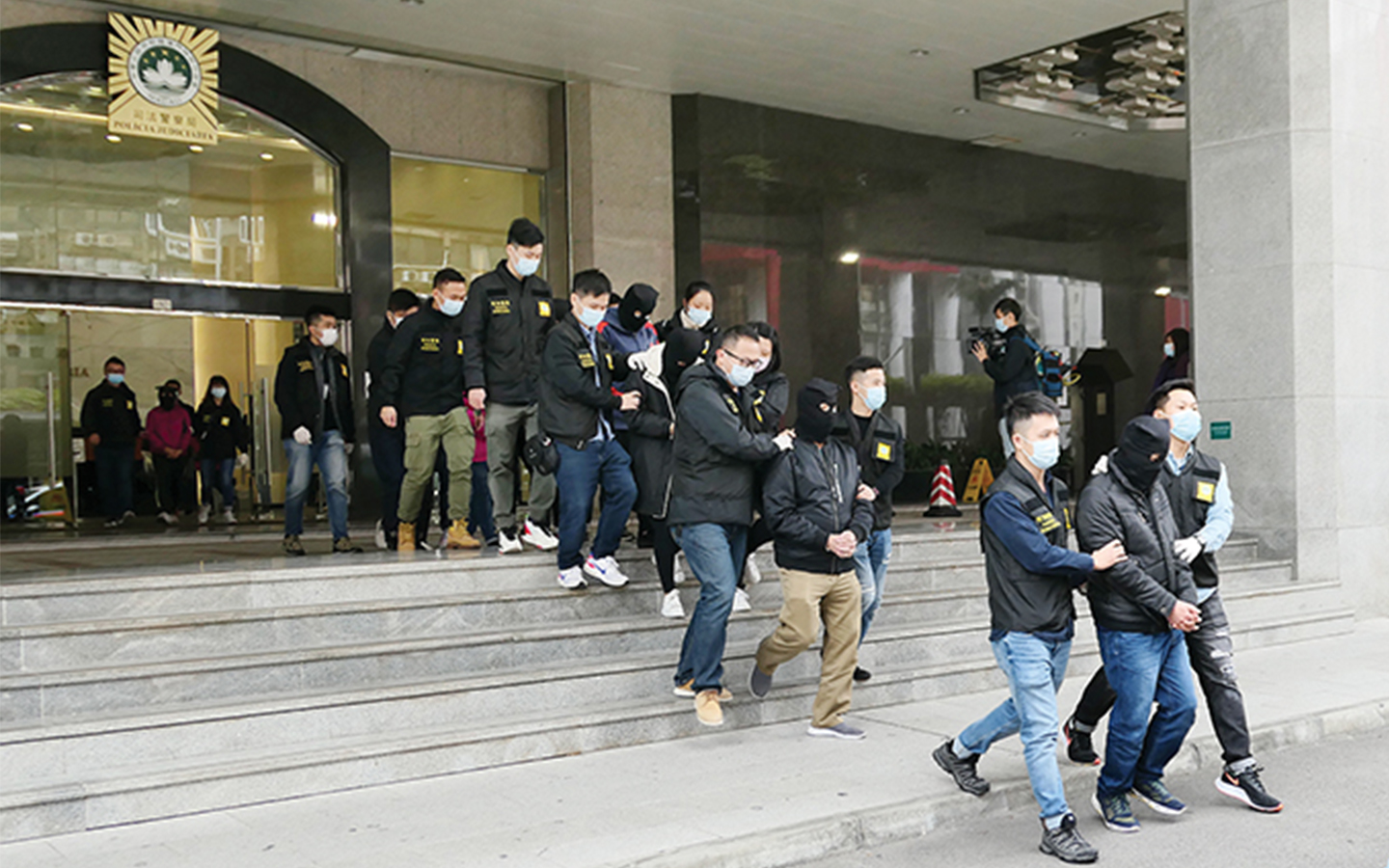 Eight locals and nine Vietnamese women were arrested this week for their alleged involvement in a bogus employment scheme, Judiciary Police (PJ) spokesman Mark Sou Sio Keong said at a special press conference on Thursday.
The local suspects are five women and three men, aged between 33 and 64, all are suspected organised crime members, comprising four kingpins who are the shareholders of an employment agency, and four key members – a casino dealer, a cleaner, a part-time clerk of the agency, and a jobless woman.
The nine Vietnamese suspects falsely employed as "domestic helpers" are aged between 44 and 52. 
According to Sou, the Public Prosecutions Office (MP) recently had referred a document forgery case to the Judiciary Police for follow-up investigation. 
During the investigation, PJ officers discovered that three employment agencies for non-resident workers provided "fake employment", two of which had meanwhile closed down. 
On Tuesday and Wednesday, PJ officers searched the agency which was still in business in Santo António district, seizing a number of computers and documents. The eight suspects were arrested during the two-day operation.
Sou said that the suspects refused to cooperate with the police. During the operation, PJ officers also arrested the nine illegally employed Vietnamese women in a number of residential buildings in Toi San, Areia Preta, Nape, and Taipa.
According to Sou, the employment agency had arranged illegal employment between 2016 and April this year. It charged each Vietnamese non-resident worker between MOP 4,000 and MOP 5,000 for helping them to find a "fake employer" so that they could extend their stay in Macao after their employment contracts had been terminated by their respective employers. 
Sou said that some of the eight local suspects even acted as "fake employers" and one of them had employed a total of 19 Vietnamese over the past four years for different periods – of between seven days and three months with the aim of extending the non-resident workers' stay in Macao. During the respective periods, the Vietnamese women were able to work in restaurants, as cleaners or domestic helpers so that they could keep their "blue cards" enabling them to work illegally elsewhere. According to Sou, the police believe that the three agencies falsely employed about 100 Vietnamese women over four years earning about MOP 500,000 in ill-gotten gains. 
Non-resident workers' work permits are informally known as "blue cards". 
According to Sou, the Judiciary Police also discovered that the three agencies used local customers' personal data to falsely hire domestic helpers. Sou said the local customers might not have been aware of the abuse of their personal data as the Vietnamese women's respective fake employment periods were relatively short.
The PJ officers also seized more than 10 Exit-Entry Permits for Travelling to and from Hong Kong and Macao (colloquially known as Two-way Permit) from the home of one of the Vietnamese women. 
The worker told the police that the Two-way Permits (TWPs) belonged to a friend of hers, a 51-year-old male non-resident worker from the mainland surnamed Gao. Under questioning, Gao was unable to explain where and how he had obtained the TWPs.
The Judiciary Police have launched a separate investigation into the TWP case, and Gao faces charges of using and possessing other people's documents, according to Sou.
The Judiciary Police are investigating whether there are more suspects in the fake employment case, according to Sou.
The 17 suspects were transferred to the Public Prosecutions Office (MP) on Thursday, facing document forgery and organised crime charges, according to Sou.
According to the Labour Affairs Bureau (DSAL) statistics, the number of non-resident workers from Vietnam stood at 12,811 at the end of October, 6,387 of whom worked as domestic helpers. 
(The Macau Post Daily/Macao News)
Photo by The Macau Post Daily/Iong Tat Choi